Food Review: Buffalo Wild Wings vs. Kiki's Chicken Place
Buffalo Wild Wings and Kiki's Chicken Place are two of the largest chicken wing establishments in Sacramento. Here's a side-by-side comparison.
Buffalo Wild Wings:
As a well-known franchised wing restaurant, I heavily expected for my wings to be like any other.
I am not normally a fan of spicy foods and in all honesty I can sometimes find myself sweating after eating some mild level foods.
But, Buffalo Wild Wings pleasantly surprised me with their quality of taste.
After a long day at school, I headed over to Buffalo Wild Wings on a Thursday. I placed my order over the phone and was delighted when they notified me that everything was "buy one get one free."
So, I was lucky enough to get 12 wings total for the price of a six pack!
The wings I ate were full of flavor as they were coated in a delicious buffalo sauce.
Not only does Buffalo Wild Wings have great quality food, but it's also a great place for people to gather and chat or what a game away from home!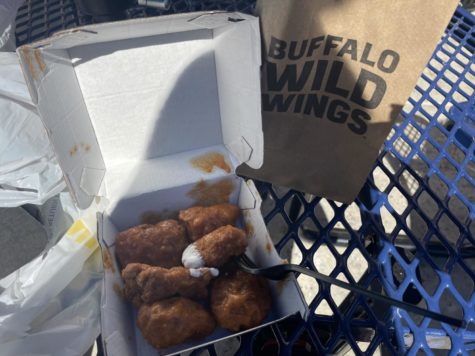 Kiki's Chicken Place:
Kiki's Chicken Place advertises itself as having the "best fried chicken in Sacramento," but is this another example of commercial exaggeration or the real deal?
My experience with Kiki's started off on a sour note. I ordered six chicken wings through Grubhub, only to realize that my order had been mistaken after I returned home. Instead, I got six flavorless, dry chicken tenders. 
Fortunately, these lightly seasoned tenders were saved by the sauces, which were strong, distinct and flavorful. I ordered the sweet and spicy chili sauce, teriyaki sauce and BBQ sauce. The sweet and spicy chili sauce was my favorite.
The following week I went in for a second round, this time confirming that my order had been correctly read. With all the same sauces, plus ranch, I was finally able to eat my six wings.
The breading on Kiki's wings still suffers from the same weak seasoning and uncomfortably dry taste, but the wings have a pleasant crunch that is not present in their tenders. 
The wings had quite a bit of meat on them, which easily came off the bone. Six wings was the perfect amount for a filling meal. Overall, the wings were a sizable step up from Kiki's chicken tenders, but did not particularly stand out next to their competitors.
Kiki's wings are not the best wings in Sacramento. They are tasty because of the sauce they are dipped in, but alone, the fried chicken does not have merit.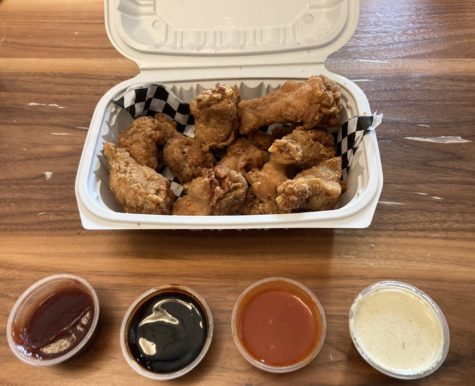 About the Contributor
Justin Ha, Co-editor-in-chief
Justin is a senior and co-editor-in-chief. This is his fourth year on the Gazette staff.