First-ever Concert in The Quad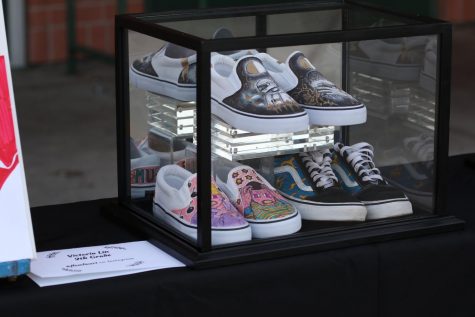 For years, there have been a number of students on the Granite Bay High campus who are both musically and artistically talented, but there are few opportunities to show off those talents.
   This year, a new event called Concert In The Quad was created in order to showcase the talents of artistic students on campus.
   Senior Liv Thompson was the student government commissioner in charge of the event. In order to get the event initially approved, she had to pitch the idea to student government adviser  Tamara Givens. 
   The event took place on Friday, Sept. 27, in the GBHS Quad, and it featured more than a dozen musical performances along with several artistic displays.
   "I think the idea for the event was accepted because the event is really different than any that we've had before." Thompson said.
   Although GBHS does have an annual talent show each year, this event is unique in the way it is a much more "easygoing" – a time for students to sit back and just enjoy the music.
   "The talent show may seem similar but it's also a competition, which brings an entirely different environment," Thompson explained.
   By creating an event specifically for showcasing unique student talents, it gives students the opportunity to have a platform that wouldn't be possible before.
   "There aren't a ton of opportunities on campus for students in the arts to be recognized," Thompson said. "I've always thought there's so much talent in music and passion for music at the school, especially right now, and it'd be a waste to not make something of that."
   Senior Rayna Frayji was one of several students to perform onstage. She performed alongside senior Paul Stamas on drums, junior Alex Paperno on guitar and senior Matthew Wilson on bass. Together, they performed "Tongue Tied" by Grouplove. 
   Frayji said she was excited both by the performance itself as well as the crowd.
   "The turnout was really cool, I think it was a very mixed group," Frayji said. "I think that's awesome because there's sometimes events that can be very senior-oriented. To have something where everyone comes together is really cool. I think everyone just had a good time."
   Junior Alex Paperno was also very happy with the way the entire event played out. 
   "It was very exciting to have the opportunity (to play in front of a crowd)," Paperno said. "I didn't expect it to be so colorful, and I didn't think a lot of people would go, but when I went to school there were lights, there were stars and posters and I just got really excited."
   Musical artists were not the only students to showcase their talents – there were also several student-made artistic pieces displayed.
   Freshman Victoria Lin had her custom-made shoes shown at the event.
For Concert in the Quad, Lin created custom-painted shoes that with a "grunge" effect to match the theme. 
   "I really liked doing cover art (such as) albums of artists that are influential to me (including) Tyler, the Creator and Frank Ocean," Lin said. "I really like their art and their albums so I thought, 'Why not put it on some shoes?' "
   As for next year, the continuation of this event is still undecided. "I'm not 100% sure, but I'm pretty sure (the event will continue), which is wonderful," Thompson said.
   Many students, including Paperno, look forward to performing again next year if the event continues. 
   "If there's an opportunity," Paperno said, "I would definitely do it again."