Family pins down wrestling tradition
A family with a background of wrestling speaks about their motivational experience with the sport.
Under the blaring lights of the stadium, she looks around. The stands are filled with commotion. A once cold hockey stadium has become a wrestling arena with the mats spread around the floor and the wrestlers preparing for their matches. The atmosphere was completely different compared to her previous tournaments in school gyms. Her hard training throughout the season was put on the line Spectators start to fill up the stands as they scramble to get to their seats. The whistle blows and the first match of the Master's Championship begins.
Taylor Wells, a junior at Granite Bay High School, has been wrestling since seventh grade at Olympus Middle School. Her family has a background in wrestling. Her sister, Victoria Wells, has wrestled for Granite Bay High School while her father, David Wells is the head wrestling coach at Granite Bay High School and wrestled in the past.
"My dad did wrestling (and) put me and my sister both in it. And then we both really liked it, and I've been doing it ever since," Taylor Wells said.
David Wells started wrestling alongside his brother. At first, he wasn't too enthusiastic about wrestling, but over time, after every season, he always came back, looking for more.
In college, he admired the way his coach taught him the sport, based on the student's personalities and techniques. This coaching method made David Wells want to become a coach for wrestling.
"Oftentimes, coaches get stuck in a cycle where they only coach a certain way. They only coach really hard," Coach Wells said. "Depending on who it was, how hard he would coach them or different styles, (my coach) was really open minded. I liked the way he did that, and so I kind of (thought) that it would be fun, besides work, to also do that for kids."
Taylor Wells explained that every wrestler gains a different and unique style during their time in the sport, despite learning the basic techniques from their coaches.
"Some people wrestle really strong or fast. Some people wrestle funky, so everyone just finds a style that works for them," Taylor Wells said.
"
Some people wrestle really strong or fast. Some people wrestle funky, so everyone just finds a style that works for them."
— Taylor Wells, junior
During tournaments, Taylor Wells watches other wrestlers in their matches to see their unique styles and the general atmosphere of the stadium.
"It's all dark. It's just two spotlights on the two mats. It's just amazing watching all the people (with) their different techniques that they use. It's like 'wow, I wish I was them,'" Taylor Wells said.
Taylor Wells specializes in flexibility, which allows her to bridge up easier or for other wrestling techniques. A bridge is a type of move in wrestling that allows the wrestler to avoid getting pinned on their back in the match.
According to Taylor's sister, Victoria Wells, who wrestled for Granite Bay alongside her sister, they are both leg riders, which is good for offense.
"Especially with Taylor, (wrestling) was fun. We got to the same tournaments and we'd play around. Siblings will always get along, but it's kind of fun being on the same sports team. It's not huge for girls within our area, so it's cool to hang out with her sometimes," Victoria Wells said. 
Throughout her time on the girl's wrestling team, Victoria felt like she improved a lot compared to the beginning of her wrestling career. She also feels that wrestling is a good sport for character building which helped her for her college applications and getting her into UC schools.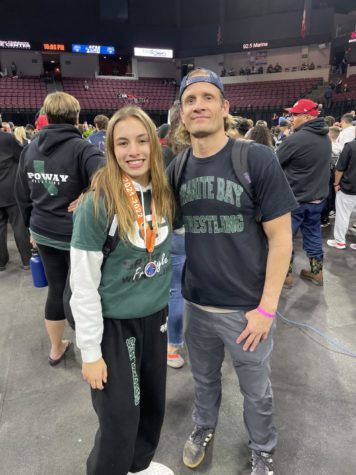 "(I) definitely improved. My freshman year, I didn't even make the second tournament. Then my senior year, I was able to place at state which is kind of c
ool." Victoria Wells said. " I got 8th (at state)."
Coach David Wells motivates his wrestlers by showing understanding of their difficulties in the sport and not judging them by how they perform.
" It's a pretty difficult sport, especially just to get your feet wet. Since it was difficult for me as well, (I felt) I could share the difficulty of it. I never judge anybody by how they start or finish," Wells said. "Everybody's not going to be as good, but it doesn't matter to me. I'm just as happy for you as well. We're all trying to do our best."
The Wells encourage students to join the GBHS wrestling team.
" Especially for girls wrestling, it's such a small community of people (…) ,especially in NorCal. We're supporting each other. So it's like girls support girls, and everyone likes that. If you like (wrestling), join. It's a fun, good opportunity."  Taylor Wells said.