Expired contract of Eureka Union Teachers Association advances to state
On Nov. 8, contract negotiations between the Eureka Union Teachers Association (EUTA) and the Eureka Union School District (EUSD) will be taken to the state level for resolution. 
Teachers in EUSD have been working under an expired contract since July 1.
EUSD and EUTA began negotiations regarding teachers' salaries and benefits on May 25 and since have met five times, unable to come to a resolution.
If negotiations continue to be unsuccessful, it is possible teachers will strike. An informal tally of teachers willing to strike has been taken. 
"I have never seen a vote this overwhelming to take a one day strike," Kelly Lewis, a teacher at Olympus Junior High said. In the event of a strike, schools may be unable to function because of the statewide substitute teacher shortage.
"The last thing we want to do is anything that takes even a single day of education away from our kids," said Gina Willis, lead negotiator for EUTA and teacher at Olympus Junior High. "We are their teachers. We have their educational best interests at heart. … We're trying to keep it as far away from the kids as possible. That's the primary reason why (striking is) a last resort…But the district is moving us in that direction when they don't show us real intent to bring that salary up." 
EUSD consists of seven elementary and junior high schools. Teachers are working under an expired contract that offers less pay than the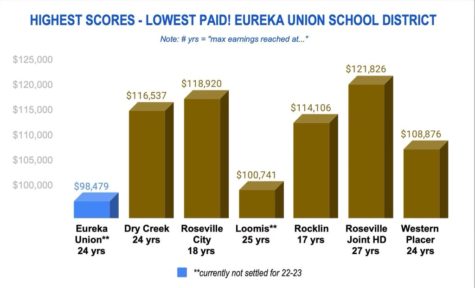 in neighboring elementary and junior high school districts that feed into Roseville Joint Union High School District. Top-earning teachers who have taught for 24 or more years in EUSD receive yearly salaries of $98,479, while top-earning teachers make $118,920 in Roseville City School District and $116,537 in Dry Creek Joint Elementary School District.
EUSD Board President and spokesperson Renee Nash is focused on the practicality of the budget that would bring about the raises the teachers ask for.
"There are some districts in the area that do pay more than our district. And that's because they can afford to pay more. The funding from the state is not equal from school district to school district. It depends on a number of factors, most significantly, the makeup of your student population. (The teachers) want more than we can afford to pay," Nash said.
Willis suggests that the funding for higher salaries could come from the district reserves or from the ongoing payments the district receives from the state. She explained that 13.26% of the money the district receives is in the form of "ongoing funds," meaning this is money the district is receiving consistently, which is available for compensating its employees. 
EUSD's reserve is estimated between 32% and 44%. Willis said the state requires 3% of funding to be allocated to the district reserve, but 10% is widely recommended. 20% is common.
"(It) makes them look like a savings account," Willis said.
Nash asserts that the reserve budget is justified, and that it would be fiscally irresponsible to allocate the money in the reserve to ongoing expenses such as teacher salaries. 
"You cannot use reserves to pay for ongoing expenses because reserves are by definition one-time dollars. The district has a significant amount of work that needs to be done on our facilities and we will be making a number of very expensive textbook adoptions over the next few years so I do not believe that there is any significant amount of money in the reserves to cover wage increases nor do I believe it is responsible to cover ongoing expenses with one time dollars," Nash said.
During a recent protest outside the district office, teachers held signs bearing slogans such as "Highest Test Scores, Lowest Pay," "I Don't Want to Strike, But I Will" and "Supporting Teachers is Supporting Students." 
Shawna Lukasko, a teacher at Excelsior Elementary, said while protesting, "We're more united as teachers but we're more divided from the district than we ever have been."
"They're free to protest. I'm a huge supporter of the First Amendment. I have no problems with the activity that they're engaging in. The reality is (that) we put an offer on the table that I think represents what our district can afford to pay," Nash said.
Many of the teachers have put barcodes on their cars that are linked to a slide show summarizing the pay disparity and explaining what the teachers are protesting for because they are prohibited from sending clarifying information to parents using their school email. To get the word out, they have resorted to sending fliers home to parents and wearing t-shirts advocating for their cause.
"A Roseville City teacher two miles away from me who has been teaching the same exact years as me is making $20,000 more than me," a Maidu Elementary teacher who wished to remain anonymous said.
Another point of contention within the negotiations is the medical benefits provided for teachers. Willis says that of the approximate 80% of teachers who participate in the district's health care benefit plan, about 35% are taking $1,000 or more out of their own paychecks every month to support their own health benefits outside the district-provided plan.
When given the choice between increased medical benefits or higher salaries, teachers have historically chosen higher salaries to benefit the greatest number of people as not all teachers partake in the medical benefit package the district offers. However, the teachers are petitioning for both higher salaries and increased medical benefits. 
"We shouldn't have to pick one or the other," Willis said.
Currently, both their salaries and their medical benefits are the lowest of any neighboring middle or elementary school districts. 
Community members who wish to learn more or let their opinions be heard by elected officials can attend the next board meeting on November 14 at the EUSD office. The meeting is open to the public, and time is allocated for public comment.
Corrections: Previously misstated top earners at Dry Creek School District made $115,907; they make $116,537.  Previously misstated top earners at Roseville City School district  made $107,198; they make $118,920.
About the Contributor
Riley Reed, Staff Writer
Riley is a junior. This is her first year on the Gazette staff.