Debate team co-captain takes impressive title at Nationals
Debate team co-captain Salini Pillai's journey to finding her voice in Speech and Debate and earning 14th place in Speakers in LD at Nationals.
A historic moment in the GBHS community was achieved when senior and Speech and Debate co-captain Salini Pillai won 14th in Speakers in LD at Nationals. She competed in a field of 260 competitors who had qualified from various districts around the US. The tournament ran a week long from June 12 to 17 in Kentucky. 
Pillai's previous accolades include 4th in the state tournament for dramatic interpretation, qualifying for nationals in dramatic interpretation and LD for the 2021-2022 year, as well as scoring in one of the top two places at the Capitol Valley Forensics League in LD, allowing her to qualify for Nationals. 
The LD event, or the Lincoln Douglas debate, based off of seven debates between Abraham Lincoln and Stephen A. Douglas in 1858, sees two debaters arguing for and against a resolution. All preparation, unlike other Speech and Debate events,  is performed before the event.
"It takes a lot of effort to come up with arguments… counter arguments and prepare. So it's a lot of strenuous research," Pillai said. 
The class is designed in that the first semester includes many league tournaments because it helps members practice and learn the basics of debate. In the second semester, the more competitive tournaments are offered, including the state and Nationals qualifiers.
That leaves less time for Nationals preparation. 
"A lot of that prep you do outside of school, but you also have the help of… your teammates and you come to debate practice (too)," Pillai said. 
Pillai started off her speech and debate journey as a shy 7th grader coming from a non-feeder school. Speech and Debate gave her a "chance to be able to communicate and express myself in a more articulate manner."
From her first to latest tournament there have been massive improvements in different areas of the event.
Her first tournament was filled with nervousness, questions of 'how much time do I have? What should I talk about next?'  yet her preparation helped her succeed. 
"After I just got up on that podium…(it) was just second nature to speak."
Over four years and the countless hours of preparation, Pillai favored a speech focus over logistics.
"What's changed (is your) ability to think on the spot…your mind starts working in a different way. And you start being able to navigate those topics and like more innovative manners," she said.
Even though her event is solo, she still felt like she belonged in the close-knit community. 
"
The people that taught me all about debate and speech…were (the) captains…they've been an inspiration…so I just want that same relationship with the novices this year.
— Speech and Debate captain and senior, Shalu Pillai
"I have such a close emotional attachment to the team and the activity itself," Pillai said, describing this year as "bittersweet."  "Honestly, I've gotten so much out of Speech and Debate."
Pillai's goals for this year are to as always improve her skills as well as passing this skillset on to incoming debaters.  
"The people that taught me all about debate and speech…were (the) captains…they've been an inspiration…so I just want that same relationship with the novices this year."
About the Contributor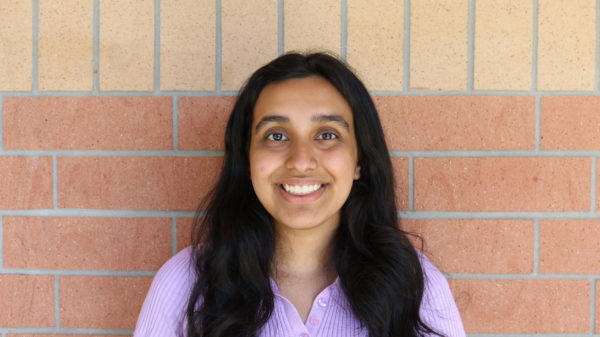 Batul Zanzi, Editor
Batul is a senior and Features Editor. This is her third year on the Gazette staff.