One can make a difference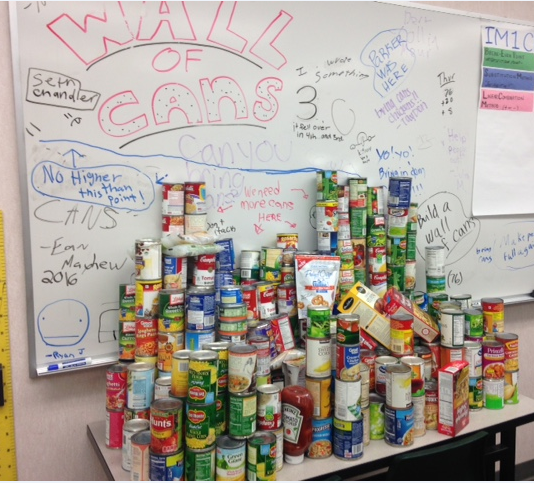 If you had walked into math teacher Tom Farmer's classroom a month ago, you might have seen a stash of pizza stuffed in the back of the room as an award for his class winning the Kids' Cans Food Drive. However, this class isn't letting its incentive to give be stored away in boxes.
Instead of a pile of greasy containers, the class built a mountain of cans that peaked near the classroom ceiling. But even though Farmer's students gathered the most cans in the food drive competition, they rejected the pizza that was offered to the winning class.
Farmer encouraged his students to donate for the sake of helping others in need, rather than for a reward.    
"We were informed by our teacher, Mr. Farmer, that there are many different types of ways for people to not have the resources that we … are able to obtain so easily," said freshman Brian Lambey, a student in Farmer's class. "He came in with this box for the food drive and he told us, 'Hey, you should help these people out.'"
Lambey said Farmer inspired his students by having them compete with classes from previous years.  
To encourage his students to participate in the food drive, Farmer showed his class videos of teenagers and families who are living in poverty.
Freshman Sophia Munoz, another student in Farmer's class, said the videos gave a face to the types of families who would receive the donations.
"He showed us the people that have no option," Munoz said. "They've run out of food, they've run out of supplies, they don't have a place to live (or they have) family issues. He showed us the people that had no choice."
The intention of the videos was to expose students to the realities of poverty. Farmer said he chose videos of teenagers so his students could  relate to the people in the video clips.
According to the Children's Defense Fund (CDF), more than one in every nine children in 2012 lived in a house where the children were considered "food insecure," meaning they did not have access to a sufficient food supply.
This means that out of the 9,102,486 children that live in California, as reported by kidsdata.org, approximately 1,011,387 children are considered "food insecure."
"I don't think that most people realize that when they are driving down the street … and they see a homeless person with a cardboard sign, that that does not necessarily represent the bulk of the people that we provide for," Farmer said.
Farmer said this misconception is formed because most people who do not have a home or are living in poverty do not express their financial situation.
"They don't want to be seen because Child Protective Services will take their kids away from them if they know they're homeless," Farmer said. "If you're a teen on the street, you'll be picked up if they know that you're homeless. These people hide. They're not the ones out there with signs."
MORE: Study Predicts the Number of Homeless Children
Freshman Lauren Gray, also a student in Farmer's class, said students are often unaware of others' backstories. She was prompted to contribute to the food drive after hearing about a friend's personal story.
"(My friend's parents) lost their house and everything, and he had to live in a hotel and then he was living outside," Gray said. "Then he was living in friends' houses, and you would never know what was going on with him."
Gray said you never know what the people around you are going through.
Throughout the duration of the food drive, Farmer led his class with a slogan: "We would rather fill our hearts than our stomachs."