Changes to the 2022-2023 course catalog
 There have been multiple changes made to Granite Bay High School's course catalog.  Major updates include the new dual enrollment courses, the unblocking of IB courses, the new data science math pathway, and the addition of Construction Technology to the catalog.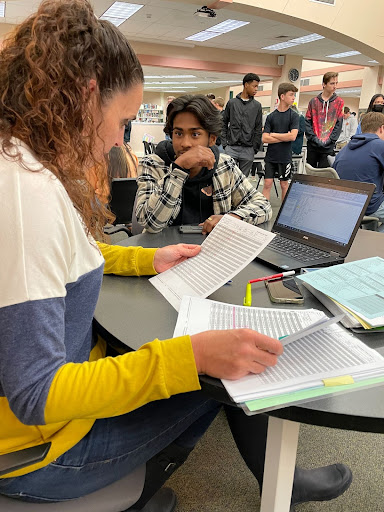 Dual Enrollment
Students at GBHS are allowed to sign up to take Dual Enrollment (DE) Statistics, for grades 10-12, and Dual Enrollment English 12, for seniors only. Dual enrollment allows students to get college credit while taking a class run through Sierra College that is held on the GBHS campus. If students pass the DE class, then they are granted college credit from Sierra College. However, they will not receive a grade bump and the class is not intended to prepare students for the AP exam. 
"(In our five Western Association of Schools and Colleges goals) we have identified key cohorts of students who are not being served by… our general day-to-day Granite Bay," principal Amber Clark said. "So by adding dual enrollment, the goal is to target those key cohorts so that they have an opportunity to have access to courses of rigor."
DE Statistics is worth five Sierra College units, and DE English is worth four Sierra College units. The amount of unit-hours these classes are worth determined that students would not be allowed to take both of the DE courses in the same semester. Additionally students will not be allowed to take an off-period in the semester that they are taking DE Statistics.
The Roseville Joint Union High School District (RJUHSD) must have students enrolled for at least three periods, and DE Statistics is worth enough credit hours for Sierra College that its instructional hours would not be sufficient for the student to count as taking a class as a GBHS student. 
"(Students are) building a college transcript during this process," GBHS counselor Tiffani Geick said. "So… we encourage them to take it seriously."
Unblocked IB Courses
Every other day, GBHS students taking IB courses have switched between two classes during their first and third periods. They alternated between chemistry and psychology every day in first period, and between history and English in third period. However, this practice will be changing next school year. Students who wanted to take certain IB courses were required to take two of them instead of just the one they were interested in because they were blocked. For example, for a junior to take IB Language & Literature, Higher Level 1 (HL1), they also had to take IB History of the Americas HL1. They would have these two classes every other day for both their junior and senior years.
"We know that some students might have taken some of those (IB) classes, but they didn't want to have it opposite one of the other classes," English teacher and GBHS IB Coordinator Bernadette Cranmer said. "So now (that IB classes have been unblocked) they don't have to make that choice. They can just take the class that they want to take."
One reason why the classes were blocked in the first place was because the IB Programme designed their courses to be taken over a two-year time span, which would mean that the classes would take up one period of a student's schedule for two years. Because of the 4×4 schedule, GBHS students take eight periods of classes, but only four at a time for half a year. If the IB classes were taken in two consecutive periods at GBHS without being blocked, then they would have been completed in a single year rather than two.
Additionally, students now have the opportunity to take only IB Sports, Exercise and Health Science Standard Level 1 (SL1), which is semester-long, rather than the year-long course that would encompass both the SL1 and SL2 classes.
"Each and every year there is an opportunity to try to grow the (IB) program and find ways for more students to have access," Geick said. "So we're also excited that the unblocking will allow more students opportunities and not get locked into a set schedule for two to four years." 
Data Science 
Sophomores, juniors and seniors will have the option to take Data Science, a project-based, UC-accredited class. It must be taken after Integrated Math 2, but may also serve as a fourth-year math class for students who have taken Integrated Math 3.
"There's a huge need from the… business community to teach… students how to analyze large data sets because obviously, we're generating larger and larger data sets very easily," math teacher Bruce Honberger said. "So students having a little bit of ability to come in and… know how to decode all the data, store it and analyze it is a huge need."
Students will have the opportunity to gather data from sources such as PEW Research Center, organize it in an Excel spreadsheet, and present a project based on their findings. 
Per the course catalog, "(s)tudents will become data explorers" in Data Science.
Construction Technology 1
Previously a popular course at GBHS, Construction Technology 1 has been added back to the course catalog. According to the catalog, "Students will design, plan, and build a variety of projects using hand tools, power tools, and shop equipment."
If there is enough demand, Construction Technology 1 may become part of a CTE pathway, but that would require a teacher that is fully accredited to teach a CTE course. For now, it is a standalone course.
"It is a great class for students to be able to gain a skill and be able to have a good balance in their overall schedule," Geick said.
About the Contributors
Kate Rowberry, Editor
Kate is a senior and Editor of the Opinion section. This is her second year on the Gazette staff.
Lee Randolph, Staff Writer
Lee is a senior. This is their second year on the Gazette staff.