Brianna Lambey takes up multiple roles on the court
Athlete's four year commitment to varsity basketball shares skill and love for the sport
Making the cut as a varsity athlete  is a remarkable accomplishment, one that requires a sincere dedication to the sport in addition to a substantial amount of skill. For this very reason, playing varsity all four years is often a rare sight.
However, this isn't the case for Brianna Lambey.
Lambey, the senior captain of the girls' varsity basketball team, marks her fourth year as a member of the team this season. Standing as the only four-year varsity player on the team, her talent and work ethic is easily distinguishable.
Junior Kendall Gray made the cut for varsity as a sophomore and recognizes the difficulty of being accepted onto the team as a freshman.
"It is not traditional to take on freshmen (at the Varsity level)," Gray said. "Like this year, we don't have any freshmen (on the team), but if they have enough skill, they can make it."
In spite of the unlikely chances, Lambey succeeded playing varsity throughout all four years of high school as a result of her talent.
"Her largest impact has to be just the experience she has by playing four years on varsity and in the off season," girls' basketball coach Paul Shafto said. "She has a calmness about her with the ball in her hands which helps in tight game situations. She can score anywhere in our offense, which also puts a target on her from other coaches."
In addition to her role as a player on the team, Lambey also holds the responsibilities of being a team captain. Having always aspired to be a captain since her days as a freshman, she takes her commitment seriously.
"As a captain," Lambey said, "I help us through problems if we are having any."
Shafto, having chosen Lambey to be one of his captains this year, holds the position in high regard.
"I believe that captains should be an extension of the coaches," Shafto said. "They should have a good pulse of the team and help the coaches with short- and long-term goals."
Lambey's efforts have left a lasting impact on her teammates.
Junior Kaitlyn Sitterud has been playing on varsity with Lambey for two years, witnessing her leadership skills in action.
"(Lambey) makes sure that the team is on track by letting us know how we can be better (players)," Sitterud said.  "She leads us to be the best team that we can be."
"
(Lambey) makes sure that the team is on track by letting us know how we can be better (players).
— Kaitlyn Sitterud
Lambey's clear appreciation for her team stands as one of her main motivations throughout her basketball career. The opportunity to connect with her peers in an athletic setting keeps her tied to the sport.
"My favorite part of (basketball) is that you get to play around with your teammates," Lambey said.  "All years (of high school basketball) have been filled with tight-knit teams, and we all get along very well."
Lambey's basketball years aren't ending in high school. Having a passion for the sport since she was 4 years old, she plans to continue through college.
As she is graduating this year, Lambey will leave a lasting legacy within the girls' basketball program at GBHS, inspiring many of her teammates.
"She has inspired me to have confidence in my shot and to trust my teammates no matter what," Gray said.
Sitterud expressed similar admiration.
"(Lambey motivates) me to get better every day so that I can get to the hoop like she does and see the court how she sees it," Sitterud said.  "She inspires me to be that (type of) leader and voice for the team when she graduates."
Even her coach has recognized her persistent impact on the team.
"(Lambey) will be remembered," Shafto said, "for her smile, (and being) a great teammate and a smooth scorer."
About the Contributor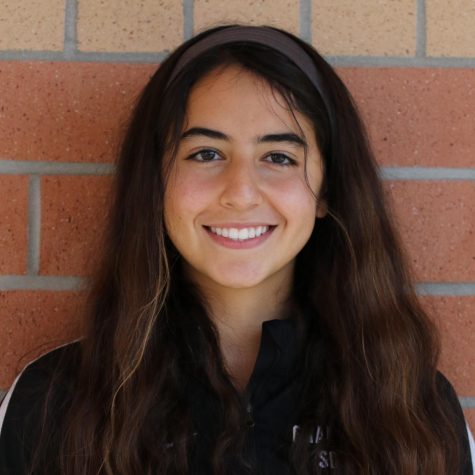 Heba Bounar, Co-Editor-in-Chief
Heba, a senior, is one of the editors-in-chief, and this is her third year on the Gazette staff.