Bookworms masked up
Local libraries reopen with caution to remain as an accessible resource for students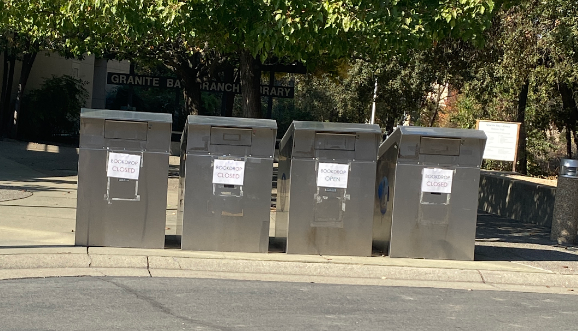 The Granite Bay High School library is usually a place where students can browse for books, look up resources for homework or projects, or simply just hang out to study in a group after school.  
However, due to safety restrictions in caution of Covid-19, the library had to be closed to all students  – until just recently. Even still, strict safety measures need to be followed in order for the library to stay open. 
"If students come in to browse for books, we are asking them to wear gloves (provided by the library) so that we do not have to quarantine books that are browsed," the Roseville Joint Union High School District Lauren Zydbel said.  "Library books returned by students are left on a return cart for 3 days – 24 hours longer than recommended by the American Library Association." 
While Zydbel is happy that the library is finally open for students, she is still disappointed that the library can not be as useful to students. 
"It's been tough not to be a place for students to congregate," Zydbel said.   "It's been tough not circulating books. I like to be around young people and I have really missed the energy and synergy of having them in the library." 
Fortunately, there have been some unforeseen benefits for school librarians. Cassie Dowdle, the library media technician for GBHS, explains that the extra time in the library without interference has allowed for much productivity. 
"We were able to do a full inventory of the library," Dowdle said. "Donate old books that were outdated.  And, look more closely at our current catalog of books to see what was missing from the library." 
Similar to the GBHS library, the Loomis Library has been experiencing similar setbacks. 
The same safety protocols have been applied to the Loomis Library, such as quarantining books for a few days and social distancing. What is different, however, is that the Loomis Library has started curbside pickup for any library items. 
During this pandemic, the Loomis Library has had to come up with some creative ways to keep people interested. 
Sarah Comstock is the director and community engagement librarian at the Loomis Library and Community Learning Center. She details all of the creative ways the library has kept its activities alive. 
"
We've found some fun ways to do some of our other programs – such as crafts from a distance via grab-and-go kits or book clubs over Zoom"
— Sarah Comstock
"We've found some fun ways to do some of our other programs – such as crafts from a distance via grab-and-go kits or book clubs over Zoom," Comstock said. 
Despite all its efforts though, the Loomis Library is still struggling. 
"Especially with the screen fatigue and Zoom fatigue that many people are experiencing right now, it has been hard to attract and retain viewers online," Comstock said. 
So, what can Zoom fatigued GBHS students do?
Firstly, they can check the GBHS Library website for any updates, as well as follow them on Twitter: @library_gbhs. 
They can also just stop by to browse some books. 
"The library is now partially open every day from 7:45 until 3:30," Dowdle said. "If you're on-campus learning, you can come through the library front door before school, during passing periods, and immediately after school.  If you are distance learning, you can come through the library back door any day from 1:30-3:30pm."
The Loomis Library is looking for volunteers to help with activities such as story time and social media graphics. Contact them here: [email protected] or 916-223-9457
"We miss all of (our students)," Dowdle said. "This is a great opportunity for (them) to read some books and pass the time while (they're) staying safe at home."