"The Guy to be Around:" Richard Grube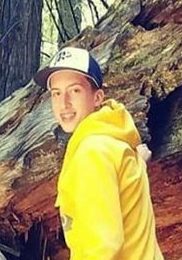 Freshman Richard Grube, describes himself as "the guy to be around."
But for Grube, his dad has also been "the guy to be around," lately.
Son of a passionate teacher, Grube spent more time with his dad over the first quarter, something which he says "is good and bad in their own separate ways."
"It's hard to describe," Grube said. "Basically I don't get as much alone time because it's more people who want to talk to me even though I want to be alone sometimes."
Despite these feelings, Grube said he enjoys having his dad around.
"We get to have fun with our hobbies together," Grube said.
Aside from his relationship with his teacher dad, Grube was initially nervous coming into high school.  So far though, the first quarter has thrown "nothing too difficult" at him.
"I carried my academic habits to high school," Grube said. "(I've learned) to not slack off in classes with lots of information. I (now) know to up my focus levels."   Grube is still working on ways to quickly acquire information and stick it in my brain.
Grube rated the academic aspect of his first quarter as a 9.5/10 and the social aspect as a 2/10. In spite of his low rating on the social aspect of his first quarter, Grube ultimately feels prepared for whatever the future throws at him. 
"I feel not as nervous and ready to tackle another term," Grube said.
About the Contributor
Sarah Yee, Editor
Sarah is a junior and editor of the Features section. This is her third year on the Gazette staff.