Meet the Freshmen on Varsity Volleyball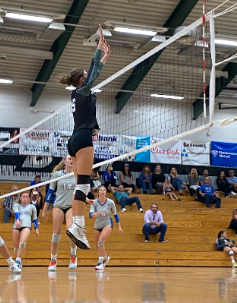 Addison Wilson and Abigayle Gotwals are both sophomores at Granite Bay High School who as freshmen, made the varsity volleyball team. The love of such an intense sport bonded their friendship. 
Both girls are very athletically gifted, constantly running and jumping for the volleyballs. 
"You rely so much on each other but that makes you close with them, so it's like a family," Wilson said. 
During games, the team huddles together after every point to comfort and help improve their strategy for the next point. 
"I didn't think I was gonna make varsity but was like I just need to be confident in myself," Wilson said regarding her first try outs in 2021.
Gotwals also did not feel she was going to make varsity, but both girls successfully made the team. 
The best part of playing is "probably the teamwork on the court and how everybody gets involved with serving, hitting, passing setting," Abigayle Gotwals, a setter and hitter for the team said. 
She is also aspiring to go to a college near the beach to play, and is one of two varsity team captains.
Varsity Coach Jacob Smoot chose Abigayle for team captain because, "She's one that everyone does look towards during the game and giving that person a little bit more leverage and say is always a good thing just because it's already on the court. So it might as well translate to being off the court as well." 
Abigayle has proved to be a thriving team captain throughout the season and leads the other girls. 
"They both have a very high volleyball IQ, so they know when there's not a great set, what to do with it and where to put it. They're both really dynamic players as far as movement towards the block or movement out of system," Smoot said. 
These qualities narrowed down his decision towards both girls when trying out for the varsity team.
"I'm really excited. It's cool this year because my sister's a Grizz nation leader, so she's always there making the posters for those people and she like advertises that. And I feel like when there's a lot of people that are there, it makes me feel good," Wilson said.
Wilson enjoys the crowd, especially support from her sister, and her friends cheering her on.
So far the team dynamic has been slowly progressing towards full trust. 
"I feel like what really helps us come together is when we all like to get together in the middle and Skye gives really good pep talks to us," Gotwals said.