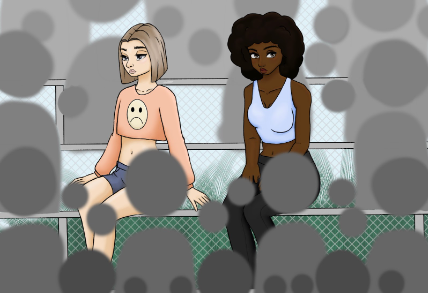 Granite Bay students struggle with school spirit, a vital aspect of high school.
I went to a football game recently with my mother. We were next to the band section, who were chanting and celebrating for everything and generally having a great time. Then, I looked at our student section. Students were quiet and milled about, not really paying attention to the game. When we scored a touchdown, a giant divide rose as a little bubble in the middle of the student crowd leapt up to cheer. Those on the fringes awkwardly stood there, not celebrating and generally bringing down the vibe of those who were.
This is a problem.
Ever since my sophomore year, I've noticed an increasing trend in the lack of participation in students. They sit on the sides, texting, whispering and not paying attention, with judgment scrawled across their faces. There is a strong (and obvious) contrast between those who are having fun and those who aren't. Those who don't participate are a silent but deadly force that ruins the morale of all who see. The whole point of pep rallies is to cheer on others, build community rapport and celebrate with each other, and that's not happening.
Story continues below advertisement
Now, one could argue that this is COVID's fault. Since the class of 2024 entered high school at the peak of COVID and never truly had a freshman year, we never learned how to act in a rally setting. We were never shown how exciting high school can be. No one taught us about the exhilaration of connecting with the bigger high school community, and that's okay. What's inexcusable, however, is that so many students are not even willing to try.
This raises the question: What's so important about school spirit? A Harris poll concerning students and their school spirit found that students with school spirit "perform better academically, are more socially and civically engaged, and are happier in general than their less-spirited peers." Another study, done by Waikiki Girls' High School principal Linda Cowan concluded that school spirit is vital in the development of students into well-rounded individuals and in academic achievement. This is not even considering the countless other articles supporting and detailing the benefits of high school spirit.
It's frustrating when people refuse to participate, since the goal of rallies and games is to foster a greater sense of community and support. By not celebrating, people show that they do not care and that's not true. Our aim is to have an accepting, welcoming community for everyone.
So please, I beg you. We only have four years together and let's make the most out of it. The least you can do is celebrate.