Scrunchies sold are way Tu cute
 It is part of human nature for people to use resources and ideas they have in order to improve the world in any way, shape or form.
  Granite Bay High School Senior Michelle Tu recently came up with a creative way to support health services in Myanmar through students on GBHS's own campus.
"After going to Myanmar to volunteer over the summer, I saw the need for better healthcare so I started (a) business, selling scrunchies," Tu said.
  Dozens of students on the GBHS campus have been recently seen purchasing hair scrunchies from Michelle Tu, who donates 75% of the proceeds to health services in the country of Myanmar.
  "Most of the people (in Myanmar) are poor and there's no insurance so they cannot afford to seek medical attention," Tu said.
  Tu was able to produce a trendy product whose sales would serve as an important benefit to individuals in Myanmar.
  "I wanted to sell a product that was usable and also trendy," Tu said.
  Trendy as they are, the 'From TU To YOU' scrunchie business has received a positive response from GBHS students who have been purchasing scrunchies of all different materials and patterns.
  " (I've heard) wonderful feedback, everyone says that they're cute and I'm very grateful for my customers," Tu said, "I want to thank my family, especially my mom, and my friends for being very supportive."
  Tu has used Social Media, Instagram specifically, to spread the word about her business.
  "I saw a lot of my friends around school all wearing them and I asked them where they got them, they told me about Michelle and then they told me about her Instagram," junior customer Morgan Peterson said.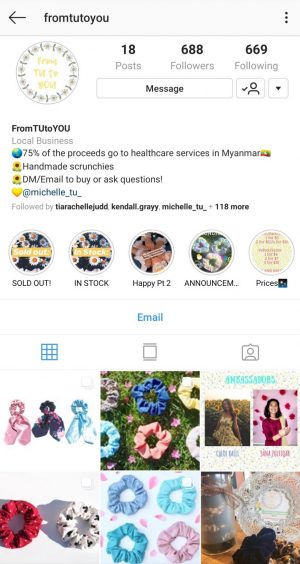 The @FromTUtoYOU Instagram page is constantly updated with patterns that are in stock or out of stock, new arrivals and basic information about pricing.
 Instagram has played a large role in the advance of From TU to you.
  "In the beginning I was mostly selling to my friends but once I posted on social media, it grew a lot," Tu said.  
  Customers look through the From TU to YOU Instagram page in order to choose which scrunchies they want to purchase. Then, they contact Michelle through social media to purchase the order efficiently.
  " I got some of the velvet ones, which (are) softer than the normal ones. The normal one has thicker material, which I really like," senior Ida Mousavi said.
  Tu keeps customers engaged by adding newly patterned scrunchies from time to time.
  "When I saw her come out with the holiday ones I ordered the red and green plaid because it looked really nice," Mousavi said.
  FromTUtoYOU has recently been able to grow to the point of adding ambassadors to the team.  
  "Ambassadors can help spread the word and give people more details about the scrunchies/ prices," Tu said.  
  There are now eight FromTUtoYOU ambassadors that can be contacted by all including customers who don't use social media.
  "Also, ambassadors make it easier for me to deliver and receive orders. (They) also increase the customer base through their connections too," Tu said.
  The organization truly thrived in its first couple of months.
  Purchases can be a small action for a customer but can create a large impact for someone who is struggling with healthcare services in another country, like Myanmar.
About the Contributor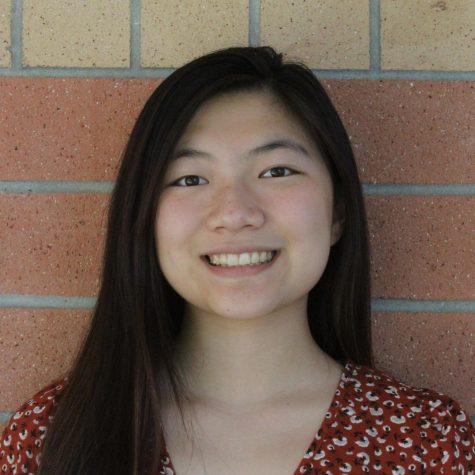 BELLA KHOR, Senior Editor
Bella is a junior, and this is her second year on the Gazette/GraniteBayToday.org staff. She is a Senior Editor.