Food Review: Rita's Italian Ice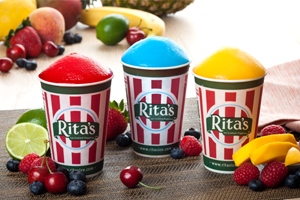 Rita's Italian Ice provided an entirely new dessert experience for me – well, more or less entirely new.
The store itself, though small, was friendly and inviting. Upon entering, I was immediately greeted by a welcoming employee who asked if this was my first time at Rita's and began to explain the process, which was extremely helpful because I was a bit perplexed by both the "Ice Custard Happiness" (what on earth does that mean?) slogan at the entrance, as well as the dozens of menu options.
The chain, which originated in Pennsylvania and is extremely popular on the East Coast, serves sweet summer treats that many of us Californians (or at least myself) are unfamiliar with. The store offers everything from varying flavors of Italian ice, frozen custard (which to me resembled a thicker form of your ordinary soft serve), frozen custard sundaes and their most popular item Gelati–a layered combination of both Italian ice and ice custard of your choosing.
The employee behind the counter was eager to offer me samples. Out of the few Italian ice flavors I tried, my favorites were the strawberry cheesecake and mango. There were many options of both fruity and dessert-flavored with at least one sure to satisfy every client.
I ended up ordering one of Rita's famous Gelatis, with vanilla ice custard and mango Italian ice. The dessert was under $4, making it affordable as an occasional summer treat. However, I was a bit disappointed with the item itself–the Gelati was good, I admit, but probably not spectacular enough to warrant the drive all the way out to Rocklin. Plus, it tasted just like a combination of soft serve ice cream and shaved ice, both of which I've had (separately) on multiple occasions.
Rita's offers quality service and a variety of tasty, affordable options to satisfy a sweet tooth, but the location and otherwise ordinary treat makes one wonder whether the proclaimed "ice custard happiness" is really worth the hike.