Music Review: Taylor Swift's "Midnights" has us awake until morning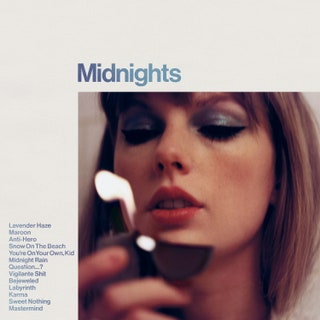 Critics must find it exhausting to always be rooting for the anti-hero. 
Turning away from all media opinions through a tumultuous, yet successful, career that spanned over a decade, renowned American singer-songwriter and Billboard's first-ever Woman of the Decade honoree Taylor Swift has returned with her 10th studio album.
Swift has returned after two years with her newly released album, Midnights, depicting "the stories of 13 sleepless nights scattered throughout (her) life."  In the third track that landed its own music video, Anti-Hero found its songwriter delving deep into her own struggles as she navigates the labyrinth of fame and stardom, an anthem to complement the 2020 "Miss Americana" documentary.  The song insinuates the self-pity dealt and the times Swift got frustrated with herself through a half-sardonic tone, only one small layer darker than the colorful ME! in 2019. 
Swift has crossed innumerable boundaries in the music industry ever since her debut in 2008, and she has done it again, returning back to pop since her legendary country-to-pop-to-folk transition. Midnights' foundation is solidified by her poetic lyrics that peaked during the Folklore and Evermore eras and the structural base of her songs from her old albums: Red, 1989, Reputation and Lover.
In this album, her old concepts become intertwined with new ideas, consisting of reminiscences of her troubling times at the late hour of midnight. She managed to tie back those successful roots to the intense lyricism she developed during the Folklore and Evermore days with the new addition of synth beats and a groovy R&B sound that fittingly set the mood. 
Midnights begins with the scenic "Lavender Haze," opening with a metronomic electric pop beat that makes the listener envision oneself riding through the half-vacated, foggy streets of a city (yes, already straying away from the 'folklorian woods') with the radio on. With its effortless feel, the production of this song is its strongest merit, clearly opening the album to all the other "sleepless nights" Swift has experienced. Her vocals have been clearly highlighted with the delayed falsetto "I just wanna stay in that lavender haze."
Symbolically, Midnights has its fair share of symbolism, with the multitude of colors being one. With Lavender Haze's breathy and dimmed lavender aura depicting a sweet relationship with her cherished one, the second track, "Maroon," symbolizes something that ties in with her past work- "Red," the titular track from the album of the same name.
In "Red," the color is represented by the love she lusted for 'him' when she was younger. "Maroon," with its low bass layers and heavy R&B rhythm, took an opposing step to use the darker shade as the color to show her repentance when reminiscing about her past as an older and wiser individual, with lyrics like "the burgundy on my t-shirt/when you splashed your wine into me/and how the blood rushed into my cheeks/so scarlet, it was…maroon." 
Unlike Folklore and Evermore, the sister albums that came right before Midnights where Swift was claimed to have written the lyrics summarizing her life from an omniscient perspective, Swift, in Midnights, has found herself to be back to writing from the perspective of her younger self, but as a ghost aiding her younger self through her struggles, rather than in a first-person narrative that she adopted during her dramatical pre-2020 days.
She hinted at this in the heavy Easter Egg "Anti-Hero's" music video, with the ghosts' lingering as her self-loathing self comes back to haunt her in the present. 
In "You're On Your Own, Kid," Swift continues this theme by progressing from an exploration of a young child's hope for love and soon realization of their true priorities as they grow up. For instance, Swift ties back to her past by hinting at prior relationships with some songs, such as "Question…?" which sent Swifties frantically scrambling for answers. She seemed to relive certain moments from her 20s as she breezily inquired these 'questions' in the smooth, electric pop nature of the seventh track. 
Swift explored the deepest part of the midnight zone by diving into the revengeful "Vigilante ****". In this Billie Eilish wannabe track and darker, more scheming version of "Better than Revenge" from Speak Now, Swift builds on vengeance, and it seems as if it could easily be grabbed out of a pile of backups that didn't quite make Reputation. 
Production-wise, "Midnight Rain" could have been made as a backtrack to "Delicate's" music video. The voice of 'rain' complemented Swift throughout the chorus and its introduction to the song. 
On other tracks, Swift returned to her 2019 sparkly pop album, Lover. Some songs, Bejeweled and Karma, tie back with the exuberance she had during her Lover days. 
Midnights featured one guest artist- Lana Del Rey in "Snow on the Beach." However, it was less like a duet, since Del Rey only served backup vocals for Swift with a few onomatopoeia emphases and faded repeated words. This too-early-for-Christmas anthem contained the susurrations of Taylor and Lana repeating the title, illustrating the blend of their voices like snow and sand together. 
Swift ended the album on a sweet note, where the strong bass of prior songs on the album had apparently vanished. Sweet Nothing, a song that stirs nostalgia from kindergarten, was co-written with 'William Bowery,' an alias for her beau, Joe Alwyn. Her sweet vocals lightly swam on top of the chimes and soft trumpets in the background. She ended the album with Mastermind, an empowering song that neatly bow-ties Midnights. Instead of utilizing a climactic chorus, Swift's last track in Midnights has an ending of a simple "Mastermind" enunciation. 
From the solid music composition to well-thought-out lyrics, most songs on the album are heartfelt tracks we expect from Swift with lyricism, with a memorable contemporary sound. 
Midnights had a clear balance between old flavors and new, representing a transition album mixing her old pop structures with a few exploratory options in the process of conceptualizing new ideas.
Favorite Songs: Lavender Haze; Maroon; You're On Your Own, Kid
About the Contributor
Sophie Nguyen, Assistant Editor
Sophie is a sophomore and Assistant Editor of the Sports section. This is her second year on the Gazette staff.