Is dressing up for Halloween candy, corny?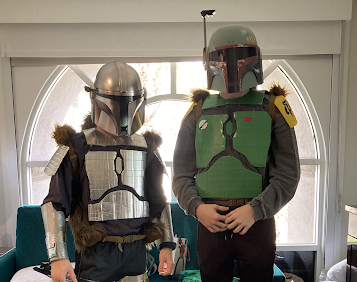 Though it may seem childish to some, many students at Granite Bay High School are dressing up for Halloween this year to express what they love.
"I've been a Star Wars fan since I was four years old," said Ryan Masty, a senior and producer at GBHS. "You gotta keep that little kid alive in spirit (by dressing up). I'd like to be a part of it someday and do that in a future career. To help make Star Wars"
Masty likes to express his admiration for this series by dressing up as the characters for Halloween.
"Two years ago I was Din Djarin and last year I was Jango Fett. I've (also dressed up as) Darth Vader," Masty said.
Another passionate student, Melissa Rodriguez, a junior at GBHS, shares her opinions on Halloween costumes.
"I try to (dress up) every year," Rodriguez said. "Even if I'm not planning to do much on Halloween. I still do it either way because …it's an important part of Halloween for me."
Rodriguez also explains why dressing up for Halloween is her favorite time of year.
"Halloween is (about) seeing everyone dressed up, and for me it's really fun to even go to school and see everyone dressed up […] especially seeing someone dressed up as somebody that you recognize," Rodriguez said. "People really just stopped to say, 'Oh, I like your costume.' I want something that's recognizable, unique and just special in general."
Just as the junior loves dressing up for Halloween, so does freshman Allison Green.
"Every year I've dressed up,' Green said. "It's spooky and it … really gives me the vibes."
On the contrary, some students are deciding to not partake in the costume wearing this year. Freshman Eva Van Stralen says she is not much of a Halloween fan.
"(I'm not a fan) to the point of dressing up," Van Stralen said. "It's not really my thing."
Eighty-six percent of 181 students said that they would dress up for Halloween thanks to a poll given out by Granite Bay Today
Even though some people are not dressing up for Halloween this year, many others are very passionate about the well renowned tradition.