Gracie Hollwager: GBHS's Future Broadway Star
  While taking her final bow as Donna Sheridan, in "Mamma Mia", Gracie Hollwager thought: "This is it." 
   Sheridan would be the last character that she would be playing in her high school theater career, making her final bow one of her most important moments of these past four years. 
   After being in choir for around 8-9 years by 7th grade, Gracie Hollwager got her first role as Alice in the play Alice in Wonderland. During singing choir, Hollwager's choir directors always told her that there was too much expression on her face; she was standing out in a group of people who were supposed to be blending as one group. So, when she tried out for musical theater, the directors absolutely adored her.
   Ever since then her singing and acting career and her passion have only continued to rise.    Hollwager will attend Sierra College after she graduates and eventually wants to attend New York University for her Bachelor of Fine Arts. Her dream career would be to perform on either Broadway or traveling Broadway. If Broadway doesn't work out, Hollwager will pursue a career as a theater teacher.
   "Listening to any Broadway actor or watching anyone up on stage like that, even traveling Broadway; It's just an experience that I want to have any anyone who can do it, I look up to because it's a crazy talent to have and to experience"
   If she were to go on Broadway, one of her dream roles she would want to play are Elphaba Thropp, the wicked witch of the west and the villainous main protagonist from the musical "Wicked." Another dream role of Hollwager is Veronica, the main protagonist from the musical "The Heathers." Going along with the musical theme, Hollwager mentioned that her favorite musical is a tie between "Dear Evan Hansen" and "Heather's." 
   "Getting to know everyone (was the best part of "Mamma Mia") and honestly…even being with this cast and being with Mr. Z. I have to say my favorite part was being Donna, I mean that character. It's just something else." Hollwager said.
   Even after being in GBHS's fall play, 'Clue', and winning the talent show by singing one of her favorite songs, Creep by Radiohead, playing Donna in "Mamma Mia" has earned its place as the best part of her senior year.
   "(Playing Donna) was incredible. I could not put how I felt into words. It's a feeling that only I will be able to ever feel and it's crazy."
   Hollwager said that having two years of nothing, no musical theater, no regular theater, or no choir, was the hardest thing she has done in her life and made playing Donna all the better. 
    "I missed (performing) and to play Donna was just something I don't know if I'll ever have again," Hollwager said.
About the Contributor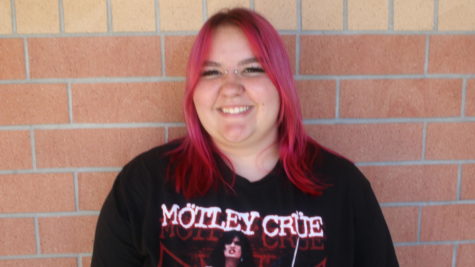 Zoie Walker, Staff Writer
Zoie is a senior. This is their second year on the Gazette staff.