GBHS suspension rates decline sharply
School turns to restorative justice after being put under greater state supervision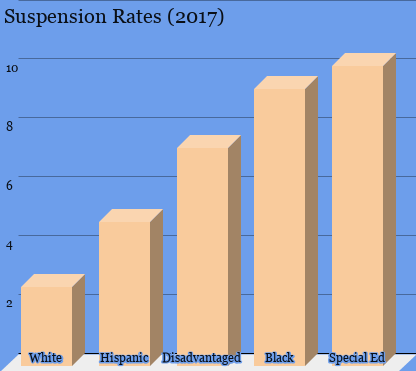 Suspensions have been an integral part of Granite Bay High School's disciplinary process for the 20 years it has been open, but a simple question seems to never have been asked — why?
  National and state statistics have repeatedly demonstrated that suspensions are ineffective as a deterrent for students and often come with high rates of students who repeat the behavior that got them suspended in the first place.
  "There's not a lot of evidence that suspensions change behavior," said Granite Bay High assistant principal  Jessup McGregor. "We see a recidivism rate that is very high – consequences don't change behavior, intervention changes behavior."
  GBHS has been flagged by the state for overusing and not having equity in student suspensions.
  On the new state dashboard rating system for schools, GBHS has the highest potential score in academic performance, graduation rate and college placement, but has a surprisingly low score – in the middle
quintile – for suspensions.
  The school scored significantly lower – in the lowest two quintiles – on suspension rates for marginalized groups.
  "The state has found that we have too many suspensions and that our suspensions were not equitable," McGregor said. "More students of color, special (education) students and socioeconomically disadvantaged students, have been suspended."
  In the spring of 2017, the white student suspension rate was 2.7 percent, while the suspension rate was 9.4 percent for African American students, 4.9 percent for Hispanic students, 7.4 percent for socioeconomically disadvantaged students, and 10.2 percent for students with disabilities.
  Because of the flagging of the school's suspension practices, it is now under greater state supervision.
  "The school is in what's called 'differentiated assistance' right now," McGregor said. "This means that the school is having certain issues and is going to have additional state oversight to help us improve on those problems."
  In response, the school has turned to restorative justice – a process in which student behavioral consequences are geared toward responding to individual problems, rather than the blanket use of suspensions.
  "The premise of it is really much better than automatic suspensions —  
we need to be more creative with the consequences we're giving," principal Jennifer Leighton said. "In the the gray areas where it might be more effective not to suspend, then we're going to explore restorative justice as an option."
"
we need to be more creative with the consequences we're giving"
— Jennifer Leighton
  Restorative justice is a more involved process than a suspension, with the hope of a greater effect by delving deeper to fix the problem.
  "At the school and across the district, we've started to realize that you get a lot more bang for your buck when you actually address the issue that caused the behavior instead of just the behavior itself," McGregor said. "With a suspension, those underlying issues haven't been fixed."
  Restorative justice can take many approaches regarding a behavioral problem on-campus.
  "If someone brings alcohol to school, we could suspend them for five days, but that doesn't fix the issues like their desire to drink on a school day," McGregor said. "Under the new method, that student might attend an eight-week substance prevention course instead of just going home for a week."
  So far, McGregor said the results appear to be positive.
  "Generally, we find students who underwent restorative justice are more likely not to (repeat their offense) than suspended students," McGregor said. "I can't think of an example where we've used this method instead of a suspension where it's gone wrong."
  Despite the successes, however, the implementation has fallen short in a few key areas – namely communication with teachers and the student body.
  "We know nothing right now as a staff," said Jarrod Westberg, an Advanced Placement government teacher. "Seeing a kid do something bad and them sitting in class the next day is bad for morale – bad for the image that it gives."
  To Westberg, the rapid and somewhat clumsy use of the policy all relates to the all-or-nothing nature of politics.
  "This is a reality when government entities want to implement something," Westberg said. "First they implement it, then they fill in the details later – it's not good policy-making by the state."
  The shortcoming in communication with teachers could be, critics say, a fatal flaw.
  "To have this work, you need to have the staff and student body buy in, and so far that hasn't happened," Westberg said. "In my mind, if the state doesn't find a way to effectively disseminate his information to teachers – the people that are actually with students every day – it's going to… fail."
  The rapid implementation at GBHS this year has surprised many students who, used to seeing suspensions used without restraint, have been surprised to see offenders back in classrooms the same day, sometimes even during the same class period.
  "I totally understand everyone's confusion and concern that the campus is going to run amok with the adults doing nothing," Leighton said. "That's not the intention at all, but our implementation has been cumbersome and clumsy – it's time for us to start communicating better and get our feet on the ground."
  There has been a 73 percent reduction in suspensions at this point in the 2018-19 school year, with only 17 suspensions to last year's 65.
  "Since we are still figuring it out –  we also felt it was a little bit thrust on us – we need to figure out what works," Leighton said. "The next step is communicating what's going on to our staff."
  The delicate balance between assuring the community that consequences haven't vanished altogether and breaking a student's rights to confidentiality has been difficult to traverse for the administration.
  "We need to be more clear that there are consequences – they are different, and we are suspending if we need to – but it needs to be clear to the teachers that we are taking action," Leighton said.
  The next step of the plan is to start communicating the new reality better with staff.
  "My plan is when the teachers come back in January, when there's no kids on the first day after winter break, then we're going to sit down and talk to the staff about what this means for everyone," Leighton said.
  With training and better communication on the way, the administration appears to have overcome the initial challenges that occur with any policy change.
  "Realistically in a true restorative justice model, 80 percent of the work happens in classrooms day to day –  only 20 percent happens in the office with us," McGregor said. "As a district, because of the sped-up timeline, we've had to start up here with the 20 percent – the 80 percent  is coming, but we haven't gotten there yet."
  The start of this school year came with an abundance of new pressures on the GBHS administration –  including greater state regulation, a new state rating system including suspensions as a new element and a new superintendent, Denise Herrmann,  focused on implementing the new program. These pressures have propelled a quick turnaround in age-old policies, but the GBHS administration remains positive.
 "Our execution and implementation of those policies (have) not been very good in terms of jumping in and working on it without having everybody on board yet," McGregor said. "We need to slow down and do a bit more sharing of information – that has become very apparent to us, but at the end of the day, restorative justice is going to be a good thing for us and for our kids."
About the Contributor
ELLIOTT HYMAN, News editor
Elliott is a senior, and this is his second year on the Gazette/GBT.org staff. He is a news editor.