GBHS Media finds success at national convention
   Granite Bay High School's Media program competed at the Student Television Network  (STN) 2022 National Convention and came home with not one distinction, but two: second place in the music video contest and an honorable mention in the short film contest. 
   From Thursday, Feb. 17, to Monday, Feb. 21, a group of 15 GBHS students was in Long Beach competing in the STN Convention, which drew around 3,000 student participants from schools all across the country in person and on Zoom. 
   "Media is a big passion of mine. It's what I want to do for a living, get into the film industry… STN is a really good way to get your foot in the door," junior Ryan Masty, who was on the silent film crew, said. "It's very exhilarating and fun to participate in." 
   The STN contests are "carefully designed to create a unique learning experience." The convention offers professional judging and evaluations to students' entries and gives students a chance to gain experience working with a team under a time constraint. 
"
Winning is… getting done with the competition on time and producing the product that we wanted.
— Zachary Weidkamp, media teacher
   "(It is a) competition to produce the best video you can in that amount of time with the resources you have. So you've got limitations," media teacher Zachary Weidkamp said. "You can't travel really far away. You only have what you brought with you and what's at the convention center, or around the convention center within walking distance." 
   GBHS students who were interested in attending STN had to have passed Media Production to be eligible, and they had to pay over a thousand dollars for the trip. They also had to attend two-hour-long monthly meetings, the first of which was in May 2021, to practice with the equipment and with the process of generating and filming a script.
   For every contest, students' submission had to be started from scratch: scripted, filmed, edited and exported entirely within the time limit. Every contest, except the Crazy 8's Contests, had a time limit of six hours.
   "Winning is… getting done with the competition on time and producing the product that we wanted, on time," Weidkamp said, "feeling good about (making) something that we set out to actually make and if we win, then it's just more validation." 
   At STN, GBHS Media participated in four different contests. The first one, the Crazy 8's Short Film Contest, was on Friday. Unlike the other contests at the Convention, advisors and teachers were allowed to assist their students in the production of their submission.
   The contest's time limit was eight hours, hence its name. Starting at 9 a.m., Media worked on a video that addressed the prompt "Don't look back" and that had to incorporate a metal key as a prop.
   "We were all stressed together, which made it less stressful in a way because we all shared the same feelings," junior Anne Oei said. "You feel just more comfortable when everyone else is feeling the same way as you."
   Five GBHS students, including Oei, competed in the Music Video contest on Saturday. Their music video was for the song "Ride" by Milo Winter and Tom Whitehorse, and it ultimately received second place.
   "I was very excited (about the music video getting second). I didn't know if we were going to get placed. In fact, that we even got second was beyond my expectations," Jessica Fine, a senior and the music video's cinematographer, said.
   On Sunday, six Media students spent the day creating a short film that had to include the dialogue "I'm starting to have second thoughts." Four other students worked on a silent film responding to the prompt "This isn't what it looks like." The silent film earned an honorable mention.
   Monday was the day GBHS Media returned home via airplane. Before they did so, they attended the convention's closing ceremony.
   "I say the highlight (of the trip) was probably… the closing ceremony. It was at 8 a.m., though, so we were all really tired. But we got to see everyone's work," said sophomore and silent film editor Kimberly Song. "It felt good to get awards and…be around a lot of other people who like to do the same thing as us."
   The trip was the ultimate opportunity for GBHS Media to hone their media skills and strengthen their team relationships. GBHS Media was able to bond with variety of people during the contests and after, the team enjoyed themselves at restaurants and even paid a visit to the Aquarium of the Pacific.   
    "I want to encourage people who are on the fence if they want to do media, and then STN—just do it, 'cause it's fun," Oei said.
About the Contributor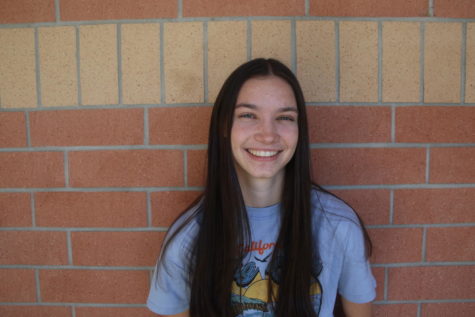 Kate Rowberry, Editor
Kate is a senior and Editor of the Opinion section. This is her second year on the Gazette staff.