Food Review: Von's Chicken
Through their slogan "well-being," Von's Chicken want to provide "healthy and delicious chicken." They have a variety of delicious food on the menu, which indicates that they truly care about their store and stuck through their slogan. 
The variety of foods they have are incredible. The first food that I tried was the "Crispy "Yang-Nyum" chicken. "Yang-nyum" refers to seasoned chicken, but it's not the typical fried chicken that we eat. It's chicken smothered in a spicy red sauce. Just for the fun of it, I got the spicy sauce and as soon as I took a bite of it, I felt a little tanginess and then close to the end it got really spicy. Eventually I had to drink milk to cool it down, but it was good to enjoy. 
I tried the "Crispy Soy Chicken," which tasted completely different from what I had imagined. As for the sauce, soy-garlic-ginger is one tasty combination that fuses all the right Asian flavors together. It's sweet, tangy and the fresh garlic and ginger give it a punch of flavor. The chicken itself is so crispy due to the addition of potato starch in its batter and double frying the chicken. 
I wanted to change things up a little and tried the side dishes since I heard good things from the people around me. I can tell that they use a good oil to fry these fries because they don't taste greasy. The garlic potato fries were baked, golden brown and perfectly done. You can taste the minced garlic alongside with the outside being crispy and soft on the inside. The fries are tossed in slightly warmed chopped garlic, olive oil, kosher salt and an addition of parsley that's sprinkled on top of the fries. This is impressive especially because garlic potato fries are pretty difficult to make and be successful.
The next side dish that I tried was tteokbokki. Tteokbokki is a classic food that the majority of Asian people enjoy, especially people in South Korea. Tteokbokki is a spicy stir-fried dish that usually consists of cylinder-shaped rice cakes, sweet red chili sauce and fish cakes. They made this dish well and it reminded me of when I ate tteokbokki back in Korea with my family in pojangmacha. 
The price range for this restaurant is rather on the high side. Eight pieces of chicken is about $16, meaning that 16 pieces of chicken would roughly cost $32 with tax. Both the garlic potato fries and tteokbokki cost about $7. This is a reasonable price for the portion that they serve. The wait time is about 10 minutes, but trust me, I don't regret waiting for 10 minutes to eat those succulent and tender fried chickens. The customer service is beyond good. They treat you like you're family, literally. After you sit down and enjoy your food, they ask "is everything okay" or "how does the food taste?" This shows how they really care about their customers. 
Despite the price, I would recommend people to go to this restaurant to have the best time with their friends and family. As a final score, I give it a 9/10 because of how they treated their customers well and the workers are efficiently doing their job.
About the Photographer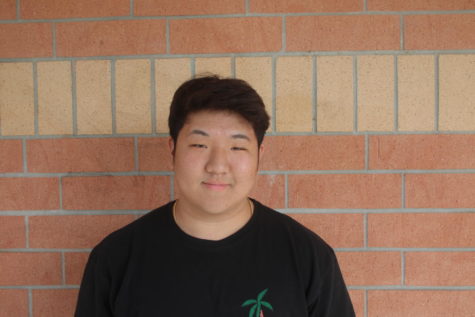 Sam Lee, Assistant Editor
Sam is a senior and Assistant Sports Editor. This is his second year on the Gazette staff.