Food Review: Noah's Bagels are a hole-in-one!
One of the best bakeries in all of Roseville is a small bagel shop sandwiched in the middle of a cluster of businesses.
It's difficult to find good bagels in California, as most you could purchase at your local supermarket are not so much bagels and more just circle shaped bread marketed as such. They taste more sweet than savory and remind me of subway bread. Noah's Bagels, however, is the best option you can get if you're looking for a fresh, authentic, New York style bagel.
Noah's Bagels is by no means a small business, as they have locations all over California, but that doesn't stop them from being the highest quality bagel shop you can find in the state. Their bagels remain fresh and delicious no matter when you go.
The closest shop I could find was in the Rocky Ridge Town Center, and I went there at around 7:15 a.m. since it's best to get there as early as you can. The lines can get excessively long during the breakfast rush, and you could be waiting 15-20 minutes just for a sandwich.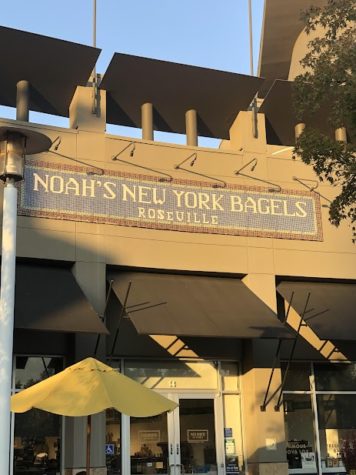 When I walked in I could smell the fresh bagel dough baking in massive ovens only visible through a small crescent shaped window. The blue and white tile floor made me feel that I was in a bagel shop in New York, not a business center in the middle of California.
The cashier was very friendly as I tried to figure out what to order. Looking at the large menu, I ended up deciding on an "everything bagel" sandwich with two eggs, some cheese and one of their "twice baked hash browns." For a drink I ordered an orange juice, and I almost drank all of it while waiting for my food, which only took six minutes before it was hot and ready. 
I took a sip of the ridiculously sweet orange juice before digging in. As soon as I ripped through the foil that covered the sandwich, I was met with an overwhelming smell of cheese. The bagel was soft and chewy with a little crunch on the edges and the medley of seeds and seasonings on the bagel were delicious. The eggs were a brilliant mix between scrambled and fried and weren't over cooked or under cooked. The cheese was a rich cheddar and I almost couldn't taste the eggs because of it.
However, by far the strongest flavor came from the hash brown.
Don't be fooled by its name, because it's really a cream cheese pastry, or that's what it tasted like. If I had to guess. I would say it was a 1:3 ratio of potatoes to cream cheese, and was very rich, so much so that after eating half the sandwich I had to remove the hash brown bit because it was too overpowering.
I left the restaurant feeling very satisfied. The food and customer service was great and I can't think of any flaws. I have been and will definitely keep going to Noah's Bagels as it continues to be a great breakfast bagel shop. As a final score I give it a 8/10 for its great consistency and customer service.