Every 15 Minutes: an overview of the program
The Every 15 Minutes program this week gave students a new appreciation for just how significant the smallest of decisions can be.
"You don't need to have fun by drinking (and driving)," junior Jordan Holt said. "It's just not worth it. Life is so precious. (Every 15 Minutes) was all too surreal in itself."
On Tuesday, the bi-annual Every 15 Minutes program took place at Granite Bay High School. Several students were involved in the mock car accident including juniors Savanna Thompson and Drew Kindelt, and seniors Madison Blackburn, Lucas Baiocchi and Spencer Bluett. Along with the students involved in the car collision,  27 other juniors and seniors were pulled out of their classes throughout the day as "The Walking Dead."
Junior Brooke Gonzalez, one of  "The Walking Dead," was excited to participate in the event because she looked forward to making a difference and creating a valuable impact among her peers.
"I think the hardest part is the car crash scene and seeing how my friends react in the crowd and seeing my obituary," Gonzalez said. "It doesn't matter if it's a drop (of alcohol) – don't do it. There's always a better answer."
Thompson, who "died" instantly at the car scene, hopes students will become more cautious when they drink. Before the scene, Thompson said she was excited for the impact of the event but also anxious to hear her boyfriend throughout the accident.
"Hearing Drew talk to me (won't) be fun," Thompson said.
From her experience of simulated death, Thompson said she expected to take away many life lessons.
"I think I will value life, my friends and my family more while everyone's still together," Thompson said. "I've already realized (drunk driving) is bad. But now it is much more realistic, and even being involved has made it seem so much more real that teenagers aren't immune to the consequences of drunk driving."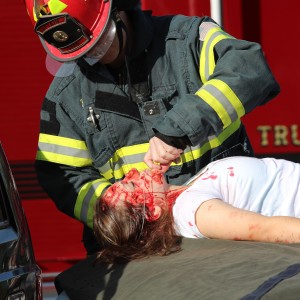 According to David Martinez, the California Highway Patrol officer who oversees the program, the car crash simulation went very smoothly and the timing worked out well. All the agencies showed up when they were supposed to, and the students involved in the car accident played a huge role in the event.
Before the accident simulation, Bluett, the drunk driver, was extremely excited for the simulation but also nervous because of the significance of his role involving "improv" acting. Because of this, he said he hopes people will be appropriately affected during the event.
"I will take away a lot," Bluett said. "It's going to impact me forever and show just how serious drunk driving is and how much one decision can change a person's life. Hopefully (the students) will also have an impact from the scene,  and hopefully it will change their lives because it only takes just one moment, one decision."
Because Holt is good friends with the "victims" in Kindelt's car, she said she sees this event as an eye opener to the negative consequences of drunk driving and how it affects others around you.
"I had a big meltdown right there – I don't think I could imagine if that was real," Holt said. "I think students should really take it to heart and listen to the message, because it can happen at any time."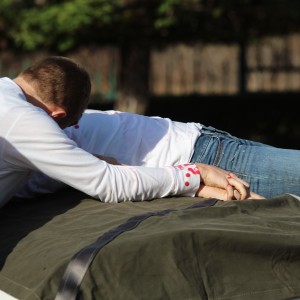 Without the Every 15 Minutes program, GBHS students wouldn't experience such a realistic car-crash simulation that opened their eyes to the horrific consequences of these dangerous actions.
After several years of directing the program, student government teacher and adviser Tamara Givens actually dreads the reenactment of a driving-under-the-influence accident because the event is emotionally and physically exhausting, but she acknowledges there are rewards in the end.
"My favorite part is watching the kids get reunited with their friends and their family after the service and then we all go and have lunch together," Givens said.  "Just looking around knowing that they are all alive and everybody is OK, that is the best part."
In order to make the event successful for GBHS students and the other agencies involved, preparation starts early.
"We started about six weeks ago – it takes a long time," Givens said. "So we have meetings, starting out monthly, then meetings every couple of weeks to talk about what we're doing to get ready."
To plan for the event, countless people and organizations have key roles. This includes agencies such as the California Highway Patrol, the Placer County Fire Department, the Placer County Sheriff's Department, ground and air ambulance firms, the county coroner, local hospitals and the county's chaplaincy program.
Martinez said he focuses on coordinating all the agencies in order for the event to run smoothly.
"I am in constant contact with all mentioned agencies and their personnel to make sure everyone is on board and knows their responsibilities," Martinez said. "Because this is a staged event, timing is very important."
Placer County sheriff and GBHS school resource officer Joe Herrick also helps work with these law enforcement agencies to put the program on. Finding donations for food and working with the chaplains and doing death notifications for the families are just some of the many things that need to happen ahead of time.
"(Preparation involves) setting aside hospital rooms …  demanding the closure of the road,  having the sign crew come drop off road-closure signs, delivering pamphlets to the neighbors regarding the road closures," Herrick said. "It's a real big deal that involves a lot of people, so we have been having multiple meetings."
Because Every 15 Minutes is a staged event, all of the agencies prepare like it's an actual accident. CHP officers respond to investigate the accident, and they do a mock evaluation of a DUI driver, who is arrested and transported to the county jail – where that individual goes through the actual booking process.
"That part is simple," Martinez said. "The other departments – the coroner, the hospital – all handle this program as if it were the real thing. That's what makes the program unique.  Everyone responds and handles their responsibilities as if it were the real thing."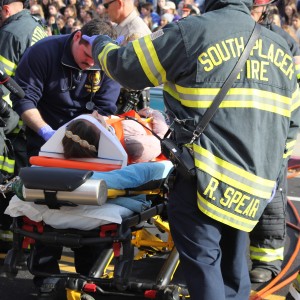 The student commissioner of Every 15 Minutes, senior Alex Baldonado, and his two assistant commissioners, seniors Natalie Rhodes and Austin Brown, are in charge of the more school-oriented activities, such as picking the students who will be participating in the event and making T-shirts.
Because students only experience this event once during their GBHS career, the program will be similar to the one in 2012 at GBHS, however, there will be a new added concept to the accident simulation.
"One thing we are adding to this year's event is texting and driving, and that will be another cause of the crash because we think this idea is a lot more prevalent now with our generation, so we felt like it would be a big thing to miss," Baldonado said.
Givens also said she believes there is a much larger percentage of GBHS students who text and drive vs. drinking and driving. By incorporating this new concept into the program, organizers hope to increase the impact on GBHS students.
"We want that to be in the forefront because I know that this year, more of our kids do (text and drive)," Givens said. "It is hugely significant."
Media coordinator and teacher Zachary Weidkamp has also been preparing approximately 30 students who will help shoot this year's Every 15 Minutes event by demonstrating various filming and editing methods for the simulation.
A media team created a plan for who will film each specific event within the program, such as the jail scene or the  car crash. They do this based on what media students want to record, what they are capable of and if whether can afford to miss some class periods during the two days.
"I'm trying to be as much as a hands-off teacher as I can be and have the students do as much of the work as they can," Weidkamp said. "Ultimately it's their creativity and their project, I'm just scaffolding the structure in which it needs to fall and reside in."
Also new this year will be a news company coming all the way from France to film the event.
"They've heard about the program and want to see first hand what the program looks like," Martinez said. "Possibly, they may have a problem with young drivers in their country and may want to have a program like Every 15 Minutes."
Weidkamp sees this as an opportunity to help in any way possible and to hopefully show what an amazing program Every 15 Minutes is.
"I think it's really neat to show what Granite Bay does, because there are some schools that don't have a film department or media department," Weidkamp said. "So they either don't do it or they have to pay someone else to do it, so I think its a really cool thing."
Another key aspect of Every 15 Minutes is the people who are chosen to participate in the program. This year, Baldonado, Rhodes and Brown selected a wide variety of students to take part in the event.
"Usually the commissioners pick with administrator help and with Officer Herrick who make the final decisions," Givens said. "Except for this year Mrs. (Sybil) Healy emailed all the staff and asked for input of students that would be influential and would benefit from the experience."
The goal is to pick students from a large variety of school cliques and groups, so that during the event, all students will feel a direct impact from whoever is chosen from their group.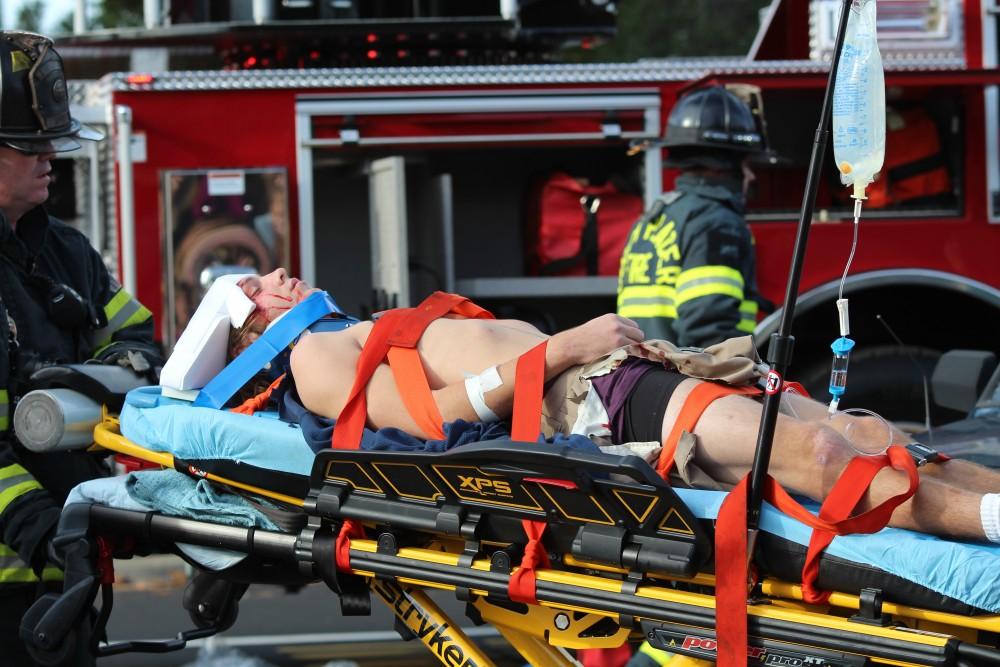 "For example, like the kids in band will have someone die in the program and they will be affected," Baldonado said. "Then we will have a kid on the football team die so their teammates will be affected. And then there will be a kid from drama and the IB program. So we try to get an equal representation from every clique or posse on campus."
Most of the students involved with the program are more than willing to help because, according to Martinez, Every 15 Minutes is very well known around the country and does save young lives. It helps students appreciate what happens when someone makes a bad decision and how many peoples' lives are affected by that one poor choice.
During the program, the participants will take a tour of the jail and of the county morgue, and they also participate in a student retreat where they get to share their thoughts about what they have seen and what they have witnessed,
"So it goes beyond just those 30 kids involved, because they are going to share with their friends the impact they had with them saying, 'Wow, this is what a jail looks like and this is what a morgue looks like,' " Herrick said. "So hopefully, they are going to share that with their friends and they are going to make good decisions and not drink and drive."
After several years of experiencing Every 15 Minutes, Givens keeps supporting the program because she said she thinks it has an impact on GBHS. After experiencing the loss of a student at another high school, it angers her when students don't take Every 15 Minutes seriously because they don't realize how their lives would be vastly different if someone is killed in an accident.
"The kids who don't get anything out of it, that's their choice because the program is so good and so powerful and done so well from all these people that help put it on," Givens said. "So the kids that take it seriously and get something out of it, hopefully it will change their lives."
Baldonado has also already seen how the last Every 15 Minutes has helped the community with fewer students drinking and driving and more becoming increasingly cautious of their actions at parties.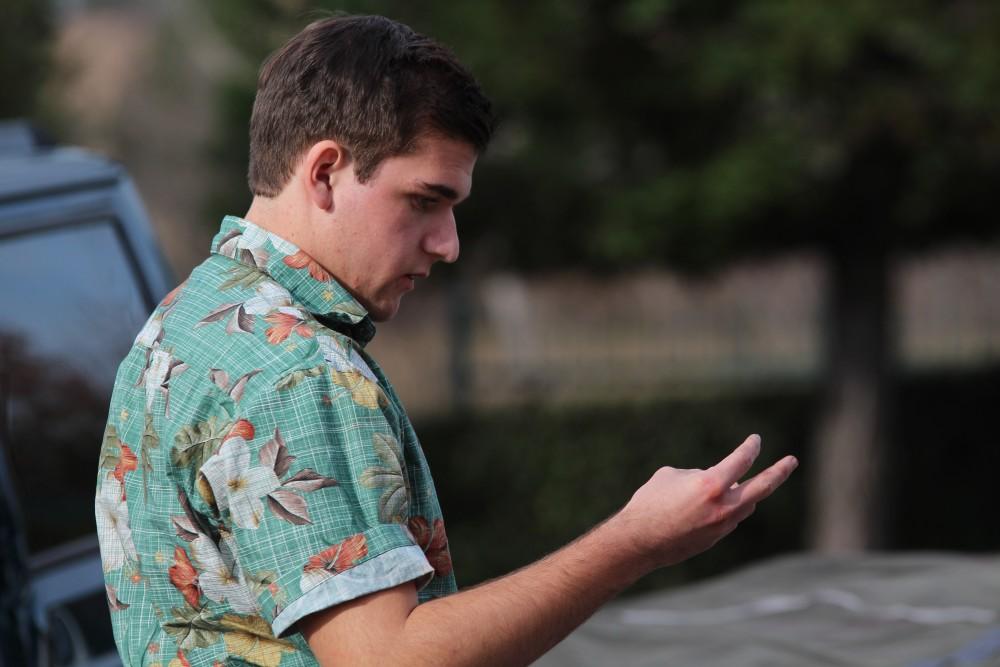 "The program has made everyone realize that drunk driving hurts not only yourself, but also other people," Baldonado said. "Like now, before you drink and drive, people will take your keys because you're not cool for doing that. So it's  kind of like a whole culture now that drinking and driving is not something that's cool to do, so we really think it does affect everyone."
Because of all of the agencies and people involved who put time and effort into the preparation for event, the program is consistently successful at GBHS.
"The program is all about good choices, and the students will see that their peers in the program now have a second chance," said Martinez, the CHP officer. "In reality, we don't get second chances."