Cycling Development: Mountain biking climbs to a new level
In a traditionally individualistic sport, Cycling Development emphasizes comradery above all.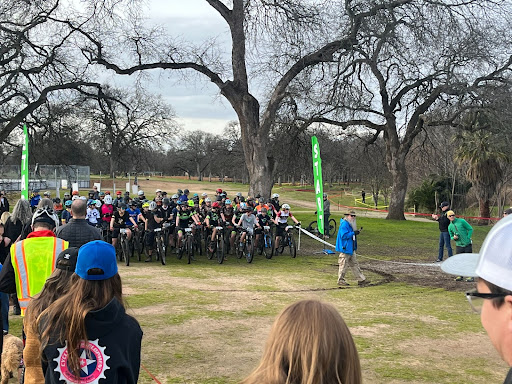 As the sun sets on the lake, riders from schools all around the Sacramento area ride and have fun together after the huge Cycling Development feast. Even though they had one day together, the riders are stoked for an awesome season of riding with each other.
Cycling Development is a nonprofit organization in the Sacramento area that many high school mountain biking teams have joined, including GBHS as of this year. Cycling Development helps new riders get into mountain biking and lightens the load of a mountain biking team on coaches and volunteers. 
The predecessor to Cycling Development was just a team for one school with a group of kids who saw other schools with teams and wanted to ride together. 
"We were passing the Folsom Bulldogs mountain bike team…. Folsom has got a team and Oak Ridge High School doesn't have a team. That's stupid," Mark Ferry, Managing Director for Cycling Development, said.
Ferry later went on to create Cycling Development to solve the issue of too few mountain bike teams in the area, and to solve the issue of coach burnout which he had faced as a head coach. 
"Instead of wanting to quit, being overtaxed and just feeling like it was too much of a burden, (I thought) how can we make it less work for the head coaches," Ferry said.
Cycling Development also aims to give a place for beginning to advanced riders in the team. Whereas most teams only have three to four levels, Cycling Development gives 15 levels for riders to ride with. 
"In between, I have all these levels of groups. And so if it was just me coaching one team, Granite Bay Grizzlies, I would have to somehow get a coaching staff for myself and accommodate all these levels of people," Jeff Bilodeau, GBHS mountain biking team head coach, said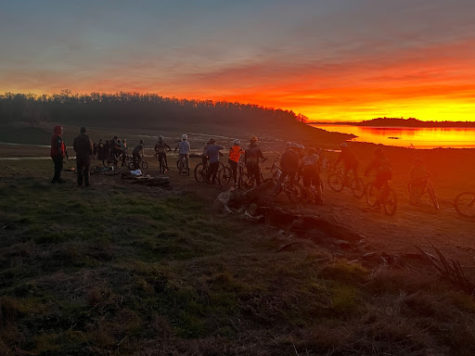 The levels that people are put in depend on their overall ability on the trails and their fitness levels. Riders can ask coaches or be recommended by them to be moved up and down groups. This makes it so that no one has to be cut from the team, they can just be moved groups. This is necessary because if it was a very competitive sport that had cut-offs, then there would be a huge deterrent to new riders.
However, having a great time on the trails is not the only goal of Cycling Development, they also emphasize the importance of comradery in the teams. Instead of having a lot of  competition and rivalries between teams, they focus on everyone building relationships and supporting each other out on the races and trails. 
To do this, every team rides together intermixed during two rides of the week, and events like Team Camp and others hosted by parents are held for the entirety of Cycling Development and sometimes anyone else who wants to join.
"Whatever team you're on: Bruin, Trojan or Grizzly. We're all bros, we're all just having a great time together and we're all a big family," Ferry said.
The biggest event that Cycling Development holds; Team Camp, is a roughly two day event that happens at the beginning of the year so that riders can meet each other before the season starts. The camp has many activities for riders to participate in to bond and have fun together.
In between the activities and meals, there are many hours of time allotted for teams to hangout at their campsite and bond. Every year there is a skit competition between all the teams, and this year riders built a jump near the lake in their free time.
The parents of riders are very engaged in the team, from meal and snack planning during events like Team Camp and at races, to organizing entire events. After a race canceled due to flooding this year, families organized a lunch for everyone in Cycling Development.
To add to the accessibility of the team, Cycling Development offers bikes and scholarships for people who cannot afford to ride and want to.
For more information, you can go to https://www.cyclingdev.com/grizzlies, or to reach the GBHS head coach you can email [email protected].
Editor's note: Loren Toeniskoetter is part of the GBHS mountain biking team.