Brand new pool for the year currently in the works
Construction plan lies ahead to provide the aquatics and athletics programs a new facility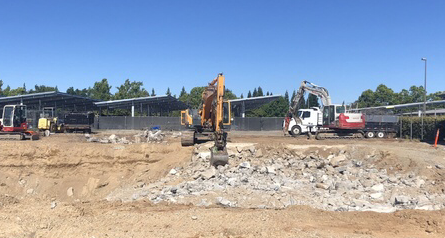 The Granite Bay High School pool has been long overdue for a renovation. 
The current pool has existed ever since the school's opening in 1996 with one minor repair along the way.
"The original pool opened the first year and had eight lanes, but the shallow end was three feet (deep) so you couldn't play water polo in it," said John Sherman, a math teacher and the  aquatics director at GBHS. "So, our Aquatic Boosters Club (raised) about $400,000 to make a quick change which was to essentially raise the pool deck a foot higher."
Despite the adjustment, the pool still experienced setbacks that needed to be addressed eventually, especially as the number of aquatics athletes has grown.
"
The end goal is that we have a facility that better suits what high school water polo, high school swim and the community needs,"
— John Sherman
"Our swimming teams are enormous," Sherman said. "(Over) the last few years, just the high school (teams) alone had four practices a day – a morning practice, an athletic P.E. practice, an after school A, and an after school B."
Although this practice schedule is doable, Sherman said it isn't ideal. By expanding the pool, practice schedules could be cut down and still suit athletes of different athletic ability.
Aside from the size, the 24-year-old pool was long overdue for general repair. It had cracked tiles, burnt-out lights and loose diving blocks. 
Above all, however, the single biggest setback, according to Sherman, was the insufficient pool depth and size for water polo. 
"We couldn't host league games officially," Sherman said.
In 2016, Measure D was proposed to raise property taxes in order to improve Roseville Joint Union High School District facilities. Over the past three years, the district held meetings to discuss the most beneficial pool design to better suit both the water polo and swim teams.
"Basically they pull(ed) in the stakeholders – the water polo coaches and swim coaches – and (asked), 'What do you need and what do you want?' " Sherman said.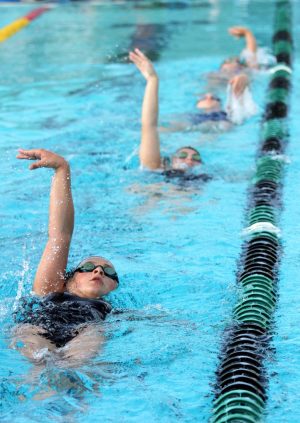 From there, Sherman said a design team came in to design it, and more meetings were held in order to revise and finalize the designs.
"The end goal is that we have a facility that better suits what high school water polo, high school swim and the community needs," Sherman said. "Water polo needs 35 meters and swimming has to have 25 yards, so our pool is (going to be) 35 meters by 25 yards."
The design was finalized in February, and construction began in July. The pool project should be completed next March, but Sherman hopes it's sooner.
"March is the contracted build date, but obviously we are hoping that this builder is …  fast and will finish earlier so that we can have high school swim here this year," Sherman said.  
Having to host four separate teams of water polo and a large number of athletes on the swim team in such a small pool limited the maximum performance level for both sports.
"Just the size made it hard to get much done if we ever had junior varsity (athletes) in the pool too," said junior Anthony Gross, a varsity water polo player and swimmer. "(With a bigger pool), practices for both (water polo and swim) will be able to accommodate more people."
Currently, all four water polo teams are practicing at the Orangevale Community Center. Although this might create setbacks among the teams for the time being, many aquatics athletes and coaches say the new pool is worth the sacrifice.
"Commuting is a bit annoying compared to having practice at school, but we make the best of it," Gross said.
Junior Malia Greenwald, a varsity water polo player and swimmer, is also excited for the benefits of the new pool because it will improve the competitive experience for both water polo and swimming. 
"I am looking forward to having more lanes for swim so they can go faster, and an all-deep pool for polo," Greenwald said. "The (larger) pool will speed up swim meets and allow (for) warm-up lanes."
Not only does the pool construction affect the water polo and swim teams, but it also temporarily changes the physical education curriculum for current ninth graders who have physical education in the fall. 
According to Angela Pozzi, a P.E. instructor, the current freshmen who are taking P.E. in the fall will miss out on the swim unit and triathlon. Pozzi didn't know if those students will make up those units in the future.
In the end, although the construction of the new pool affects existing programs, it will benefit the school in the long-run.
"At some point you (have to ask), do we want to dump … thousand(s) (of)  dollars into (fixing) this pool?" Sherman said. "Or is it more … responsible to just design something that is commensurate with the programs that we are running here?"
About the Contributor
Sophia Harimoto, Co-Editor-in-Chief
Sophia, a senior, is one of the editors-in-chief, and this is her second year on the Gazette staff.