Album Review: Morgan Wallen's new "One Thing at a Time"
I "Thought You Should Know" that Morgan Wallen doesn't disappoint with his new album "One Thing at a Time".
Morgan Wallen's newest album, "One Thing at a Time" released March 3, 2023 and almost instantly became a success.
Since its release, the album has broken the internet and the billboard charts.  In just four days, One Thing at a Time gained 315 million streams, and counting, as well as the most streamed country album within the first week. This record was previously set by Taylor Swift's country album, Red.
This album features collaborations with country artists such as Hardy and Ernest, both of whom have collaborated with Wallen before. This album was long awaited after its first single "Don't Think Jesus" was released in April of 2022. Wallen went on to release 9 more songs on the album before releasing the full album in March. 
When looking at the album, the first thing you notice is the cover. The image is of Wallen standing on the front steps of a house looking out into his surroundings. The use of dull, muted colors in the cover gives a familiar and safe feeling to the album.
Of the 36 songs on the album, some of my favorites are "Thought You Should Know", "Tennessee Numbers", "Don't Think Jesus" and "Man Made a Bar."
"Thought You Should Know" is a sincere and emotional song and was written as a tribute to Wallen's mom, Lesli and released on Mother's Day. This song serves as a thank you for always believing in him, and because of her undying love, he is living his dream life. The song was real and genuine, earning it's spot as one of my favorites.
"Tennessee Numbers" on the other hand, revolves around a past relationship that the speaker is still hung up on.  Through the slow number, he talks about how close they used to be and how she used to answer on the first ring, but now she avoids calls from Tennessee Numbers. I like this song because of the almost peaceful beat, reminding me of my personal favorite from his album Dangerous, his song "865."
Another favorite was "Don't Think Jesus", a religious song telling the story of a guy who started writing songs about women and substances, going to bars to fulfill this lustful lifestyle; while in the back of his mind he had a voice telling him that Jesus wouldn't have lived that way. Wallen sings that if that was him (who it seems to be about) that he would have given up on himself and beat himself up about it as he is straying away from Jesus, but Jesus would forgive the man. I really liked this song because it explains how Jesus still accepts us after we hurt him and live the way he has not planned for us to.
"Man Made a Bar" is another religious, meaningful and catchy song, but also includes Eric Church. It tells about how God gives us opportunities and how we do things to help each other out having been given those opportunities. I like this song because of the message it sent.
Overall, I would give the album as a whole a 10/10. I think the songs discuss a lot of relatable and meaningful themes and no matter who you are, there will definitely be a song you can relate to.
About the Contributor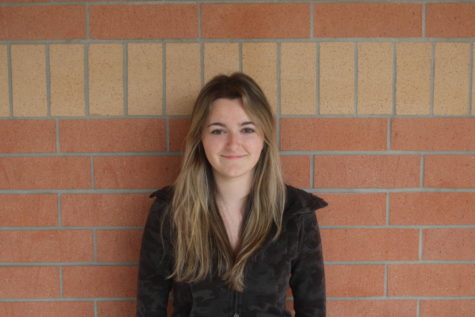 Sofia Baumgartner, Assistant Editor
Sofia is a senior and Assistant Opinions Editor. This is her second year on the Gazette staff.