Giselle Gutierrez
October 29, 2021
"I am a Nicaraguan-American," Giselle Gutierrez said.
Gutierrez is a junior at Granite Bay High School. 
For Gutierrez, Hispanic Heritage Month doesn't have any particular traditions, but is a time of celebration of her Latina heritage and connection to other Hispanic people. 
"This month is the time of the year in which I can share my pride in being Latina with others and connect with other Hispanic people. I appreciate hearing the joys and struggles other Hispanic people have experienced being on campus and in their communities."
As Gutierrez took Spanish classes in high school and began to take interest in things such as Hispanic culture, she first turned to her family to learn more. 
"I ask my parents to tell me stories of their childhoods and to do my research into the history and the current state of Nicaragua…I would like to take the time to visit my family more often and talk to those still in Nicaragua." Gutierrez said. 
Gutierrez feels that learning Spanish gave her more chances to appreciate Hispanic culture. 
"My entire family speaks Spanish, and when I was younger I was unable to communicate with them, except for a few simple phrases. Now, after learning Spanish both at school and home, I have this ability to converse, allowing me to make new memories with my relatives," Gutierrez said. 
Gutierrez also appreciates making these connections and strides outside of her home, and sees improvements being made in how Granite Bay recognizes Hispanic Heritage Month. 
In particular, Gutierrez believes that most of the recognition is from Spanish classes, which focus on culture as part of learning the language.
"I believe Granite Bay does a good job in recognizing this month, through the Bulletin, teacher announcements, and this edition of the Gazette. This topic has been brought up in most of my classes, and each time I hear of it I smile," Gutierrez said. 
While this benefits students taking these classes and allows them to have a better understanding of Hispanic culture and tradition that translates to more opportunities and appreciation for Latinos, not everyone is in a Spanish class that brings up these topics, which is where the school has the availability to come in and do more. 
"Mrs. Gonzales does an excellent job of communicating the significance of HHM, making all Latinos feel special whilst still educating everyone," Gutierrez said.
Learning about the history of Hispanic Heritage throughout this month is just the beginning, as it is also a time to reflect on what opportunities and resources the communities, schools and government can provide, aiding the next generation of Latino- American history makers. 
On top of education, resources that the school can provide during the month and year round for those who want to learn about Hispanic culture and students of Hispanic descent is something that Granite Bay can improve on. 
"I would like for there to be resources in which aid students in signing up for scholarships, SATS, AP exams, etc. as many first-generation Latino-Americans cannot ask their parents questions or for help on how to do these things," Gutierrez said. 
As Gutierrez continues to learn Spanish and cook Nicaraguan food with her family, her celebration of her culture and ancestors will continue even after the month comes to an end.
About the Contributor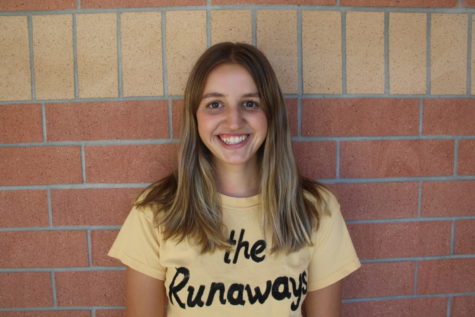 Elise Fisher, Co-editor-in-chief
Elise is a senior and Co-editor-in-chief. This is her third year on the Gazette staff.