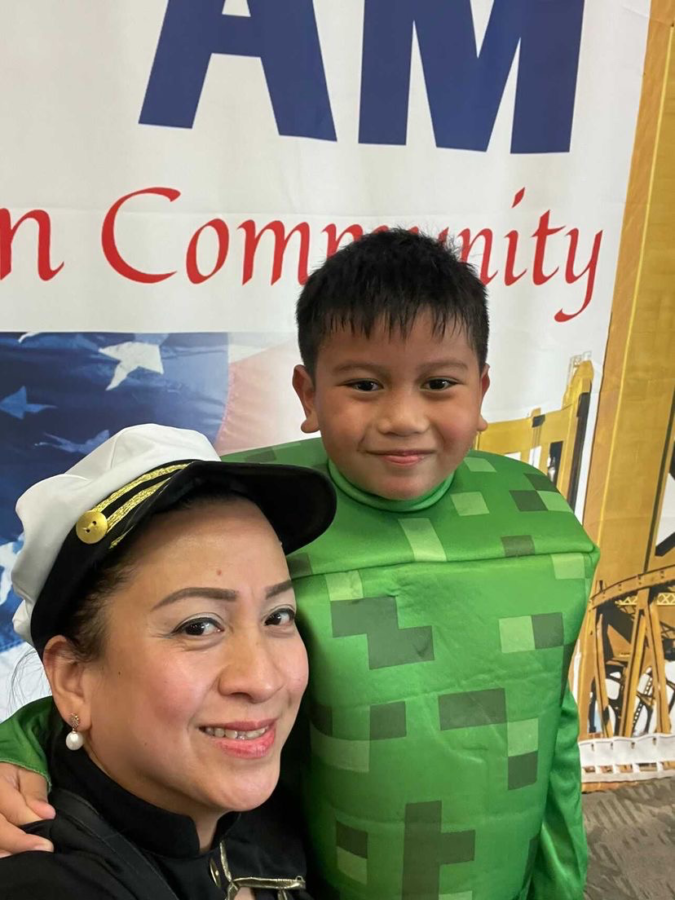 Zena Perez
Even when times get rough, 
Filipino business owner, Zena Perez, knows how to 
roll with it. 
   Food supplies scarce and with limited  options, Perez, the owner of Zena's Baked Aburi Sushi, found the opportunity in the face of adversity. 
In 2020, Perez started her business, Zena's Baked Aburi Sushi, in the midst of the pandemic with limited means of advertisement Perez turned to social media. 
"Through word of mouth and advertising using various social media platforms, Zena's Baked Aburi Sushi became the lockdown food trend here in Sacramento and the Bay Area," Perez said. 
   Baked Aburi sushi, according to
 Bon Appétit Magazine is a 
California-style roll, but 
deconstructed, layered, and baked 
in a casserole format. 
   "Just a few years leading up to 
COVID-19, Sushi Bake became a 
huge craze in Asia," Perez said. 
"I've always had the desire to start 
my own business as well possess an innate passion for cooking, and with the help of my friends who are professional chefs, (I) decided to give it a try."
   Though Perez had never owned a business before, she did have experience working in a restaurant setting, before she immigrated to America in 2011.
   "Prior to immigrating to America, I resided in Calgary, Canada, where I worked as a restaurant manager," Perez said.
   Though not in a physical setting, 
Perez was able to apply her managerial skills to an online business. 
   "Almost everyone has a Facebook account nowadays, and because of its wide appeal, Facebook makes for an important platform for small businesses and gives these businesses an opportunity to flourish by utilizing its social media marketing," Perez said.
   Aside from social media has brought Perez, she  attributes success to the support of her local Filipino community. 
   "Our local Filipino community
helped my business immensely during its early stages by providing maximum advertising exposure not only to Filipinos, but as well to different ethinic backgrounds," Perez said. "Many Americans have never heard of 'baked sushi' before and our Filipino community continues to help introduce and encourage people to try this great alternative to eating raw sushi."
    The support the Filipino community has provided Perez has caused her to hold a high regard of endearment towards the community. 
   "To date, our Filipino community continues to support my business and have become very loyal customers, many of whom I know consider my family. I will forever owe a great debt of gratitude and directly attribute my success to them." 
   Perez also is involved with the Sacramento Fil-Am Bayanihan Community, which empowers and educates about Filipino culture and heritage. 
    "We (Sacramento Fil-Am Bayanihan Community) would rather like to recognize the efforts and dedication of our entire Sacramento Fil-Am Community closer by hosting numerous social events in the past few months," Perez said. "We also continue to promote local Filipino businesses with emphasis on helping small startup businesses get off the ground and become successful."
   Working with and aiding small businesses, Perez has observed the attitudes which Filipino business owners emulate.
   "Filipinos are innately very proud people in general, and we take great pride in their products and services, using very meticulous processes and attention to detail to ensure that we provide nothing but the very best to our customers," Perez said. "Additionally, we are known to be very hospitable people; welcoming and treating everyone just like family. This is how Filipino business owners treat their customers as well, just like family."
   With Perez's experience she emphasizes how the road to success is a continuous learning process.
   "I've learned that entrepreneurship involves risks; risks which involves trials and errors, mistakes and failures," Perez said. "But failure should be an accepted practice and should be considered a key ingredient in helping any business 'tweak or fine-tune' their product or operation to achieve the desired outcome."
   To Perez, the failure and hard work one endures amounts to the success which Filipinos yearn to achieve.
   "For many Filipinos, success is achieved once they realize and reap the benefits of their hard work and start living their dreams," Perez said.
   Personally, Perez takes the Filipino value of success and makes it her own.
   "I define success as the feeling of self satisfaction after achieving a goal, regardless of how big or small the goal is that you are trying to achieve," Perez said.
   Perez encourages others to find support by reaching out to your local Filipino community. 
   "A great resource for someone interested (…) is to visit the Filipino American National Historical Society's (FANHS) website," Perez said. "(Also) I find that going to church and attending their activities as well as patronizing local Asian stores can steer a person towards the right direction to a local Filipino community. Doing a quick search on Facebook and other social media platforms are also great means of becoming acquainted with a local Filipino community."