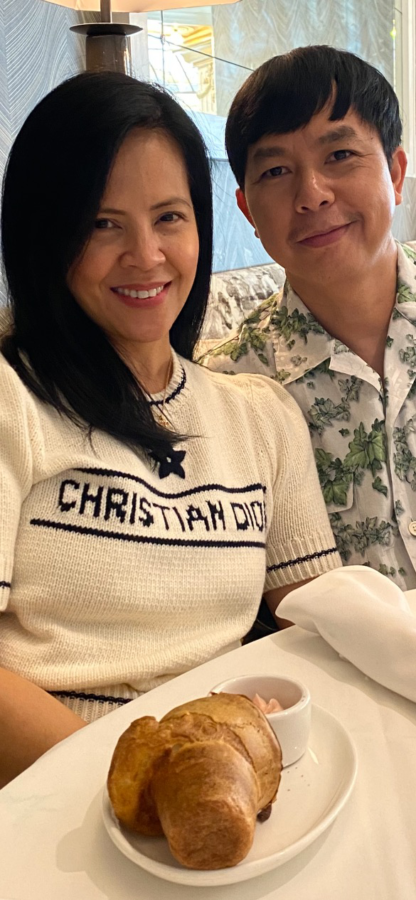 Richard Callueng
  Sari-sari stores, or variety stores, are a  staple for communication in the Philippines. 
   Richard Callueng, the owner of the Oriental Market, has brought the center for communication and surveillance of the Filipino community to Roseville. 
   "My wife and I both came from a business family back in the Philippines and even though we came here in the United States as Registered Nurses, we went back to what we truly are passionate about which is retail business," Callueng said. "Through the years since the inception of our first store, our business grew and expanded not only catering to the Filipino community but also being able to cater to the locals and other Asian groups."
   Prior to opening a business in Roseville, Callueng had opened a store in Chicago.
   "Our very first store opened in Naperville, a suburb of Chicago. It was really small and we carried the basic Filipino products out there," Callueng said. "We knew there were quite  a number of Filipino families around the area so we already expected how many customers we'd get. It was really important for us that time that we should be in the right location to make it."
   In first starting his business with his wife, just as other business owners, were faced with a multitude of hardships.
   "We were very young, 27 years old, then (when opening their first business) had a baby and we took a big leap of faith when we decided to quit our jobs and open a business," Callueng said. "Not knowing anybody in that line of business was very challenging but we did our research and were able to connect to suppliers and distributors that eventually became also our mentors/advisers business-wise. Also, we were competing with other existing successful Filipino stores in the area, but because of our perseverance and dedication to succeed we were able to show them we were a force to be reckoned with." 
   Aside from dealing with the stiff competition whilst building a foundation for a business, Callueng was having to establish his family here in America, he and his wife dealt with obstacles when immigrating to America 26 years ago.
   "One incident that happened was when my wife and I and a friend were threatened to be deported back to the Philippines by the Nursing Home administrator just because we want to quit and find another job. We were so enveloped by fear to the point where we kept our doors double locked and became suspicious of people getting in and out of the apartment building," Callueng said. "Nobody was there to help us but us, so we moved to another city and found another job. It makes you realize that being alone in a foreign country, you have to be strong, really strong mentally and not to lose your focus in attaining the goal you've been aspiring for."
   After succeeding in establishing a successful business despite the affliction they faced in Chicago, Callueng tried his luck in Roseville. 
   "The Filipino community in Roseville is very supportive and we feel their love," Callueng said. "Culturally, Filipinos are close knit and we feel that here in Roseville. We consider them our family and we are here to serve them and be of help to them in any way we can."
    In retrospect, Callueng looks back on the fruits of his hardship and the support of the Filipino community — Callueng now owns and operates two Oriental Store locations. 
   "Owning a business in America especially if you are a minority is a big feat. A lot of challenges especially raising a family at the same time," Callueng said. "We feel very proud of our store when we hear from our customers how organized and clean our store is (which is rare for an Asian market according to them), how well-stocked and offers a lot of variety of asian products/foods. Of course, nobody is perfect but for us, it's imperfectly perfect."
  Though all in all, as much support the Filipino community provides, Callueng attributes the success to his wife's perseverance and hard work. 
   " Business is not for everyone and it just so happened that my wife and I grew up in a family that ventured in business. A lot of the success of our business can be attributed to my wife. She is the real business man and I'm the wing man so to speak," Callueng said. "In business, it's very important that the owners, husband and wife in this case, have a great relationship, have great support and great respect for each other. In business, you constantly argue on things but you should be able to separate that from your personal life and at the end of the day you go home and be that loving husband and wife again. It is hard but we don't know how we do it."
   Next time you want to try a new Filipino food or make a new friend head on over to the Oriental Market.