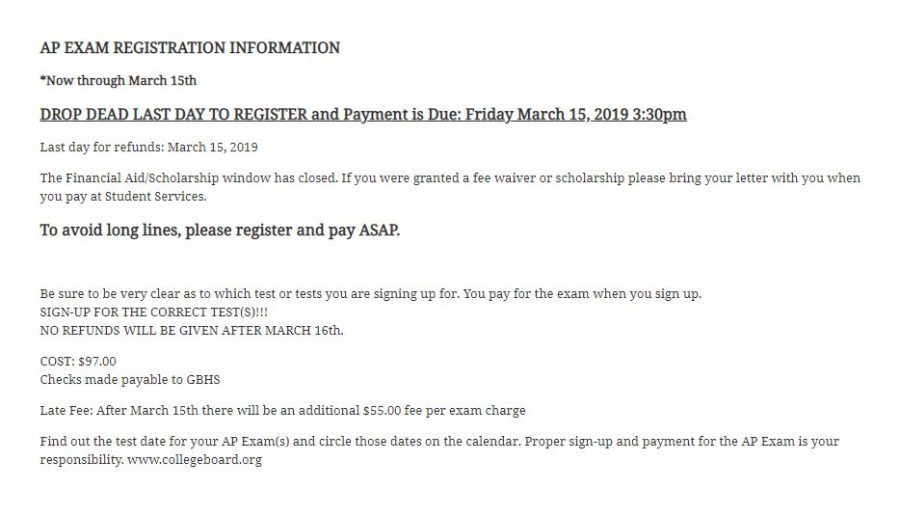 Registration dates change for AP and IB tests for '19-20
Students must pay for exams in the fall
Advanced Placement and International Baccalaureate exam registration usually consists of waiting in long lines for hours sometime during the spring term to turn in checks written for significant amount of money, payable to Granite Bay High.
  Next year, the process changes when registration moves to the fall – and it remains to be seen what the effects will be.
  "We are moving up the registration date deadline (for IB exams) to Oct. 1. Nov. 1 is the late deadline with increased fees," said Bernadette Cranmer, the IB coordinator.
  By moving AP and IB exam registration dates, the administration says it hopes the benefits will outweigh the costs.
  "We had an increase in scholarship and fee waiver applications, and we have to have time to process those," Cranmer said.
  The earlier date will allow more scholarships to be given out and allow more time for students to consider scholarships.
  "All students and parents have to sign an IB Contract and Honor Code by this April so that they will have seven months' notice regarding the fee deadline," Cranmer said.
  Moving up the date for registration shouldn't lead to fewer people enrolling in the classes.
  Ryan Cochran, a junior, is enrolled in IB classes.
  "I think that moving the dates earlier in the year will make it harder for people to decide whether or not they want to take the IB exam because it's so early in the year, so they won't know if they can score well on the test or not," Cochran said.
  Many students prefer to wait and see how the class goes and if they think they can perform well on the exam before making their final decision about testing.
  "The change won't affect how many IB classes or exams I will sign up for because I'm in the diploma program and I have to take those classes and score on the exams to help me get college credit," Cochran said.
  Many students want to obtain college credit to help them save money in college. By taking the AP/IB test, students will hopefully get out of future college classes.
  Because of a change in policy by the College Board, AP exam registration dates will also change.
  "Fall courses will now have the registration deadline of Nov. 14," said Jill McKinney, the AP coordinator. "Spring courses will still adhere to the March deadline as in previous years."
  Usually, the registration date for both semesters is in March.
  The College Board piloted fall exam registration in 2017-18 with 40,000 students – and among those students, scores of 3 or higher increased across multiple groups.
  "Moving the time of registration made a difference across the board," McKinney said, "but it had the strongest effect for students who are traditionally underrepresented in AP."
  School officials hope the change at Granite Bay High will also boost scores.
   Hunter Hsu, a junior enrolled in multiple AP classes, said there are benefits to an earlier registration date.
  "I think it would be nice because students can register and not have to worry later in the year," Hsu said.
  But there are also some challenges for students.
  "It can affect students who don't know which tests they are going to take if they still have not decided yet," Hsu said.
  Many people complain about signing up for AP exams because of the long lines.
  "I think it would be beneficial because many students procrastinate paying and registering so it would be earlier and easier," Hsu said.