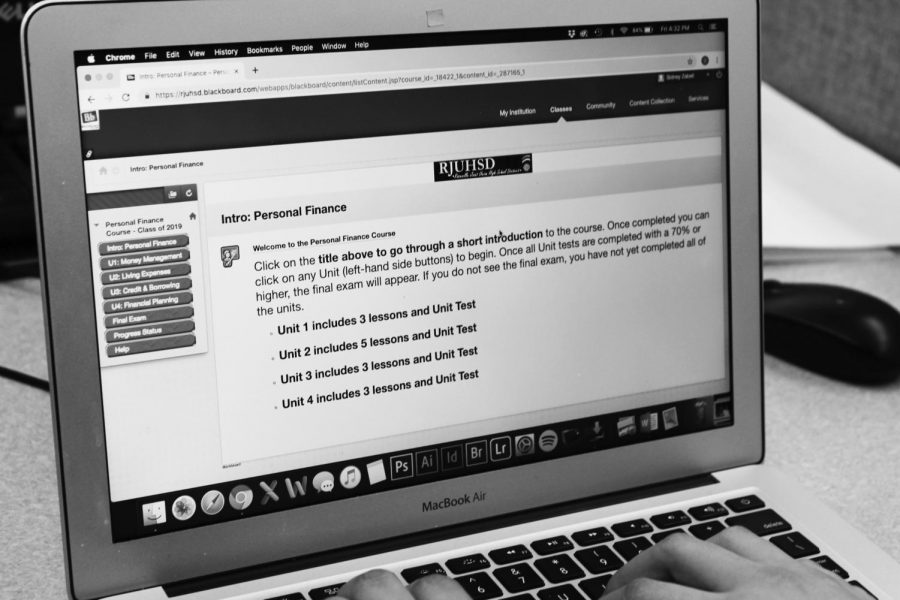 Personal finance course braces for 2020 changes
Students will be required to take the final in person, starting for next senior class.
  The infamous and entirely online personal finance course, required in order for all Roseville Joint Union High School District seniors to graduate, will soon be taken partially on campus.
  Starting with the class of 2020, students must take the course's final assessment on campus with the supervision of a GBHS staff proctor.
   Several different assessment sessions will be offered to students throughout their senior year. Once registered for a session, students are expected to have prepared themselves for the exam by working through the entire course.
  Although the exact dates are unknown, an email sent out to all GBHS students and parents from assistant principal Jessup McGregor, reported that "assessment sessions will begin as early as the first month of the 2019-2020 school year."
   This means that any current juniors hoping to complete the course as soon as possible will have to wait until their senior year begins to take the final assessment.
  "I want to take the course closer to the date I am taking the exam so that I don't forget everything that I've learned," junior Becca Nelson said. "I was originally planning on getting the course completed over the summer."
"
Now that I am getting paid, budgeting on my own, and doing my own taxes, I think if I paid more attention to the course, I definitely could have used some of the information that is taught."
— Jack McGrail
  Although some students might find it inconvenient, administrators said the changes being made to the final will make it easier to ensure that all seniors are actually completing the course.
  In past years, seniors were known to pay other students to complete the course for them.
  "I'm very supportive (of the decision to change the final) as it will help ensure that students complete their own work,"  McGregor said.
  The growing issue of students failing to responsibly take the personal finance course, and learning little or nothing as a result, is a possible cause for the implementation of an on-campus final.
  "It is not a hard course, but it has the reputation of being boring and unhelpful so kids frequently try to get answers or get someone else to do it for them," 2018 graduate Jack McGrail said.
  A seemingly pointless course to many seniors does, in fact, teach some of the most valuable skills that nearly all students will need after high school concerning their personal finances.
  "Now that I am getting paid, budgeting on my own, and doing my own taxes," McGrail said, "I think if I paid more attention to the course, I definitely could have used some of the information that is taught."