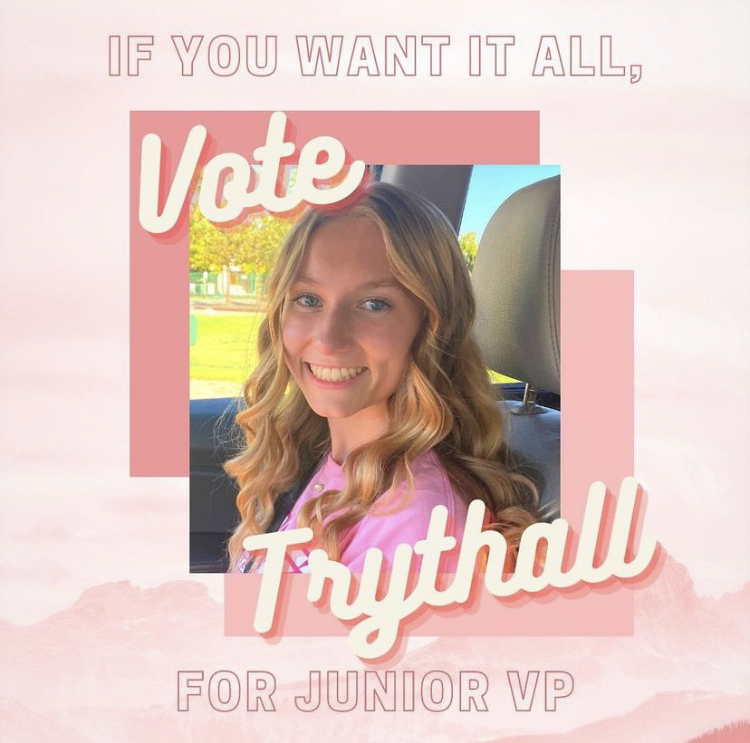 Lindsay Trythall: Junior Class Vice President
Lindsay Trythall has been elected for junior vice president in the spring term and can't wait to make a difference by listening to the student body and making this year to be memorable for the juniors.
Why did you originally choose to run for junior vice president?
"I chose to run for junior vice president because…I love our class and I really want to make a difference because I know our class has been struggling with spirit for a while and I just really wanted to make sure that…I did my best to…help us grow and…just make sure that we have…some really awesome spring months."
Are there any specific events in mind that you want to have or you want to add?
"Yes, so as a junior vice president I would be helping with junior prom. This is a very specific class event and so I just…want to make sure that it's an event that everyone can enjoy. Because…honestly it should be the…highlight of high school for these juniors. I just want to make sure that it is everything that they want."
Have you ever run for any position or held a leadership position?
"I've never run for president or vice president before but I have been in student government for three semesters now. And so next semester (will) be my fourth so I do feel like I have a lot of leadership experience and because of student government."
Along with that, would you consider running again next year?
"Yes, I am considering. I just…want to see how this year goes and if people are responsive to…my leadership and if I feel like I (can) make a difference. I want to keep that going and… continue to help our class."
Is there anything you would improve or you would do differently than the previous junior vice president?
"I really just want to listen to you guys more. I feel like you don't have great communication between student government and the student body so I really want to…use Instagram, …Remind, and Google Forms just to make sure that you guys like, feel like you have a voice because I feel like that's our job is to listen to you."
Is there anything else you would like people to know about the position and your goals with the position?
"I just want people to know that I'm here for them. I…want to listen to their opinions…and use their feedback to make their year better."