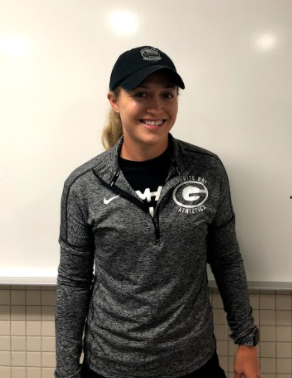 Julie Ford
Why did you choose Granite Bay High School, and do you like it so far? 
"Because it's an awesome school, and I love it because my department is amazing."
What was your high school experience like? What activities did you do? 
"I played three sports all four years, and I was the valedictorian of my class."
When struggling with people who claim that they dislike PE, how do you overcome that struggle? 
"I think it's important to build a relationship with the students, especially if you know they're struggling to just kind of find out what's going on. They might not necessarily like your class, but they may like you as a teacher. You might be able to get them to do more because they enjoy … being there even if they may not enjoy the content. Like, I didn't personally enjoy math, but if I had a great math teacher, it wasn't the end of the world."
What do you plan to bring up this school year that's unique as one of the new teachers? 
"A lot of energy and some new creative ideas since they've all been here for a long time, so just giving them a different perspective so … I can learn from them and they can learn from me and together we get even better as a department."
What is your favorite game, sports, or activity in PE? 
"Badminton, absolutely, by far, like not even close. I love badminton but that's a sophomore sport so I don't teach it, but I love it."
What are three words that your co-workers, other teachers, administrators, and students would describe you?
"Helpful, supportive, fabulous, good-looking- well that's two words!"