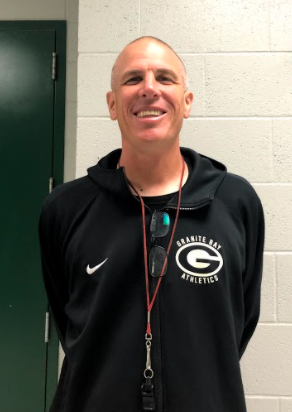 Joseph Cattolico
Why did you choose to become a teacher here at Granite Bay, and how do you like it so far?
"So I chose to become a teacher here because of the academic reputation of the school. And I love it so far it's been great."
What is your goal this year as a new teacher?
"My goal this year is really to get to know both the rest of the staff and also obviously the students and the community here at Granite Bay. Every school is a little bit different so I try to learn how things work here so that I can help be a part of the educational community here."
When struggling with reluctant learners especially for those who claim they dislike me how do you overcome that? 
"I think primarily just trying to build a relationship and trying to … meet students where they are. I think especially in PE but in education in general … we try to concentrate on where a student is at and try to focus on daily improvement … try to focus on 'okay let's start off where we are' without worrying too much about necessarily where everybody else is, and trying to figure out how can I improve, how can I make myself better. You know, 'better tomorrow than I am today' for example. I think if students are able to do that, hey, obviously they can, they can get better at a particular subject or activity. I think that's a very tangible attainable goal for people."
What was your high school experience like? What activities did you do, and what was your favorite game, sport or activity in PE?
"I had a good high school experience. I played football and basketball in high school. Those were probably my favorite activities, it could be flag football obviously in the PE class and basketball as well."
What are three words your co-workers, other teachers, administrators and students would describe you?
"They would say tall I guess, physical feature thing right. Hopefully, they would say kind or empathetic. Hopefully, they would say that I'm … dedicated to what I'm doing, I guess. But it's important to me that I take pride in my work."
Comments may not be immediately displayed.