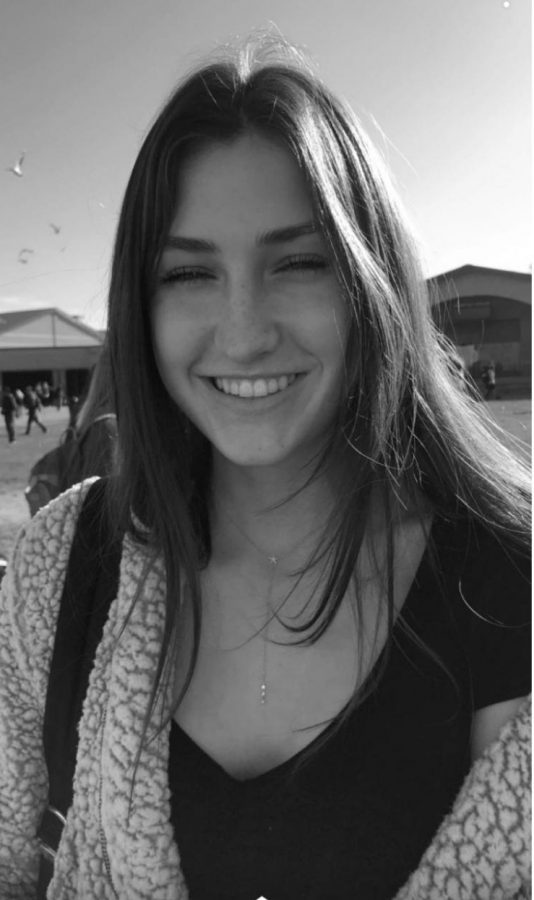 Fan of the Month: Michela Smith
Senior Michela Smith overshadows other fans as a student and fan in the Tribe section at Granite Bay High School.
Over the course of her fours years at GBHS, Michela was a cheerleader during the football and basketball seasons.
However, this year Michela finally will be able to express her true grizzly pride in the spirit section.
"Cheer doesn't cheer at basketball games anymore because of stunt, so now I can finally cheer on the boys basketball team in the tribe. Also I'll get to be with my friends in the tribe as well," Smith said.
"It just feels great to be in the stands this time, and to be with the tribe with all of my close friends."
Smith looks forward to every basketball game occurring this year. Especially against Del Oro High School.
'I've always wanted to be in the Tribe during the Del Oro games because the intensity is through the roof. Also, I have some friends from DOHS and I could never talk to them because I was cheering for them on the sideline," Smith said.
Smith also is ready for all the themes the tribe has in store for this year.
"I am also super excited for the theme of the tribes and to dress up with all my friends. I can't wait to dress up for the neon dance because I have so many outfit ideas," Smith said.
Basketball isn't the only sport Smith loves to watch. She also enjoys football as well.
"I have always been a big fan of football. Especially when my brother played last year on varsity," Smith said.
"Last year was by far my favorite football season because we had such a good run in the playoffs."
Smith looks forward to the Basketball season of her high school life.