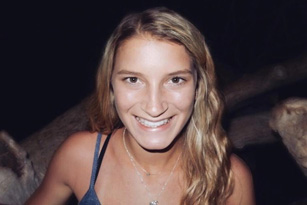 Special to the Gazette/ Instagram
Fan of the Month: Madison Fitch
  Granite Bay High School has many students that exhibit Grizzly P.R.I.D.E, but senior Madison Fitch goes above and beyond by being involved in a variety of athletics. She illustrates the "engagement" element of P.R.I.D.E.
  Fitch is dedicated to both attending and participating in GBHS athletic games. She has played both soccer and basketball for Granite Bay, but appreciates sports of all kinds.
  "I go to football and basketball games, but I also like going to the tennis matches and some of the baseball games," Fitch said. "I have a bunch of friends on the teams."
  Football games are a definite favorite for Fitch, who loves the Tribe's themes and all the school spirit. Game days are an opportunity for her to reveal her school pride by dressing up.
  "My favorite game was the section championships for football at Sac State last year when we played Del Oro," Fitch said.
  So far this year, Fitch has attended the varsity football game against Monte Vista. "I liked that it was decades themed," Fitch said. "We've never done that before."
  Fitch is looking forward to all the exciting games this fall season will offer, and will make sure to support the school through her spirit and support.
  Fitch believes that having an encouraging fan section can make a team play better.
  "I get a good sense of school pride from going to games," Fitch said. "I just love sports in general!"