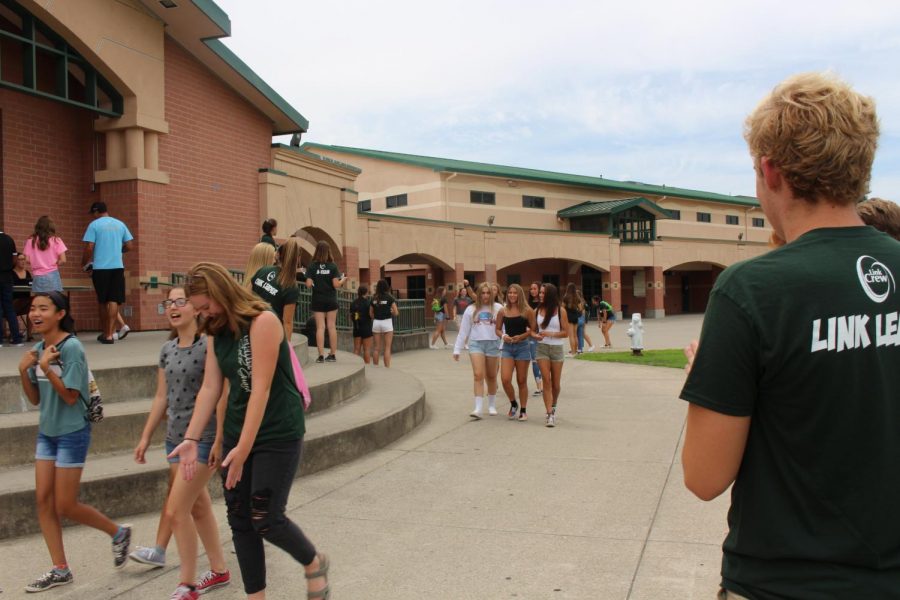 Class of 2023 athletes deal with sports and grade struggles
October 30, 2019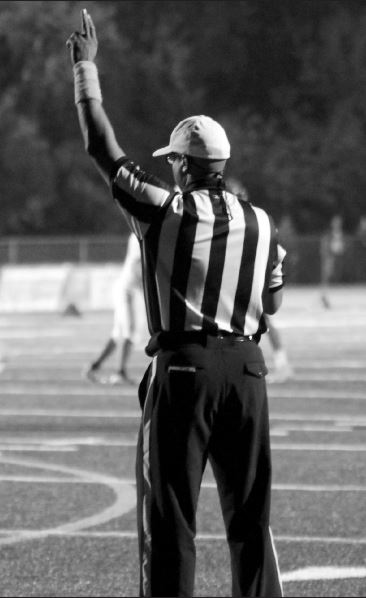 GBT.org file photo/SIDNEY ZABELL
Grade requirement clashes with focus on athletics
   For some, being a part of a team and working hard to reach set goals in a sport in high school is part of the experience.
   However, playing a high school sport comes with standards that need to be met.
   A Granite Bay High student athlete must, other than making good decisions in general, earn an overall grade-point average of 2.0 and cannot receive more than one F grade. 
"
After a long day at school plus football practice, I still have a ton of homework and I feel overwhelmed most of the time."
— Danny Zhigaylo
   "Sometimes it is really hard to balance sports and school," freshman football player Danny Zhigaylo said. "After a long day at school plus football practice, I still have a ton of homework and I feel overwhelmed most of the time."
   Unlike Zhigaylo, McCade Long, who is also a freshman football player said:  "I am never really stressed with balancing school and sports. A 2.0 GPA is totally doable as long as you use your time wisely and stay focused in class."
   Freshman Carmelo Bangs plays water polo. Between waking up at 5 a.m. and going to water polo practice twice a day, he still finds a way to get all of his assignments done. 
   "The eligibility standards should be left as they are because if you can't keep a good, constant, grade rate you shouldn't be able to play sports you love," Bangs said.
   Although the minimum GPA that athletes must meet is a 2.0, according to the College and Career Center, for those who want to play in college should be earning at least a 3.0 GPA.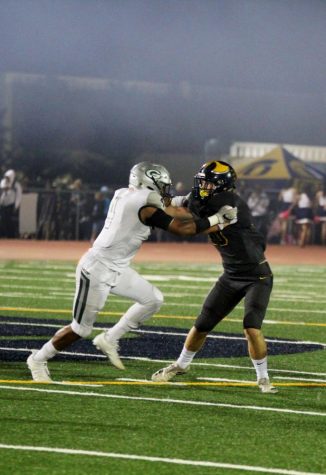 "Playing a sport is very time intensive and doesn't leave a lot of time for academics," varsity football coach Jeff Evans said. 
   He added that, despite the pressures of the sport, the academic standards  set for the players are fair because everyone has to follow them. 
   When players can't play because of their grades, it affects everyone else on the team, Evans said.
   "We only have about 30 guys and are now down to 25, so that means at practice and games, more players have to pick up more slack," he said.
   Honors and advanced classes can add additional points to an athlete's GPA, but while they can help raise an athlete's GPA, they are also very difficult and time consuming, which is why some student athletes choose to not take Advanced Placement and honors classes.
"
We only have about 30 guys and are now down to 25, so that means at practice and games, more players have to pick up more slack."
— Jeff Evans
  Junior Sydney Flynn has been playing lacrosse since fifth grade and started playing at GBHS during her freshman year.
   "With AP classes, it is so hard to balance school and sports with all of the homework and reading I have to do," Flynn said, who added that while she can get some of her homework done before practice, she was often still up until midnight and sometimes later finishing her assignments. 
   Still, Evans said the struggle is worth it for athletes who persevere.
   "Part of the strength that comes from extra-curricular (activities) is not just going to school, it's about time management," Evans said. "There is always a light at the end of the tunnel, but you have to stub your toe a few times."
View 1 Comment
Freshmen unable to play in school
   With about 50 spots on the Granite Bay High School girls' and boys' soccer teams, and hundreds of soccer players in the school,  what happens to the incoming freshmen who might not make the junior varsity team?
   Many underclassmen hope to have a freshman team so they have a better chance of playing soccer and fulfilling their passion at a high school level. 
   However, solely hoping for  freshman teams isn't going to solve the issues that make it difficult.
   "I don't like not having a freshman team because I feel like it takes away a lot of opportunities for freshmen," said Ryen Blanco, a freshman soccer player.
   "A freshman team would give the freshmen a better chance of playing soccer in high school, which is most of their goals at this point," Blanco said.
   A lot of the freshmen think a freshman team would improve the players' skills and help them make the JV and varsity teams in the future. Many also think it will help them keep their grades up and stay in shape.
   With just a JV team right now, many freshman soccer players are concerned they won't make the team. With facility complications, and with not much of a need expressed by coaches, freshman soccer teams aren't likely to be on the horizon.
   "I have had lengthy discussions with both the boys' and girls'  (soccer) coaches, and they actually believe that we do a very good job of providing soccer opportunities to a vast majority of the kids that play soccer in our high school," athletic director Tim Healy said.
   Field capacity is also a major complication when the lighted field space is being used by other teams on campus.
   "I don't believe we have the facilities right now to do it," Healy said. "We have four soccer programs during the winter, and it also overlaps with lacrosse, track and, in the beginning (of the soccer season), with football for the field usage."
   If freshman soccer teams practiced on outside facilities, it might be possible, but it's not ideal.
   "We have to get things like insurance at those locations and we are no longer in control of those locations," Healy said. "I don't get to dictate what would occur."
   When the Sac-Joaquin Section moved both boys' and girls' soccer to the winter a few years ago after the 2016-17 school year, that's when it got a little tricky for freshman soccer.
   "I'm not fond that we are doing both boys' and girls' soccer in one season, and I wish we kept it the way it was because facilities wise, we could've done it if it was still spring and fall," Healy said.
   Dan Brown, a coach for the 04 Granite Bay soccer B team, shares the same perspective as most hopeful incoming soccer players.
   "There are more than enough players to make a freshman team work, and I also believe that we could raise the funds necessary to support the program," Brown said. "Game scheduling and practice field space are trickier now that soccer has moved to a winter sport. However, I think these are two obstacles that are possible to overcome."
   Rocklin, Whitney, Saint Francis, and other high schools in the area  have freshman soccer teams. 
   "Other local high schools have found a way to make it work, and I believe Granite Bay could as well. I'm not saying it would be simple, but I believe it's doable," Brown said. "We would need to be creative in using other grass areas on the Granite Bay campus or neighboring fields like Feist park for training."
   Coaching is another factor that plays into getting a team together.
   "I would happily coach the freshman girls team without pay," Brown said. "However, I also recognize that high schools have a process for hiring coaches, and I certainly respect this process."
   Freshman players are getting ready for tryouts this season. Some are confident, but others are nervous they won't make the JV team.
   "You never know, depending on what positions they need, so I'm definitely nervous no matter what," Sofia Birch said.
   "I am super nervous for tryouts," Blanco said.
   For those girls who might not think they'll make the soccer team, there are still lots of other ways to get involved in sports as a freshman. 
   "Some of the girls who might not have thought they could make the soccer team last year actually went out for basketball and still had a great experience," Healy said. "I recognize that that might not be their first passion, but I do want to find a place for everyone who wants to do athletics here, especially for freshmen."
Leave a Comment