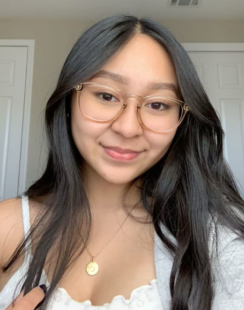 Areanne Dy
   Growing up without a strong connection to cultural traditions, Areanne Dy, a senior at Granite Bay High School, found herself connecting to her heritage and the Filipino Community through Catholic youth groups.
    "I'm first generation in America, but my parents were born in Cebu (a region in the Philippines)," Dy said. "We didn't really acknowledge our culture that much other than just like the normal stuff: eating rice, wearing slippers in the house, and blessing older people." 
   Immigrating from the Philippines to America, cultural practices are not entirely preserved, but the religious influences interwoven into tradition continue to carry on.  
   "Being a part of my church's vacation bible school program has helped me feel a greater sense of my role in our community because it was nice to know that there are other people my age," Dy said. "A lot of us felt very Americanized, not too close to our culture." 
   The majority of the Philippines is of Christian faith, as 90% of the population are practicing Christians, with most being Catholic.
   "And a lot I feel like a lot of the Filipino, like, morals are very deep-rooted in like Catholicism and like what they believe," Dy said. "Filipinos are very deeply rooted in prayer. So there's a lot of Filipinos involved with (the vacation bible school program). A lot of Filipinos participate. And I was a part of that for from sixth grade to currently."
   Dy describes how a sense of community has allowed adolescents, like herself, to gain a feeling of belonging.
   "Growing up in like, Michigan, Texas and California there has been a lack of a Filipinos in predominantly white schools," Dy said. "Having a community I feel less guilty for not being in touch with like my Filipino heritage. It was nice to have people who I can talk about, like the culture and really appreciate it, because I didn't have too many Filipino friends like growing up from the point of like, from when I was born to sixth grade. So it just helped me feel connected with other people."
   In particular, the ability to relate to other Filipinos allowed Dy to appreciate the cultural value of joining a youth group.
   "In the youth group I didn't have to explain myself and I had people understand where I was coming from," Dy said. "Also, being able to relate culturally, because typically Filipinos are more spiritual and traditional. No one else could understand that except for a lot of Filipinos." 
   The understanding experienced Dy explains, also instigates a sense of cultural pride.
   "I would say being in a youth group makes me proud because of the representation," Dy said.
   Continuing on, Dy takes away the ability to cherish the family, friendships, community and an appreciation of culture. 
   "We are together for traditional Filipino masses," Dy said. "Yet, we still get to further celebrate Filipino holidays with our families."
   Moving forward Dy continues to bring the sentiments of a newfound family and cultural appreciation with thanks to her involvement in her church's youth group. 
   "My family and I continue to be very consistent with carrying it (the values we have in the church community) over," Dy said. "Even the menial traditions."
Comments may not be immediately displayed.