A vegan burger inspires new customers
Carl's Jr. expands its menu by offering a new item in support of veganism
February 15, 2019
It looked the same as a regular burger – a brown patty was sandwiched between lettuce, tomatoes, a onions, sauce and two sesame-seed buns.
  But unlike its appearance, it was made entirely of plants. It was not your regular fast-food hamburger, this was the Beyond Famous Star from Carl's Jr., made with a vegan burger patty.
  The burger  is a vegan-certified product. However, it is prepared in the same kitchen as the regular beef patty and is served with mayonnaise and cheese (both non-vegan).
   Any burger patty at Carl's Jr. can be substituted with the Beyond Meat patty for $2 extra.
  The restaurant chain recently decided to introduce a vegan option because of the increasing number of vegans, vegetarians and consumers trying to reduce their consumption of animal products.
  In comparison with the original beef Famous Star, the Beyond Famous Star is $6.29 while the Famous Star is $4.39.
  The vegan burger patty itself has 20 grams of protein, but the burger as a whole (including cheese and mayo) has 30 grams of protein.
  The original Famous Star has 28 grams of protein, slightly less than the plant-based version.
  Sophomore Sahar Jandagh-Alaei, recently tried the Beyond Meat burger for the first time.
  "I expected (the burger) to taste like a veggie burger," Alaei said. "The consistency … and the textures are actually very similar to chicken."
  Alaei is a meat eater and was able to compare the vegan patty to what she usually orders.
  "It was very meat-like," Alaei said.   
  However, she also noted the difference between the regular beef patty and its vegan counterpart.
   Sophomore Kavya Krishnan, who is a vegetarian, also expected the item to be similar to a veggie burger.
   "(I) expected it to taste like a veggie burger, but a little bit more chewy," Krishnan said. "I would say it tastes more like a meat substitute."
  Both students had a different perspective on whether or not they would purchase the burger in the future.
  "(I wouldn't) get it very often," Alaei said.  "It would be like a once-a-year thing."
  However,  Krishnan said there is a strong chance the burger will find a way onto her plate in the future.
  "(I) would definitely buy it again because ( I liked) the taste of it," she said.
  Sophomore Olivia Hazeghazam, a vegan, at St. Francis High School, also enjoyed the burger.
  "I love the Beyond Burger. It tastes like actual meat. It's scary," she said.
  The burger is an example of the growing number of vegan products being introduced around the world.
  The market for vegan products has been increasing dramatically over the past few years, and manufacturers have been trying to keep up.
  According to Forbes,  Plant milk sales have grown by 3.1%, and meat substituted by 8.4% from 2015 to 2020. Dairy milk sales are projected to drop 11% by 2020 in addition to the 5% drop in 2017.  
  Egg sales have also suffered, reportedly losing 7% in 2017 alone.
  Companies such as Tyson, a meat producer in the U.S., have invested in Beyond Meat.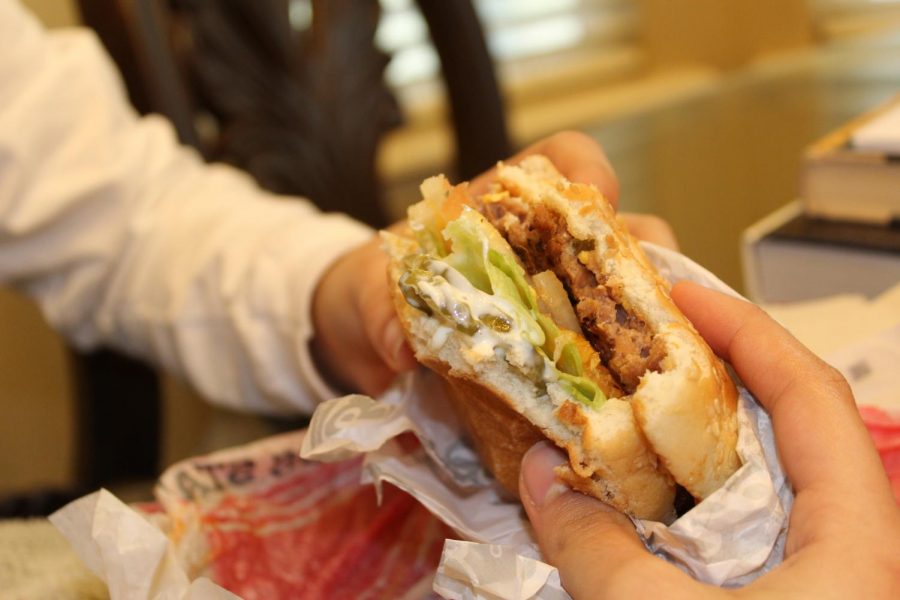 Mainstream veganism can be attributed to a growing number of people becoming aware of the practices of animal farming, the health benefits of a plant-based diet, and the environmental impacts of an animal-based diet.
  Some health benefits of veganism include weight loss, a decreased risk of heart disease and cancer, lower blood sugar and increased nutrient intake.
  Like all diets, however, being vegan doesn't guarantee automatic health benefits. Consumers must make sure to eat a variety of nutritious foods.
  There are a plethora of vegan diet horror stories in which people have suffered extreme malnutrition. However, as with any diet, consumers can avoid health issues as long as they make sure they are getting enough vitamins, nutrients and protein.
  There is a common misconception that vegans have an extremely limiting diet. However, vegans have access to a wide variety of foods including fruits, vegetables, nuts, seeds, legumes, grains, spices and animal-based substitutes.
  The Carl's Jr. Beyond Famous Star is just one example of a substitute being put on the market to meet the demand of a growing plant-based industry.
   Sue Hazeghazem is the parent of a vegan and highlights the importance of restaurants to create a diverse menu.
   "There should be a vegetarian option (at restaurants)," Hazeghazam said. "It is very difficult going to restaurant(s) because there's only fries and a salad. People get depressed over these choices."
  Her daughter, Olivia Hazeghazam,  agreed with the effects restaurants have on dietary choices.
  "(It) really limits options and makes being vegetarian and vegan less appealing," she said.
  Substitutes for cheese, milk, yogurt, eggs, butter, meat and more are in high demand as people want to go vegan but don't want to give up the taste of their favorite animal-based products.
  The same ideology falls in line with fashion. Instead of using wool, leather, exotic animal skins and fur, these materials are being replaced by vegan leather and other plant substitutes.
  Products like the Beyond Burger show that vegan food can be just as delicious as the traditional beef patty.
  Moreover, they are a reminder that vegan substitutes have come a long way, and that they will continue to advance over time.
  So if people are considering going vegan, vegetarian, or simply trying something new, the Beyond Famous Star and other vegan substitutes offer consumers the option of enjoying fast food without eating animal-based foods.
  "I really hope people see the importance of being vegan, not just to give animals a voice but also to help the environment," Hazeghazam said.