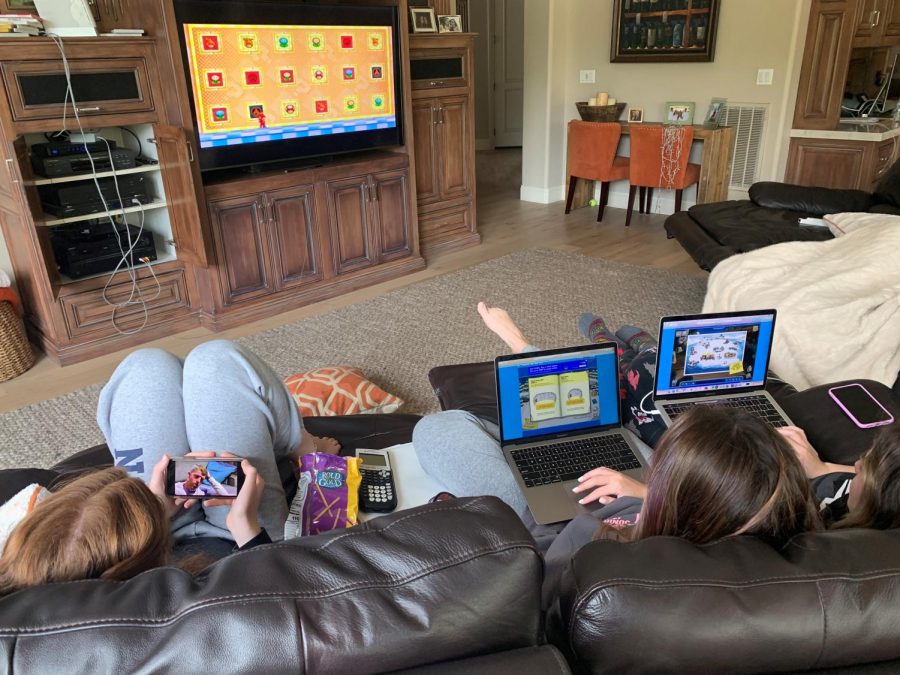 Sophie Criscione/GraniteBayToday.org photo
We are living in unprecedented times in America — Covid-19 has shut the country down and  triggered an astonishing economic collapse. But it's also personal, and it's being lived out in the homes of thousands of Granite Bay High students, faculty and staff. GraniteBayToday.org staffers and other students have been keeping journals reflecting on and reacting to what's been happening during this crisis, and we are publishing some of the entries each week.
Stay strong, and wash your hands.
The Editors
Week 3
April 1 – The lengths I have seen people go to to entertain themselves is starting to get more and more comically drastic. From the numerous videos of people online impulsively cutting and dying their hair to spending hundreds on games consoles only to play the new Animal Crossing. I've resorted to buying and installing car parts that i know aren't necessary just so it seems like i'm accomplishing something with my days other than typing away endlessly on a keyboard. Though it's slightly concerning to see people making decisions like these, it's good that it means they're following the rules of social distancing and quarantining themselves.
-Sean Turner
April 2 – I am missing school more and more. It has become so difficult to do my work because I don't have a teacher motivating me to get it done. All I have is google classroom announcements encouraging me to get things done. I also am missing my classmates who were always there to motivate me and share how much they didn't want to do their work. They're still there for me but a phone call just doesn't have the same effect. I don't know how I'm going to continue to do this for two months. I'm hoping that we're gonna be able to have a normal summer but I'm not even sure that that's possible. It blows my mind that the next time that I go back to school I'm gonna be a senior and I don't feel ready for that.
-Ali Juell
March 31 – Things are getting calmer as I'm getting used to what's happening right now. I just started working out following youtube videos and I forgot how much I missed playing sports and releasing my stress through exercising. I'm sort of scared because I'll be playing water polo next year in college and I won't be in the best shape since my training got canceled and I don't even know if my club will start this summer. My parents still don't want me out yet and the gyms are all closed so I'm trying to find other ways to keep myself busy and healthy, physically and mentally.
–May Lin
April 3 – Today has been especially hard. I learned that the Los Angeles Times and Sacramento Bee both have a story about my grandfather's church, Bethany Slavic Missionary Church in Sacramento (he is one of the main people in charge), has almost six dozen confirmed cases of coronavirus linked to the church. It's hard with family relationships plus the virus and the church. My parents were offered money from CNN to make an interview about my family and the church and how they didn't obey quarantine and kept coming to church. After they canceled in-church meetings, they started to have meetings at each other's houses, and this led to widespread sickness and a lot of pressure on my mom which just makes me feel horrible. I wish I could help somehow. I feel bad – I myself am no longer religious, but my grandparents are, and I know this is really hard on them.
-Julietta Golovey
March 31 – I spent today trying to connect and meet new people through a facebook page for University of Oregon freshmen. It made me realize how weird it's gonna be transitioning into college while still feeling like my high school experience is incomplete. I feel like quarantine has made me lose a part of myself – the person who was eager to go out and do new things and be a better person. Now, I am stuck inside my house feeling trapped. It just makes it hard to be the person I want to be when there's nothing to look forward to anymore.
-Lindsey Zabell
March 30 – Today, I went out in public for the first time in two full weeks. It was just a short trip to Safeway, but it was a trip nonetheless. Going in, nothing seemed too out of the ordinary, but I was surprised by the large number of people shopping as well. One thing that especially caught my attention was the fact that no one seemed to be talking. Everyone seemed to have a purpose and wanted to get out as soon as possible. As I was walking through the aisles, I noticed that some were completely empty, including the frozen vegetables and cleaning aisle. It doesn't seem that COVID-19 tensions have died down, people are still stocking up on "essentials" in preparation for the worst that may  yet come. 
-Mareesa Islam
April 1 –  April fools!  Coronavirus was all just a big joke!  Go outside and resume your lives like normal!  If only that were the case. Today was pretty mundane.  I went out on a run, and I must say that my lungs were not having a good time.  It was quite embarrassing. I miss having soccer practice every week and games every weekend.  I miss playing pickup games with my brother and friends. I miss the gym. This quarantine has been making me feel so inactive that I can't help but feel ashamed of myself.  I don't understand why but I have lost so much motivation to do any physical exercise. It's unfortunate.
-Heba Bounar
March 30 – Every day it becomes increasingly  difficult to fill the seconds, minutes and hours. School work provides a sense of accomplishment, but there are no tasks/activities still open/allowed that provide the fulfillment we all crave. The days drag on and on and predictions in the news of things lasting until summer are disappointing. I still don't know how to pass the time. You would think as time progressed more would become desensitized. But not for many. I don't really know what else to do other than wait. I think a positive outcome will bring the newfound appreciation for the simpler things in life. Something many of us have overlooked for so long. We are fortunate to live in a country with so many freedoms that allow us the opportunity to explore and adventure. Something that is very missed right now. But will never be taken for granted. 
-Ashley Lucia
March 30 – I feel as though I finally adjusted to online learning and keeping a good schedule, but at the same time, my senioritis is definitely coming back. I miss school a lot, so it's no longer not wanting to go to school but more of me not wanting to go on my computer and do online school. I'm constantly thinking about college and the future, and knowing we might not even have a graduation or last day makes it even harder for me to find the motivation to work on school work. I appreciate my teachers so much for the effort they're putting in for us to all be able to learn at home, but I'd be lying if I said I had as much motivation as before. I don't know if all students are feeling this way because of how much easier it is to just sleep in or watch a show at home than do school work, or if it's simply the usual lack of incentive that comes with senioritis. Either way, I hope teachers know it's not them (they're doing an amazing job), it's us.
-Sophie Criscione
April 1 – Today's April Fools day. Life seems like too big of a prank right now though for it to be any fun. I went on a drive, talked to some friends and pondered life again. It's interesting how everyone's spending their time. It's frustrating to see people continue to not social distance and not take this seriously but I think more and more people are. I hope it's working. Mental health is definitely on a decline and everyone's doing whatever they can to stay sane. It's so weird that mental health has to be sacrificed to keep our physical health up. I remember when I was little and I was going through my curious stage and I asked my parents what the point of being alive is and they said living. No one is really living it up right now, but at least they're all alive. The only thing worse than not living well is not living at all. We can go back to normal soon if we just follow the rules now. Hopefully people will actually actually realize that soon.
-Shreya Dodballapur 
April 1 –  Staying inside has been really affecting my mood lately. Even though it's been mostly sunny days and clear skies, the house feels gloomy. On top of having to deal with adjusting to online school and the much bigger workload than usual, trying to manage my own emotions has been weighing on me. And now that it's highly unlikely we'll ever go back to school this year, I'm even more bummed. I was really looking forward to senior week. I know that sounds selfish, because people are dying and medical professionals are being worked like dogs under the worst conditions. Most of all I really hope we still get a graduation. Getting my diploma emailed to me would feel like such a slap in the face. The more I read the news, the worse it gets. Our administration has been handling this so poorly and it's costing people their lives – literally. And it's so frustrating to see people still refusing to take this seriously – hanging at the lake, meeting up in parking lots, going over to their friends house – it's all so selfish. I lose a tremendous amount of respect for someone if I see or hear of them out and about for non-essential reasons now.
-Emerson Ford
March 31 – I feel intensely weird. I spent all day practically lying in bed and thinking and overthinking and overthinking about overthinking. My mind is such a toxic place to be stuck inside and even writing in my journal, reading books, watching YouTube, activities that normally bring me solace, feel wrong. I feel so anti-social, connecting with others feels so contrived and wrong. The whole world feels wrong. I have less and less optimism about the future. I won't ever get another day of high school. I'm saddened by how little I care, by how desensitized and apathetic I've become about life and the world at large. I used to want to make positive change, but I have never felt so weak and powerless.
-Ashley Yung
March 29 – I came to the realization that I will be spending my eighteenth birthday in quarantine, which I guess is just another thing Covid19 has taken from me and everyone else. Who knows, I suppose that something could change before then, but I'll most likely be celebrating in isolation, and if that's not depressing I don't know what is. Regardless, I'm grateful that I'll even get to celebrate my birthday, although it may be in isolation, because I know that there are so many people that will never celebrate another birthday again thanks to this awful virus.
-Kate Fernandez
March 30 – As of today, I'm officially bound to Reno for UNR. At least, I hope I am. If I'm being honest, I'm unsure what the future holds. I might not even be leaving my home for the next year, so who knows? I'm equally both ecstatic and delighted and completely terrified. I've dreamed of the college experience forever, and now that I'm an adult, I can pursue my future. Yet, just as sure as the future I've worked for, it could all come crumbling down. I might be cancelling my freshman year of college, which sucks. I thought my biggest worries were going to be who my roommates are and the friends I make, not a global pandemic demolishing the one thing the past 12 years have all been building up to. I got into the colleges I applied to and chose a good school. The stressful part should have passed. Instead of getting to ride the year out and start anew, I'm more stressed than ever.
-JJ Hill
April 1  – Today I got out of the house. I went to a park and parked my car next to my boyfriend's car and we talked six feet apart. It was hard not to hug or touch the person who I love most but it was the responsible thing to do. It bothers me so much when I see people I know posting on social media joking about the fact that they're not staying quarantined. It's so selfish of people to continue to go out and party while people are actually dying. I don't know when all of this is going to end, to be honest I don't mind being alone but I'm just so bored and I'm running out of things to do. 
-Dylan Rowe