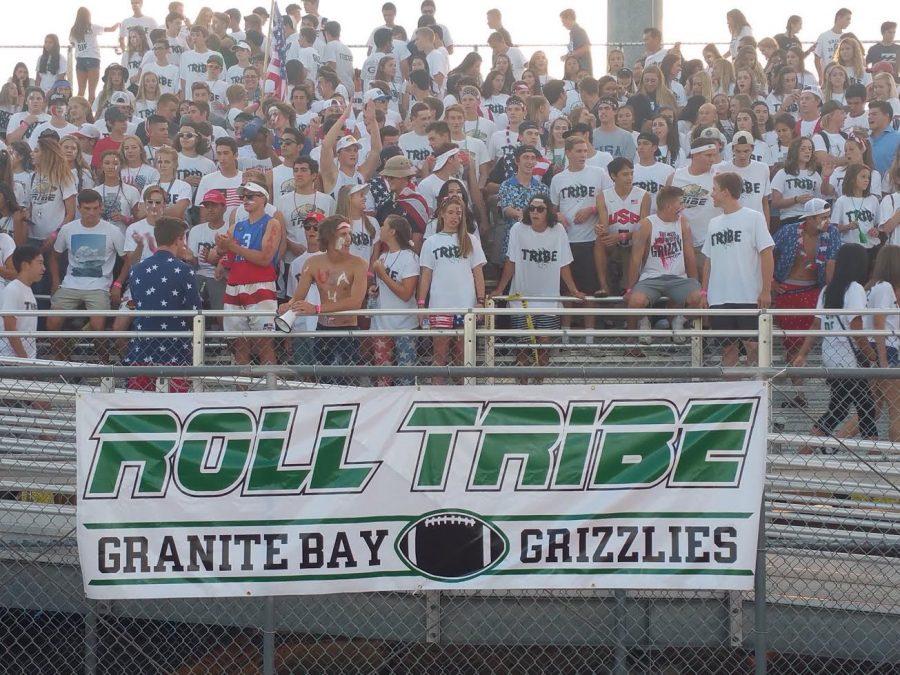 Special to the Gazette/STEVEN J. WILSON, 2016
A place of inclusion – the student cheering section at Granite Bay High School was designed to be a place where students could gather for a common purpose in support of their peers. While the students and athletes chanting and cheering in the endzone on Friday nights accurately reflects this objective, the one impediment is its name. 
Can a debate over one word designed to bring people together also tear them apart? 
Tribe: the name of the student cheering section at Granite Bay High School is soon to be history, but its culture will not be replaced.
However, this is not the first time the name of the student cheering section is being changed.
"It really goes back to about a decade, and it emanated spontaneously from a group of kids that were originally soccer fans and athletes," said Tim Healy, the athletic director at GBHS. "They actually called themselves the 'hooligans' at first; they beat on five gallon drums, dressed up … and in their minds (they were) probably having fun, but they did cross the line (which) did irritate a lot of parents. As a result, … I met with the kids and said 'let's channel this into something that is more positive and student-oriented', and they asked if they could be called the tribe (which) at the time, seemed fine to me."
Now, about ten years later, the name is being reexamined after conversations were brought up over the summer by various stakeholders.
"Over the summer months, I  met with a group of stakeholders that were community members, former students and current students, and they brought up some of their concerns about (the name, Tribe)," assistant principal Levirt Griffin said. "So as an educational organization, we have to make sure that we're doing our best to support our students."
Additionally, the change was considered to better reflect the purpose of the "Tribe" in promoting inclusion. 
"Part of the reason that we are reexamining (the name) is that there has always been a disconnect between the term 'tribe' and GBHS," Healy said. "What I, and probably the student body, at the time felt (is that) 'tribe' did resonate with  a sense of community. But that's not a universally accepted version of what (the word 'tribe') means."
While the term "tribe" is not the ultimate reason for the name change, its historic context has insensitive connotations.
"Throughout history, European colonists have used the word 'tribe' to describe indigenous people who they colonized, and it was often used synonymously with 'savage' or 'primitive' interchangeably," Griffin said.
The many meanings and feelings associated with the word "tribe" has made the name change  a difficult decision to make, and has formed a dividing line between parties.
"There isn't just one version of (the name), there's context, there's culture behind it," Healy said. "The more that we became reflective of that, the more we became agreeable that it's not the best word to capture what it is we're trying to do."
Although the name "the Tribe' was not intended to be insensitive, Healy believes that the singular term is not reflective of its purpose as a student cheering section at GBHS.
"The whole point (of the 'Tribe') was to get every single person at GBHS feeling like there were no barriers (between each and every student); that (everyone) could come together in one coherent group," Healy said. "What brings us together is (the) connections between each other and (the) support (for) our programs and of each other. A singular term doesn't have to be the only thing that brings us together. And I think when you look at, (if we can) find a better term, why wouldn't we? Why would we use a term that can be perceived as insensitive?"   
Back in 2019, Kyle Holmes, the drama teacher at GBHS, wrote a guest commentary on Granite Bay Today discussing the derogatory connotations of the name "the Tribe" in reference to the student cheering section at GBHS. Prior to the editorial, however, the examination of the name was important to Holmes since even earlier on in his career.
"It started with a lot of private conversations with colleagues and students," Holmes said. "Then, a few years ago, our school district really started to make a shift in having conversations about equity and … representation, and here at GBHS, we were having conversations about the mistreatment of our Black students on our campus and racial and prejudicial treatment from their peers and teachers. So, that was the lead up to a lot of conversations with my co-workers and students saying 'why isn't anyone saying anything about (the Tribe) and why do we keep just being resolute?' And so I was like 'well, if no one's going to say anything, I'm going to say something' because that is what I teach my students to do and I need to be willing to do the same." 
Through writing the commentary, Holmes' intentions were to simply spark conversations on campus and within the community. 
"The goal of me writing the commentary was not to lead a revolution," Holmes said. "I wanted to start a conversation. This isn't about blaming people or accusing them of racism because they like the name 'tribe' or they wear a Tribe shirt. It's about understanding that our words carry weight and have complicated histories. If we can acknowledge that, can we also acknowledge that we should find a better, more fitting name?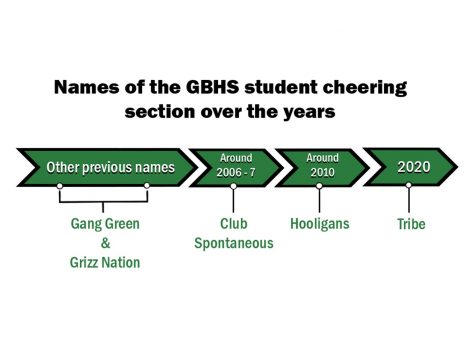 Holmes' commentary, along with his related tweets, back in 2019 received a wide range of reactions from the community, both positive and negative.
"There were a lot of alumni that said 'hey, about time there is someone who's speaking up and saying this' and there were a lot of alumni and community members that said the opposite," Holmes said. "I teach my students to think critically about the world, question how we can be better, and speak up when they need to. So at the end of the day, if the criticism of me is that I'm a white teacher pushing for a more inclusive and equitable community… I can live with that."
Before the official announcement of the name change was made, many conversations and meetings took place. However, with recent barriers brought on by distance learning, it has been difficult to carry out these important discussions with both faculty and students.
"Normally I have a class specifically for athletic leaders, including the tribe…(which) would have been the perfect place to do this," Healy said. "But obviously we're in this scenario, so we don't have that class right now. Especially when…COVID (first started) and (when) the restrictions were greater, it was very difficult to bring (the tribe leaders) together."
Despite these challenges and unusual circumstances, faculty did their best to connect and involve students in this decision.
"(In the) beginning of the school year, we sat down with some of the student leaders, and we discussed…what's going to happen," Healy said. "We sat down and (the tribe leaders) said 'Okay, let's see if we can come up with some ideas', and they did. At some point we finally said, well, let's start getting the student body involved as well."
On October 22, a poll was sent out to the entire student body, in order to gather information on their preferences for potential new student section names, including Grizz Nation, Green Wave, and Green Machine. Once poll results and responses are received, the rebranding of the new student cheering section name will be carried out.
"After the students have agreed on a name, …(it will be time) to start figuring out a way to brand it," Healy said. "(One idea is that) the football stadium being called The Den … and a den resonates with Grizzlies. So … maybe we brand an area something, and then the students are another thing. Obviously it's going to be on me to start…putting up the money to make those changes."
There are still many logistical factors that may need to be worked out, including students' choice on a new name, before this rebranding occurs. However, there is hope that by the time students are able to return to campus in a more normal fashion, the cheering section's vibrant culture and tradition will return as well. 
"What we would hope for is that when we return to school, let's hope in a more normal fashion in January, we've got this all rolled out," Healy said, "…we've got students rooting sections and we've got fans and people engaged in high school the way I'd like to see them – having fun."