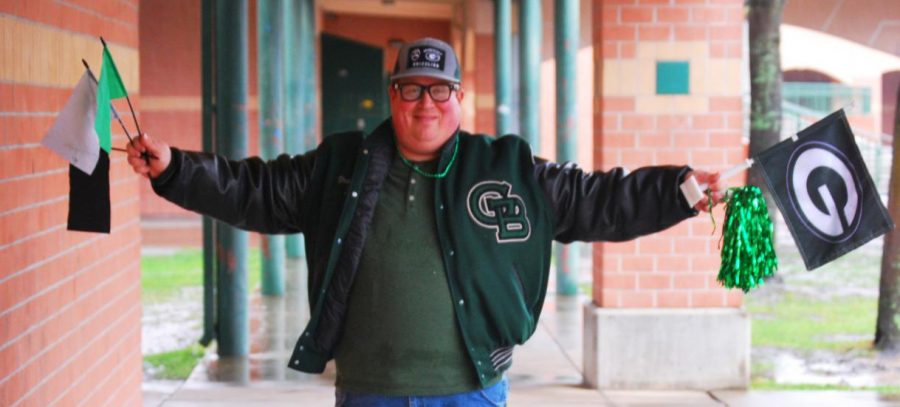 Sidney Stipanovich
  I pledge allegiance to The Tribe." A phrase coined by a Granite Bay High School alumni who has become the heart of the school's spirit through his years of dedication to the Grizzly football season.
  Noah Frank became a fan of Friday night football as a freshman in 1997, when he first began attending high school games. But unlike his old peers, Noah never stopped attending.
  When GBHS began, students were eager to become engaged and show off their new school.
   "People still love Granite Bay, but when we started everybody was so enthusiastic and excited to have their own high school in the community," student government teacher Tamara Givens said. "Noah just loves everything about GBHS, and he didn't stop loving everything when he graduated."
  Frank deeply believes his loyalty to the football games is at the heart of his dedication.
  "I wanted to keep my spirit and good heart to show the community and the school and obviously to me the loyalty and true means of being a number one fan," Frank said.
  Frank's cheering and support at the games creates a positive atmosphere for the football team and coaches.
  "Noah is all energy," varsity football coach Jeff Evans said. "Quite honestly, Noah's energy is so contagious because it comes from a place of love. He loves GBHS and he loves Granite Bay football, so his passion is a true passion.  That purity makes it easy to believe in."
  Many students have come to know Frank's tradition; a pledge to the Tribe. This pledge is a chant led by Frank in front of the student section.
  Frank wanted to create a sense of dedication for the students, and a pledge was his way of doing so.
  "I do want to create that for the alumni and all the current students," Frank said. "If you like to do the Pledge of Allegiance to the Tribe, where you follow my lead and repeat after me when I'm here at the games, that's how you make sure you pledge your devotion."
  Frank's qualities exhibit his caring nature. According to Givens, his memory is one of these appreciable traits.
"He remembers everyone's birthday, everyone's name," Givens said. "He'll remind me of things I forgot. He knows when everyone gets married and when they have kids."
  "He's the 'Chief of 2001," said Givens. "That's his self-proclaimed title, and he does a good job of keeping track of everybody."
  At every home varsity game, Frank can be seen at the front of the stands cheering as loud as he can.
  Evans says football games wouldn't be the same without Frank.
  "It is a noise our players are very fond of," Evans said. "His silence would seem very odd during football games."  
  As a new varsity coach in 2004, Evans initially didn't know Frank.
  "I did not know Noah's backstory of being a GB graduate and #1 Grizzly fan," Evans said. "I just knew that there was a big, loud dude, with cotton balls in his ears, yelling in my face on my way up to the booth."
  Evans quickly saw Frank's impact at games, along with the enthusiastic climate he had created.
 "Honestly, I was caught off guard, but when I heard what he was yelling to me, I understood a lot more," Evans said. "He was cheering me on and telling me to have a good game as a coach.  I thought that was pretty cool."
  Frank says he'll never give up on supporting his favorite team.
  "Every game, every year to show my community I'm the No. 1 fan and how lucky I am and how dedicated of a fan I am to keep it going," Frank said.
  The presence of Frank is one the community appreciates.
  "The energy and enthusiasm is great, but it is his love for Granite Bay High School that really resonates," Evans said. "Win or lose, we can always count on Noah's love and passion.  He is one of the things that make Granite Bay football so special."
  Evans says Frank is a truly special individual.
  "Trust me, if we had more Noahs out there," Evans said, "the world would be a more positive place."