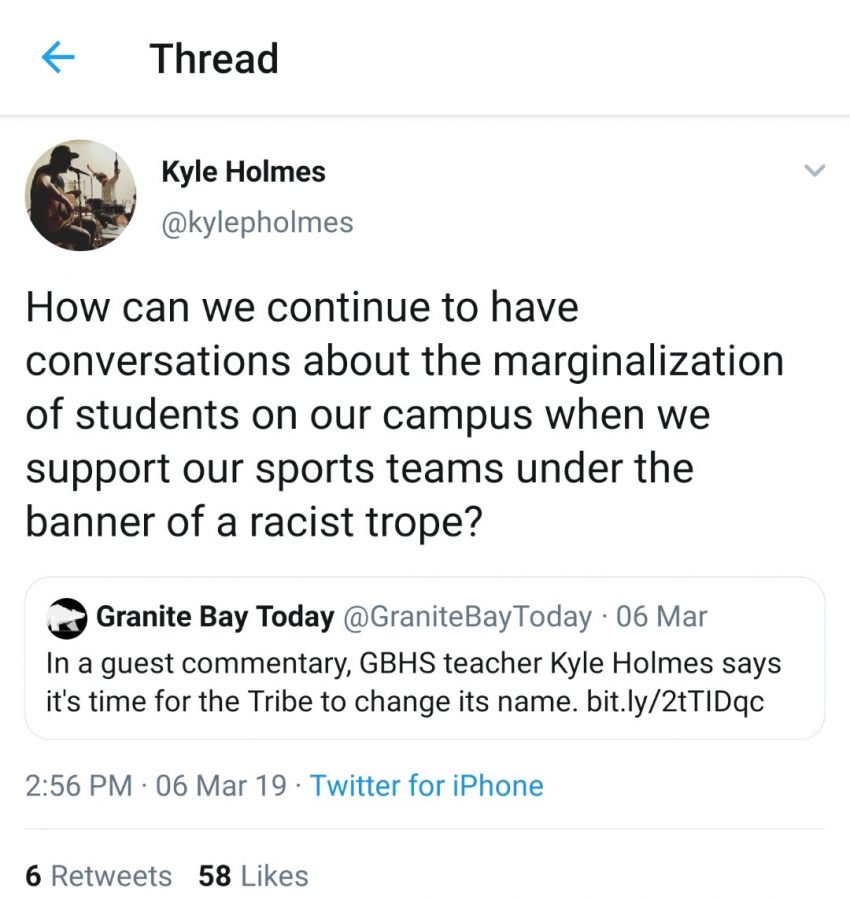 BELLA KHOR
  The Tribe. It is the current name of the student section at Granite Bay High School sports games. It is part of the rallying chant "Roll Tribe" that students yell at games and prep rallies. Yet, it is also the name that has recently become a part of intense controversy.    
  Last month, Kyle Holmes, the Drama teacher at GBHS, published an editorial in the school newspaper discussing the implications of "The Tribe."
  "The gist of the piece that I contributed was encouraging us as a community, as a school, to think about maybe moving on from calling our student cheering section The Tribe," Holmes said.
  In the piece, Holmes explained that he thought, though not intentional, the word "tribe" had the potential to be taken as racist.
  "My point was sure, (the name of the Tribe) was not intended to be (racist)," Holmes said, "but if it could be or could be assumed to be, then isn't that at least worth having a conversation about if there's a better word or a better name?"
  After the Holmes' commentary was posted on Twitter, the opinion piece practically went viral, receiving over 2000 views.
  It was also not without its fair share of comments.
  "It was a really interesting gamut of reactions," Holmes said.
  "It was everything from people saying 'Yes I agree' to people saying 'Sure, but maybe we're being too sensitive.'"
  There were also reactions that were very extreme.
  "The negative stuff (were) people saying 'this is what's wrong with teaching, this person is unfit to be in a classroom with students, and this person is pussifying our students," Holmes said. "Obviously that stuff was hard to see."
  While students remained divided about whether or not they wanted to keep the name Tribe, almost everyone came to the support of Holmes.
  "Mr. Holmes is a kind person, and teacher," Aleah Treiterer, a student of Holmes', said. "He truly cares about each and every student, no matter if they have been with him for one year or four years. He does his best to not just teach students about theatre, but he tries to prepare his students for the world they are about to enter – teaching them how to be thoughtful, intelligent people."
  After all, most of the comments were from people not at the school, but in the community.
  "The comments under Mr. Holmes' article… were from people not from GBHS," Jennifer Leighton, the GBHS principal, said.
  Although Holmes admits having to read the reactions was difficult, he also knows that there is a silver lining.
  "I feel like I've been villainized by certain people for trying to have this conversation, which is obviously a bummer, and the things that people have been saying on social media, that stuff is hard," Holmes said. "But isn't that what advocacy is? Being able to use my voice and platform and privilege to have conversations that other people may not be in a position to have?"
  Advocacy is, after all, a big theme currently circulating around school.
  After last week's Power of Words week that emphasized advocating positively for the marginalized students at GBHS, as well as recent staff meetings encouraging both teachers and students to stand up for one another, GBHS as a whole has attempted moving closer to ensuring everyone feels safe and at home at school.
  "We (at Granite Bay) are trying to become more aware of the words that we use," Leighton said, "and the effect they may have on our students."
  In fact, next year the school has added a course, specifically in the sports department, that will try to address some of these perceived problems.
  "Beginning next year, Mr. Sitterud will be teaching a Sports Leadership course where the leaders of our sports programs, as well as sports enthusiasts, will be learning how to run events," Leighton said. "The curriculum will also focus on sportsmanship, discussing the needs of our athletes, school culture – including the student cheering section – etc."
  And although there is no official determination for whether or not the Tribe will be changed, Leighton anticipates that this will be a topic tackled in this new course.
  However, Holmes says that his intentions were not centered on necessarily getting the name changed, but merely starting the conversation.
  My goal was to start a conversation," Holmes said. "We as a staff are having a lot of conversations right now about our marginalized students. How can we be having these conversations as a staff while we're still not willing to talk about The Tribe? Someone had to start the conversation, so I threw it out there."