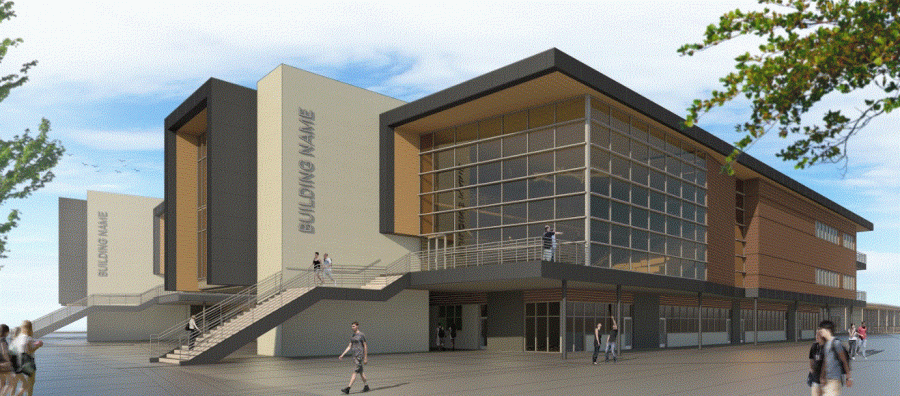 Roseville Joint Union School District
  The new West Park High School scheduled to open in August 2020 has been a long time coming.
  Promised to those who bought property in the surrounding area in the mid 2000s, the recession significantly delayed its arrival.
  Now, with new superintendent Denise Herrmann at the helm of the Roseville Joint Unified High School District, construction has begun at its West Roseville location.
  The school offers a host of changes to the usual RJUHSD school design.
  With more open common areas, a sunken athletic field added within campus, large windows lending a transparent quality and three-story buildings, the school differs greatly from its recent predecessors in the district.
  "In 2015, (former superintendent and founding Granite Bay High principal) Ron Severson and some people on cabinet worked very hard to get Measure D passed," Herrmann said. "That (tax increase)  provided enough money to put us over the hump and get enough funding for the new high school."
  With a timeline finally set, West Park is hurtling toward its opening.
  "Last May was the groundbreaking, and then we had construction start in June," Herrmann said. "Fall 2020 is when the school is slated to open. We think the construction will be done spring 2020 with the first freshmen and sophomore classes in August."
  The school's population will cut into an already-shrinking Oakmont High student population. Open since 1966, the Oakmont attendance area has progressively decreased in size as more high schools have opened.
  "We have approximately 400 freshmen and 400 sophomores" who will attend West Park, Herrmann said. "They are all at Chilton Middle School, which is in West Park. These students (would have attended) Oakmont."
  The shrinking of Oakmont and the disproportionate growth of other high schools, coupled with the founding of a new high school, has prompted the district office to examine the current district attendance lines.
  "Each time we've had a new school, we sort of carved (the boundaries) a little bit," Herrmann said.
  This has resulted in oddly shaped district lines – like gerrymandered voting districts – with an uneven distribution of students in each school zone.
  However, any changes made to fix this problem would be contentious, as many families want to be in the zones of more sought-after high schools.
  A committee of students, parents and staff members would be in charge of any change that would be implemented in 2022, the year West Park will have a full complement of students at all four grade levels.
  "It will be important for the board to set the charge and the criteria (for the attendance boundaries), and the No. 1 priority may be to honor the old district lines," Herrmann said. "Or they could decide that's not as important to us as making sure all the high schools are the same size – if they put that as a top one or two criteria, then that would mean borders would have to change."  
  The first key decision the new school will have to make is choosing a principal.
  "We're anticipating having quite a few applicants because it's a highly sought-after job," Herrmann said. "We imagine (looking for) people from across California and maybe even across the West Coast."
  The principal who is selected can then begin to make his or her vision a reality through hiring a core office staff and then the beginnings of a teaching staff.
  However, the process is not as easy as it might seem.
   "It is convoluted and complicated because you don't get to just hire everyone you want," said Granite Bay High School principal Jennifer Leighton, who personally has opened up two high schools. "There's usually another school in the district who needs to lose some teachers … and there's (also) some politicking and seniority."
  The process is also a long one.
  "There'll be three rounds of this," Herrmann said. "The first round, we'll (see) who's a good fit for the new school (right away). Then, we'll offer another round of internal transfers. The last step would be involuntary transfers. We're hoping that this is a very, very small number."
  However, early feedback of transferring to the new school has been positive, with Leighton expecting West Park to rival Granite Bay academically and athletically in the not-too-distant future.
  District officials have elected not to implement an IB program at WPHS, arguing that it would not be beneficial to have a third IB high school within the district given the current state of its two existing programs and the massive undertaking that forming a successful program would be.
  Instead, district administrators are investigating the prospect of building a dual-credit program with Sierra College.
  Hermann said there is plenty of interest from district teachers and staff in possibly transferring to the new school.
  "(At every district school), we've had people that are interested," Herrmann said.
  History teacher Mike  Valentine said there is some interest among GBHS teachers in a possible transfer to the new school.
   "I have heard some staff members who actually live out there," Valentine said, "(and some) overtones that some staff members might want to go out there."
  Valentine himself transferred from Woodcreek to Granite Bay for reasons he believes other teachers may now go to West Park.
  "My reasoning (for transferring was I lived) five minutes away (from GBHS)," Valentine said. "Some teachers might go to the new school for this. Also, I kind of wanted to be a head track coach, and literally the first year I was here, I was already the head track coach."
  However, a new school also means a lot more work than usual.
  "Teachers need to know that if you're going to be a teacher at West Park," Herrmann said, "we're going to need you to sponsor a club, to come collect tickets at soccer games … it's going to be all hands on deck."
  Leighton said teachers at the news school will definitely be expected to do more than just teach.
  "You need to be able to coach because you can't hide," Leighton said. "When there's a staff of 40 or 50 people, everyone has to take on a lot. You don't necessarily have to be young, but you've got to be energetic and invested and know that you're going to work harder than you've ever worked ever. You're going to be expected to not just do your job from 7:30 to 3 and then go home, and everybody's got to pitch in."  
  As a result, the first batch of teachers considering moving to West Park should be prepared for these changes.
   "The people we are hiring need to be very, very flexible," Herrmann said. "You need teachers who are comfortable with ongoing construction and onboarding new staff, because for three years we'll be changing and growing. They also should be willing to share classrooms. They will have a home base, just in their offices."
  This last aspect of teachers not having classrooms to call their own has left some hesitant.
  "I might have the classroom over there next period, and the classroom over here the next, so you don't have your own classroom," Valentine said. "I don't like that. I want my room on my prep; it's my office. I don't want to be in a common area maybe with two other teachers on my prep. You're not going to get anything done, just end up talking."  
  Also, because of the small staff size, teachers might not always get to teach the subjects they'd usually prefer.
  "If you teach English, you might get full-time English, but if you teach (Career Technical Education) or performing arts or visual arts or something, you're probably not going to have a full-time schedule of that," Leighton said. "You're going to have to be able to teach more than one thing."
   Leighton said teachers should be wary of biting off more than they can chew.
  "Brand new sounds great, and anyone who has the energy for it and the vision of it should definitely go," Leighton said, "but just be aware of what you're doing –  it is so much work, it's exhausting."
  However, at the end of the day the results can be extremely rewarding.
  "I opened Antelope as an administrator and Granite Bay as a teacher," Leighton said. "(At the new school), the staff will be very close because it'll be small, you will have built this great thing together and you will sweat it together. I opened two schools, and I wouldn't trade (those) experiences for the world."