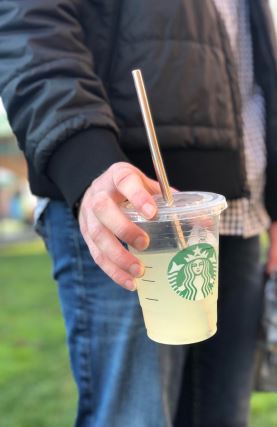 MAYA SNOW
  Marvin C. Stone invented the straw in 1888. Today, about 500 million straws are used daily. However, many students on the Granite Bay campus are passionate about not using disposable straws. They spread the word about how bad straws are for the oceans in particular.
  Senior Kelli Litchfield tries not to use straws most of the time.
  "I feel guilty about using straws because they are really bad for the environment," she said. "I own metal straws and I use them instead of disposable, plastic straws whenever I can."
  Single-use straws are really hard on the environment. According to sailorsforthesea.org, straws are usually used for less than ten minutes. They can be broken up so small that even single-celled organisms can eat them, but the plastic always remains in the environment.
  Senior Moses Huish is also very eager to express his feelings about the 'no straw gang.'
  "Straws kill turtles and have horrible effects on the environment because they don't decompose," he said.
  GBHS Honors Chemistry teacher Damien Lawrence explained the scientific view of why disposable straws are so harmful to the environment.
  "Plastics and all man-made polymers are not going to biodegrade very quickly, if at all," he said. "In some areas in the ocean, there is an island of plastic garbage."
  All types of plastic, in particular disposable straws, are really harsh on the environment. But there are some eco-friendly options that many people are testing out.
  Senior Preston Lehmann uses metal straws or no straw as often as possible.
  "People should use metal straws instead of using a new one every time," Lehmann said.
  Lawrence provided strong insight into how students can find alternatives for plastic straws.
  "When people have something that is not going to biodegrade, you need to find an option that is not going to last for thousands of years by moving to paper straws or wax straws, or something that can actually degrade," Lawrence said.
  Also, some restaurants in the area are trying to go straw-free.
  "NIX Tacos (in Roseville) is completely straw-free. (Senior) Daniel Greene and I met with the general manager in an attempt to convince him to go straw-free," Huish said.
  "Blue Nami and Mikuni (in Roseville) don't use straws (either,)" Litchfield said.
  Conserverveturtles.org says that over a million sea animals are killed yearly due to the 10 million tons of plastic in their environment.
  "People should stop using straws because if you don't you don't give a (hoot) about the environment," Huish said. "You'll never catch me with a plastic straw."