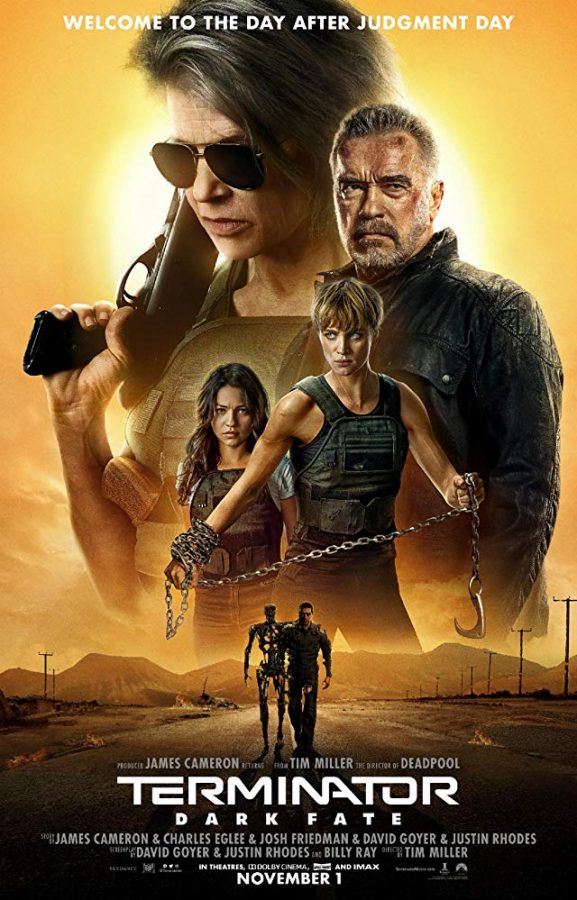 Paramount Pictures
The man, the myth, the governor, Arnold Schwarzenegger finishes "The Terminator" anthology that brought him to fame.
Debuting in 1984, this iconic series is about time traveling killing machines called terminators which come back in time to kill off the leaders of human resistance against the A.I. program which has destroyed society and rules the earth.
That is where this movie deviates from the original, introducing a new story line which revolves around female protagonists who face a new A.I. threat.
While this story line works well for younger generations which may have missed the story line developed by the numerous movies in the series, it is fairly confusing to those that have seen them all.
Despite this inconsistency, this movie delivers incredible action scenes, a few surprisingly sentimental bits, and an ending which leaves viewers wanting more. 
It also does a good job of centering on an almost solely female cast of protagonists, never making it seem forced or awkward.
This is a breath of fresh air, because while I fully endorse the idea of having a more diverse cast of main characters throughout Hollywood, a lot of remakes, such as "Ghostbusters", do a very poor job  living up to expectations set by previous movies.
Overall, while featuring a somewhat cliche plot line, "Terminator Dark Fate" delivers a good entertainment experience through stunning CGI action scenes and the throw-back feel brought on by the use of the same main characters which debuted in the original film 35 years ago. 
I definitely recommend "The Terminator" for all who enjoy 80s classics, action movies, or sci-fi adventure films.