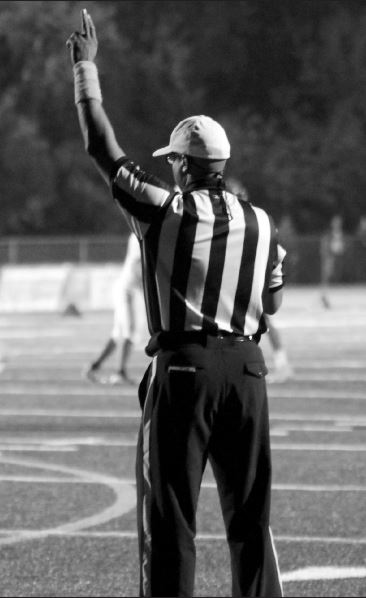 GBT.org file photo/SIDNEY ZABELL
   For some, being a part of a team and working hard to reach set goals in a sport in high school is part of the experience.
   However, playing a high school sport comes with standards that need to be met.
   A Granite Bay High student athlete must, other than making good decisions in general, earn an overall grade-point average of 2.0 and cannot receive more than one F grade. 
   "Sometimes it is really hard to balance sports and school," freshman football player Danny Zhigaylo said. "After a long day at school plus football practice, I still have a ton of homework and I feel overwhelmed most of the time."
   Unlike Zhigaylo, McCade Long, who is also a freshman football player said:  "I am never really stressed with balancing school and sports. A 2.0 GPA is totally doable as long as you use your time wisely and stay focused in class."
   Freshman Carmelo Bangs plays water polo. Between waking up at 5 a.m. and going to water polo practice twice a day, he still finds a way to get all of his assignments done. 
   "The eligibility standards should be left as they are because if you can't keep a good, constant, grade rate you shouldn't be able to play sports you love," Bangs said.
   Although the minimum GPA that athletes must meet is a 2.0, according to the College and Career Center, for those who want to play in college should be earning at least a 3.0 GPA.
   "Playing a sport is very time intensive and doesn't leave a lot of time for academics," varsity football coach Jeff Evans said. 
   He added that, despite the pressures of the sport, the academic standards  set for the players are fair because everyone has to follow them. 
   When players can't play because of their grades, it affects everyone else on the team, Evans said.
   "We only have about 30 guys and are now down to 25, so that means at practice and games, more players have to pick up more slack," he said.
   Honors and advanced classes can add additional points to an athlete's GPA, but while they can help raise an athlete's GPA, they are also very difficult and time consuming, which is why some student athletes choose to not take Advanced Placement and honors classes.
  Junior Sydney Flynn has been playing lacrosse since fifth grade and started playing at GBHS during her freshman year.
   "With AP classes, it is so hard to balance school and sports with all of the homework and reading I have to do," Flynn said, who added that while she can get some of her homework done before practice, she was often still up until midnight and sometimes later finishing her assignments. 
   Still, Evans said the struggle is worth it for athletes who persevere.
   "Part of the strength that comes from extra-curricular (activities) is not just going to school, it's about time management," Evans said. "There is always a light at the end of the tunnel, but you have to stub your toe a few times."