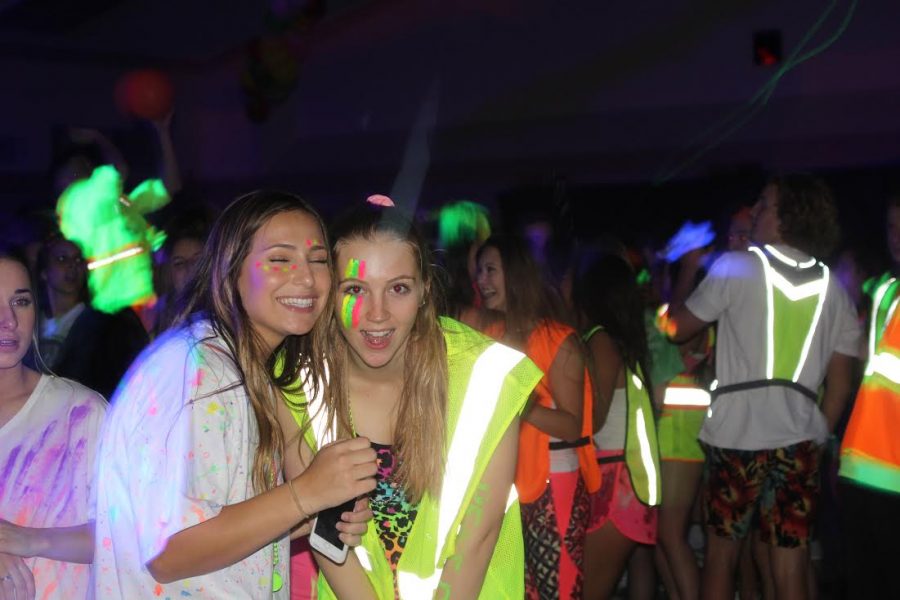 Jan. 20, 2016 marked the evening of the last ever Granite Bay High School Neon Dance, much to the dismay of many of its attendees.
The Neon Dance is organized every year by the GBHS Cheer team. According to senior Sarah Ribota, a decoration coordinator for the dance and cheer captain, budget issues prevent another Neon Dance in the future.
"Due to the need for teacher chaperones, the administration does not want to pay extra for them to be there," Ribota said. 
While most students are aware that this was the last Neon Dance, not all of them know why.
"I have no idea why it's the last Neon Dance," Kabe Teague, a sophomore who attended the dance, said. 
See more colorful photos from the Decades Dance gallery
Some students even have different interpretations of why GBHS can't afford another dance like this.
"I heard it was because the cheerleaders weren't making any money off of it, and Student Government doesn't have enough funding to (hold) another dance," Chloe Miller, a senior who attended the dance, said.
Emily Larson, senior cheer captain who helped decorate the dance and advertise beforehand, said that not enough students are attending the dance for it to continue into the next school year.
"I'm sad they aren't continuing it (the Neon Dance) because it is a great way for students to bond," Larson said.
To avoid solemn feelings following the parting with this colorful event, the cheer coordinators made sure it went out with a bang.
"It was really high-spirited," Ribota said. "I've gone all four years and this year was by far the best." 
Some highlights of the night included confetti-poppers, flamboyant outfits and, for some, the DJ.
"My favorite part would probably be the DJ," Kabe Teague said. "He mixed a lot of good songs that were easy to dance to."
The varsity basketball team winning the game beforehand was just icing on the cake for the dance's grand send-off.
"I was more hyped for this dance than previous ones probably because we won the basketball game," Ribota said.
On the other hand, not every aspect of this year's Neon Dance was very satisfactory to all its participants.
"One reason why I think Neon (Dance) isn't that great is because it's in the cafeteria, which is obviously smaller, and the lights bounce off the walls more, which makes them a little too intense," Miller said.
Sweating accompanies almost all GBHS dances, which can lead to a very condensated and sticky cafeteria- not a major high point during the Neon Dance, even for one of the dance's coordinators.
"My least favorite part was sweating off all my makeup," Ribota said.
For many seniors, the idea of cancelling the Neon Dance in years to come is irrelevant because they will soon be off to college or other adventures.
"I don't really have any feelings about it being the last neon (dance) because I won't even be here next year to even care," Miller said.
However, underclassmen will face one or more years of high school without this hyped event.
Teague, as a sophomore, remains optimistic about the future of other dances at GBHS.
"I feel like we can implement another kind of dance, but the Neon Dance was really fun," Teague said.
Although the news about the very last Neon Dance saddens some enthusiastic participants, many students remain hopeful that the other school dances will make up for its loss.
"Since I've done this for all four years, I had a great time making the last one the best one," Ribota said. "It was bittersweet, but there will be other dances."