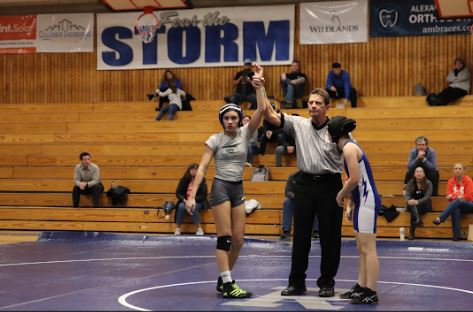 Special to the Gazette/GBT.org Justin Matsuda
   Many students participate in sports, but few women join wrestling.
  This year Victoria Wells, Hannah Thrash, and Lauren Gray have joined the Granite Bay High School wrestling team.
  While this number may seem insignificant, they are a part of the growing number of women joining wrestling nationwide.
  According to the National Wrestling Coaches' Association, the number of female high school wrestlers was 16,562 in 2018, a huge increase from the 804 girls in 1994.
  Victoria Wells, a freshman, said she joined wrestling because she "thought it'd be kind of fun."
  "I did it in middle school," Wells said.
  She comes from a family with wrestling experience.
  "My dad wrestled in college," Wells said.
   Junior Hannah Thrash, a water polo player, likewise joined wrestling this year.
  "Wrestling is a pretty aggressive sport," Thrash said.
   Lauren Gray joined the wrestling team in her sophomore year.
   "I thought it would be a fun challenge and I'd get to expand my horizons," Gray said. "Wrestling is probably one of the most mentally challenging sports you can compete in."
   Many people shy away from wrestling due to the physicality of the sport.
   "You can pretty much count on blood and bruises on a daily basis, but the challenge… is what I love most about it," Gray said.
   Despite the support she receives from her teammates and coaches, Gray believes she needs to succeed to gain the respect of everyone.
   The rise in female wrestling can also be observed in other schools besides Granite Bay.
  "Female wrestling has been getting really big," Wells said. "I was at a tournament recently where there were 200 girls."
  According to Wells, schools like Del Oro High School have large numbers of girls on their wrestling squads.
  "Granite Bay hasn't totally caught on with girls wrestling yet, but you see a lot of female wrestlers," Wells said.
  The rise in female wrestlers can be seen in local middle schools as well.
  Coach Chris Gallegos from Olympus Junior High School helps send the next wave of wrestlers through GBHS.
  "We're really important feeding into the high school," Gallegos said.
 "We have seven or eight girls on our wrestling squad of 25 kids."
  This number may be considered insignificant, however, it is much greater compared to the number of girls in the past.
  Last season, the Olympus team consisted of only one girl.
  "When I wrestled in junior high, there were no girls' tournaments, no girls brackets. Now they have girls tournaments and girls brackets," Gallegos said. "There are enough young women at this point to wrestle other girls most of the time."
  Sydney Hurter, an eighth-grade student at Olympus, joined the wrestling team this year.
  She was motivated by a friend who participated in the sport last year.
  To Hurter, wrestling provided the opportunity for her to keep her personality and do something that's more high intensity.
  "I'm a very happy and jovial person but there's also kind of a tough side to me."
  Daphne Kemp also joined wrestling for the first time.
  She has a passion for martial arts, which is similar to the sport of wrestling.
  "It was really freeing to be out here and wrestle out any stress and tension."
  Kemp's support is her mother who has consistently shown it her whole life.
  Both girls plan on doing wrestling in high school as well.
  "The last time I was in a tournament there was a whole entire girls' bracket, which was really awesome to see," Hurter said.
 "I would tell any girl who wants to join wrestling to just do it and not be afraid. Give it everything you've got," Gray said.