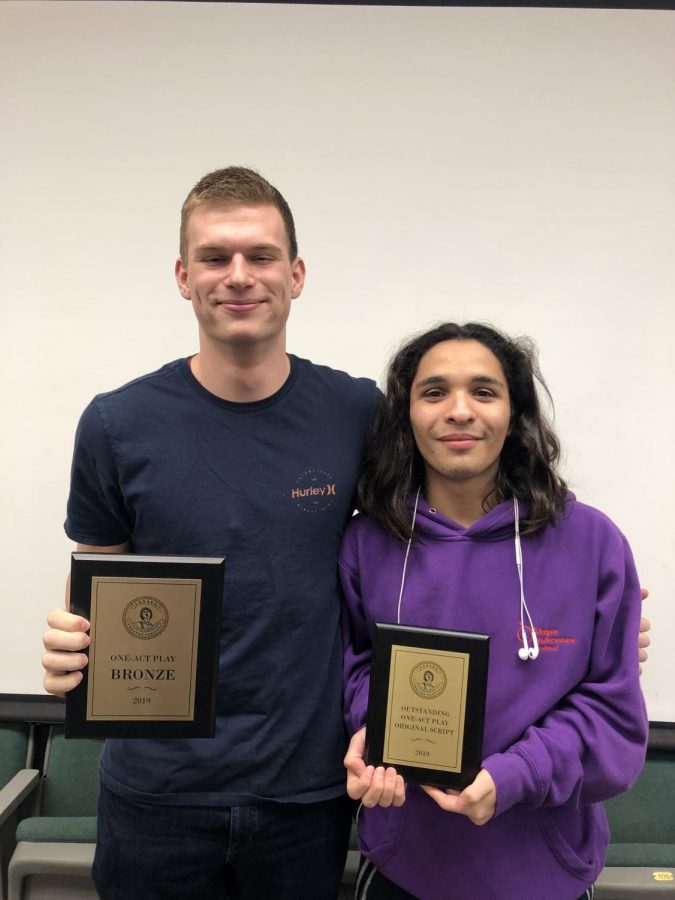 ASHLEY LUCIA
   This year GBHS drama students showcased their creative talent through thought-provoking entries at the Lenaea High School Theatre Festival.
  Each year, the Lenaea Festival hosts high school students, providing competitions and workshops for a variety of categories such as Student Directed One-Acts, monologues, and costume design.
    Theatre Arts Director, Kyle Holmes, is familiar with the festival, as he attended it as a high school student.
  "Since before I was teaching, (students) were going to the Lenaea Festival," Holmes said. "I went when I was in high school too, so I went as a student which was a lot of fun."
  Students began preparing their entries two months ahead of the festival, and by February the entries were ready to be performed in front of the Festival's respondents.
  Some students who entered into the festival were rewarded for their original performances and entries.
 In addition to senior Emma Harlow winning bronze for her monologue and becoming a finalist for costume design, senior Devin Manzo won Outstanding Original Script for his one-act, "We're Normal," and the performance of the one-act directed by Daniel Patterson won bronze.
  "We're Normal is about a group of teens in a small town city, who form a LGBTQ+ club in a school (where) it is not okay to have one," Manzo said. "One specific boy is then tricked into going by a friend, and learns about their stories and hardships they face in their daily life."
  Manzo's idea for the piece stemmed from a multitude of inspirations.
  "I came up with this idea from a little of my own personal experience, mixed with some politics, and other friends that I have," Manzo said.
  The name "We're Normal" is a reflection of Manzo's view of equality, and what he believes sexuality represents.
  "I think that (the title) shows that just because someone's sexuality isn't heterosexual, doesn't mean they are (a) completely different species," Manzo said. "Especially when it's something that they have no choice over, and no one should treat them differently because of that."
  Senior Kyla Miyashiro acted in "We're Normal," and played the role of the main character's best friend.
  "It was a phenomenal experience that I wish I could relive all over again," Miyashiro said. "I adored my cast and growing close with them and becoming friends with them."
  Miyashiro says the strong bond between the cast contributed to the one-act's success.
  "This year we actually medaled for our one-act, and it is the first medal a one act has received at this festival in Granite Bay history," Miyashiro said. "This was due in large part because of the amazing cast and the chemistry we all had becoming close and sort of like a family."
Manzo wanted the cast to incorporate their own creativity throughout the act, and his script allowed them the flexibility to do so.
  "I didn't write exactly how I wanted a character to say a line," Manzo said. "It was up to the actors and director of how they wanted to say the line, and that way whoever reads it, can interpret it however they want to."
  Manzo felt mixed emotions the day of the performance, as he had not yet seen how the cast had interpreted his script.  
  "I was filled with emotions; scared cause what if no one likes it, but also really excited cause I had zero part with any of the rehearsals, the casting, nothing," Manzo said. "I sat in the back just in case I needed to cry, and then a swarm of people that I've never seen before came in, so I couldn't cry anymore."
  Manzo was even surprised by his own script at certain moments.
  "I laughed at things I didn't even think would be funny when writing it, and the audience seemed to like it too, so that made me feel good," Manzo said.
  Holmes says that the Festival is a great learning experience in addition to the competition.
  "The students show up and they really appreciate getting to not only share the stuff they've been working on with respondents and other students, but also to see some of the other stuff the students are doing too," Holmes said.
  In addition to seeing other performances, Manzo was also able to learn about himself through the festival.
  "(After winning,) I was very surprised at first. I was like 'Are you sure?'  In a way that you know is untrue, but you ask anyways." Manzo said. "Nevertheless I am happy and proud of myself, and I think that this is a statement of what I'm supposed to do in my future."