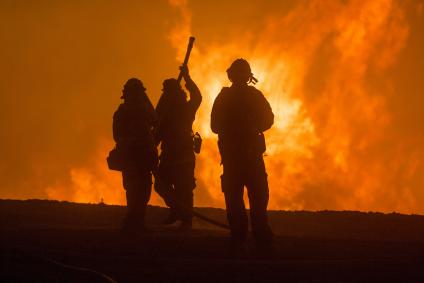 United States Department of Agriculture
The Camp Fire has been 100 percent contained, air has been clear in Sacramento and the news cameras have been away from Paradise for over two weeks. Yet there are still thousands left with nothing, ravaged in the wake of the blaze.
  Nearly 19,000 buildings have been destroyed – 13,972 of them being homes – at least 85 people have been killed and 153,000 acres of land have been scorched.
  The fire has been out of the minds of those in the Granite Bay and Roseville areas for weeks, but there are still thousands left homeless and living in transitional living situations. We should take the responsibility upon ourselves to help our neighbors in the North despite not being immediately affected by the disaster so close to our community.
  Assisting thousands of families who have lost everything sounds like an overwhelming task that many don't have time for, but starting small can still make a difference.
  Sending used clothes, canned food and supplies is certainly helpful, but they aren't always useful and it takes a lot of time and effort to sort through and distribute the goods.
  If you really want to help the survivors of the catastrophe, donate cash to larger local organizations that know the community and have boots on the ground that work directly with survivors.
  The North Valley Community Foundation (nvcf.org) based in Chico is an excellent organization to start with. NVCF provides direct assistance in cash and resources to people displaced by the fire and to smaller organizations that are providing long-term assistance. They also charge only a 1 percent administrative fee as opposed to the 10% charged by many larger organizations.
  An additional trusted organization is the United Way of Northern California (norcalunitedway.org). The United Way specifically provides emergency 100 percent of the donated cash assistance to help individuals move into temporary housing, make up for lost work wages and cover transportation costs.
  I challenge the community to grab friends or family members this weekend and spend a couple hours raising funds to donate to local causes, such as the drive hosted by GBHS in the last week or to larger, trusted organizations like the NVCF and the United Way.
  Communities within Butte County, especially the town of Paradise, face a long and heartbreaking road to recovery. Donating any amount of cash will not immediately mend any of these broken towns, but it will certainly help an individual, family or community make it to the next day with a little more hope on the horizon.